Procreate – Sketch, paint, create.
Van Savage Interactive Pty Ltd
Onmisbaar
Open iTunes om apps te kopen en te downloaden.
Omschrijving
Apple Design Award winner and App Store Essential – Procreate is the most powerful sketching, painting and illustration app ever designed for a mobile device. This complete artist's toolbox helps you create beautiful sketches, inspiring paintings, and stunning illustrations anywhere you are. Procreate features ground-breaking canvas resolution, 128 incredible brushes, advanced layer system and is powered by Silica: the fastest 64-bit painting engine on iOS.

Create a canvas and start painting with any of Procreate's exclusive dual-texture brushes. Use the immediately responsive smudge tool to perfectly blend colour with any brush in your library. With Procreate's incredibly high-resolution canvases you can print your artwork at massive sizes. Experience the revolutionary selection, transform, and perspective tools built exclusively for multitouch and finish your illustration with stunning cinema-quality effects. Procreate's powerful and intuitive interface always puts your art in focus.

With a deep range of professional quality features, Procreate has all the power a creative needs.

• Feature Highlights
- Optimized for iPad Pro and Apple Pencil
- Massive Ultra High Definition canvases, up to 16k by 4k on iPad Pro 12.9"
- Powered by Silica: the fastest 64-bit painting engine
- Stunning 64-bit color
- Deliciously responsive 64-bit smudge sampling
- Multi-threaded; optimized for iPad's multiple cores
- 250 levels of undo and redo
- Continuous auto-save—never lose work again
- Connect a keyboard to use shortcuts for advanced features
- Advanced Quick Menu for rapid interface interaction

• Breakthrough Brushes:
- Packed with 128 beautifully made brushes
- Game-changing dual textured brush system
- 35 customizable settings for every brush
- Create your own custom Procreate brushes
- Organize your brushes into your own custom sets
- Import custom brushes and export your own

• Advanced Layering System:
- Layer your artwork for precise control over individual elements
- Stay organized by combining layers into Groups
- Select multiple layers to move or Transform objects simultaneously
- Access 17 layer blend modes for professional compositing

• Color Without Compromise:
- 64-bit color for greater accuracy
- Fill your art seamlessly with ColorDrop
- Exact ColorDrop fills with Reference Layers that won't damage your line work
- Input RGB or hex values for exact color matching

• Dramatic Finishing Effects:
- GPU accelerated for optimum speed
- Perspective Blur (exclusive to Procreate)
- Gaussian and Motion Blurs
- Sharpen and add Noise
- Hue, Saturation, Brightness
- Color Balance, Image Curves, Recolor

• Groundbreaking Video Features
- Relive your creative journey with Procreate's time-lapse replay
- Broadcast your process live with your favorite streaming service
- Record everything in real time and share it to any connected service

• Sharing and Workflow Integration:
- Import or export Adobe® Photoshop® PSD files
- Export to AirDrop, iCloud Drive, Photos, iTunes, Twitter, Dropbox, Google Drive, Facebook, Weibo and Mail
- Export as layered native .procreate file, PSD, transparent PNG, multi-page PDF or web ready JPEG
Wat is er nieuw in versie 3.2
Remember how we've been saying there's a massive update coming? It's finally here. This is it. There's a huge selection of your most requested features and we've made phenomenal speed and stability improvements. Hit that update button, kick back, and dive into stuff that will melt your face off.

- Layer Groups
This is too exciting to joke about. You can now group layers. Groups give you new ways to organize your layers in tidy, satisfying ways. If you really like groups, why not add a group to your group of groups? Groups.

- PSD Import
Yep, you read that right. Import. Directly import your PSD files with layers and everything. The paintings you painstakingly made in Adobe® Photoshop® are no longer dead to you.

- Live Broadcast
Have you ever had to awkwardly hold a camera so you can show everyone how you Procreate? No more! With the touch of a button, you can broadcast your creative process live through your favourite streaming service.

- Screen Capture
Record your entire Procreate screen and export it for later or share it straight away. Include your iPad's camera and microphone to add face and face noises.

- Layer Locking
Keep your artwork safe by locking layers or Groups to prevent them being modified or deleted.

- Multiple Layer Select
Swipe layers or Groups to select as many as you like, then delete or move all selected layers at once.

- Multiple Layer Transform
Why transform alone when you can move, scale, shear, and distort multiple layers at once? Too many single operations and you'll go blind.

- Keyboard Shortcuts
Connect your keyboard and use many of the industry standard shortcuts you're used to. Now you can access Procreate's advanced features faster than ever before.

- Massive Brushes
You can now increase your max brush size to a gargantuan 1600%. Perfect for those of you that want to paint your entire canvas in single brush stroke.

- Color Wheel
We used to give you equal amounts of all colors, but it turns out that's bad for painting. Now there's lots more yellow and orange in your hue ring.

- Rapid Undo & Redo
Now you can fix your mistakes quicker than you make them. Just hold your fingers on the canvas to continuously Undo or Redo until you lift off again.

We'd like to take a moment to thank all of you for sharing your gorgeous artwork with us. Seeing your work inspires us to create software that's just as beautiful. If you have a moment please share your experience by leaving a short review on the App Store. Import some PSDs, make some layer groups, and have a fantastic holiday season.
iPad schermafdrukken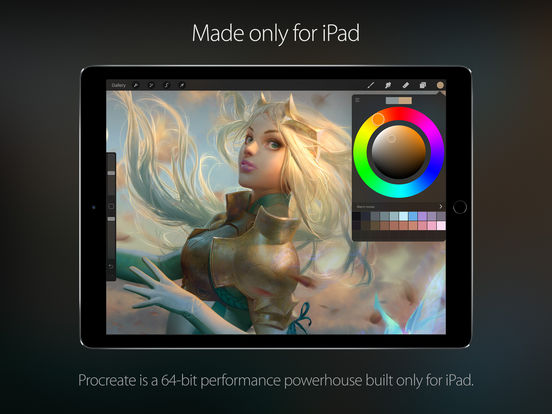 Recensies van klanten
BULLSH*T
I hate this new update! Nothing is working for me anymore!
Including the reference layer. You know? That you can swipe with two fingers over layer and then that layer would turn purple?
It's also known as "color drop"
Plz FIX IT! I payed for this app to be working! Can i at least get my previous version back then!?
The best Art app is Procreate
And with that I have said it all. It honestly is the best art creating app around.
There are many apps out there that let you draw like Sketches, sketchbook..and so many more. But! They all lack that easy2learn feel which Procreate smashes point on. The best thing of it all is, either you are a beginning artist or a master, this app will offer you endless possibilities to create without ever feeling overwhelmed by its options. And what's more? The developers listen to their customers and have regular awesome updates. On a side note, these devs have some serious feeling for humor! *go read the updateslog*
Bekijk in iTunes
€ 5,99

Categorie:

Amusement

Bijgewerkt:

05-12-2016

Versie:

3.2

Grootte:

133 MB

Talen:

Arabisch, Duits, Engels, Frans, Italiaans, Japans, Koreaans, Portugees, Russisch, Spaans, Trad. Chinees, Turks, Vereenv. Chinees

Ontwikkelaar:

Savage Interactive Pty Ltd
Compatibiliteit: Vereist iOS 10.0 of nieuwer. Compatibel met iPad.
Top-aankopen vanuit app
Early Access 2015€ 1,99