Procreate – Sketch, paint, create.
van Savage Interactive Pty Ltd
Essentials
Open iTunes om apps te kopen en te downloaden.
Omschrijving
Apple Design Award Winner and App Store Essential.

Procreate is the most powerful and intuitive digital illustration App available for iPad®. It's packed with features artists love, including 120 incredible brushes, advanced layer blending, 64-bit performance and a uniquely powerful brush engine. Because Procreate is iPad exclusive, it's been designed to take advantage of every ounce of power the iPad can offer.

Creatives are embracing Procreate for its unique combination of intuitive design, fluid speed and raw power, allowing artists to create exceptional digital art anywhere.

• Studio-grade features:
- Ultra High Definition 4K Canvas size
- Powered by Silica, the fastest OpenGL painting engine
- 64-bit optimized for iPad Air 2
- Deliciously responsive 64-bit smudge sampling
- Multi-threaded; utilizes iPad's multiple cores
- 250 levels of undo and redo
- Continuous auto-save—never lose work again
- Dropbox integration for quick and easy sharing
- Canvases up to 4096 x 4096px for iPad 3+
- Canvases up to 4096 x 2616px for iPad 2 and iPad mini 1
- Localizations for fifteen languages

• Breakthrough drawing tools:
- Packed with 120 beautifully made brushes
- Game-changing dual textured brush system
- Over 25 customizable settings for every brush
- Create your own custom Procreate brushes
- Organize your brushes into your own custom sets
- Import custom brushes and export your own

• Industry grade color tools:
- Native 64-bit color
- Fill your art seamlessly with ColorDrop
- Easy threshold adjustments for perfect color fills
- Reference Layer feature for exact ColorDrop fills without damaging your line work
- Input RGB or HEX values for exact color
- Tap to save your selected color as a swatch
- Drag and drop swatches to easily delete
- Save, rename, duplicate, import and export custom swatch palettes
- Switch between the color ring and classic color picker in Preferences

• Streamlined interface designed for iPad:
- Intuitive interface layout enhances your workflow
- Beautiful gesture controls keep your process efficient
- Keep your artwork organized with simple drag and drop controls
- Delete, duplicate and share with a swipe and a tap
- Light Interface especially made for bright conditions

• Advanced layering system:
- Dynamic layer caps offer as many layers as possible for your iPad hardware and canvas size
- Lock your layer transparency with a single swipe
- Copy and paste layers
- Pinch layers together to merge
- Create, merge, clear, delete and adjust opacity of layers with fluid gestures
- 18 Layer Blend modes for perfect color compositing

• Transform tools:
- Distort, perspective & shear
- Non-Uniform & Uniform transformation
- Magnetic smart guide system

• Multi-touch gestures:
- Hybrid selection tool reinvented for touch controls
- Add to, subtract from, invert, copy or transform a selection
- Use the intuitive transform tool to shear, distort and resize selections or layers
- Zoom and rotate the canvas with two fingers
- Use three fingers to hide and show the interface, clear layers, undo or redo, and cut, copy or paste
- Simply tap and hold to invoke the eyedropper and release to select a color
- Use two fingers to rotate your artwork in the Gallery

• iOS 8 sharing:
- Export artwork from the canvas, or simply swipe to export or select artwork in the Gallery
- Export to AirDrop, iCloud Drive, Photos, iTunes, Twitter, Dropbox, Facebook, Weibo and Mail
- Print directly from Procreate with AirPrint
- Export to or import from any cloud service extension with iOS 8 Sharing
- Export as layered native .procreate file, PSD, transparent PNG or JPEG

• GPU accelerated filters:
- Gaussian Blur
- Sharpen
- Noise
- Hue, Saturation, Brightness
- Color Balance
- Curves
- Recolor

• Automatically record your painting:
- Watch artwork come to life as Procreate repaints every stroke in stunning 1080p
- Export HD video files to Photos, Mail, Dropbox or iTunes
Wat is er nieuw in versie 2.3
We don't often release updates, but when we do…

• Wacom ICS 2 support
We're thrilled to finally announce that the Wacom Intuos Creative Stylus 2 is now supported in Procreate! Wacom have been working seriously hard on significant SDK improvements specifically for Procreate compatibility. Together, we've been able to bring support to Procreate 2.3 on any device from iPad 2 to iPad Air. iPad Air 2 users can still connect and use all the features of the ICS 2, but the stylus will remain officially unsupported on that iPad model.

• Light Interface
The trademark dark Procreate interface has always made working indoors a pleasure. The problem was as soon as you ventured outside into the sunlight to get creative, the interface kind of melded into a big murky pool of dark mush.

With Procreate 2.3, you can just flick a switch and the entire interface will transition into beautiful and completely new Light interface, made specifically for working in bright conditions. It's kind of like sunglasses for Procreate. Except not dark. And nothing like sunglasses. But trust us; painting outdoors is now pretty cool.

• Fixed the annoying color bug
Apparently if you had a menu open, and you attempted to open colors, you could open the color menu and pick a color but the color you chose wouldn't actually be the color you saved. Confused? So were we! But what's important is that we crushed this confusing and annoying bug with furious anger and mighty vengeance.

• Refined UI items
We've included a few small but nice interface refinements for you to discover. We hope you like them.

• Turn Palm Support™ off
Palm Support, while awesome, was occasionally less awesome than it should have been for some people some of the time. For those people, you can now completely turn Palm Support off in your iPad's Settings app. If you're a new Procreate customer and you'd like to see how Palm Support can work for you, you can turn it on in Settings app any time you like.

• Stability improvements and bug fixes
Don't let the mundane "Bug Fixes" thing throw you off. We've spent a whole lot of time crushing literally hundreds of bugs, quirks, glitches and random events. Here's some of the fixes you have been waiting for:

• FIXED Opening colour popover from another popover prevents colour change from saving
• FIXED Eyedropper activates when disabled on launch
• FIXED Clear layer bug
• FIXED ColorDrop Threshold glitch
• FIXED PSD file export crashes
• FIXED .procreate file export crashes
• FIXED Transform mode caused cutting an object to crash
• FIXED Pasting with any menu open causes crash
• FIXED Numerical keypad touch glitch
• FIXED Compositing glitch on colour picker handles
• FIXED Selection mask bug
• FIXED Numeric colour picker gestures
• FIXED Layer would sometimes clear while using Palm Support
• FIXED Layer opacity would reset after relaunch
• FIXED Curves control points could be placed outside curve area
• FIXED HSB and colour balance sliders jump the first time they're used
• FIXED Fix continuous allocation churn when curves filter on-screen
• FIXED Fixed main colour popover gestures
• FIXED Layers button inactive on launch

If you like this update, please consider leaving us a nice review on the App Store. We enjoy reading your reviews and every star-rating is a massive help.
iPad schermafdrukken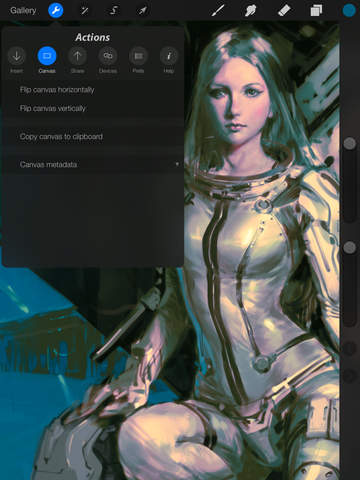 Bekijk in iTunes
€ 5,99

Categorie:

Amusement

Bijgewerkt:

24-04-2015

Versie:

2.3

Grootte:

68.4 MB

Talen:

Arabisch, Duits, Engels, Frans, Italiaans, Japans, Koreaans, Portugees, Russisch, Spaans, Trad. Chinees, Turks, Vereenv. Chinees

Ontwikkelaar:

Savage Interactive Pty Ltd
Compatibiliteit: Vereist iOS 8.2 of nieuwer. Compatibel met iPad.