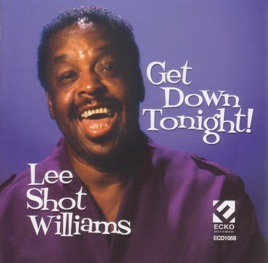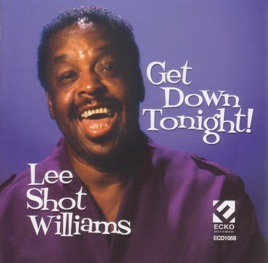 | | TITLE | TIME |
| --- | --- | --- |
| | | 3:49 |
| | | 4:53 |
| | | 5:01 |
| | | 3:58 |
| | Somegody's Changing MySweet Baby's Mind | 4:27 |
| | | 4:38 |
| | | 3:56 |
| | | 4:02 |
| | | 3:47 |
| | | 4:26 |
| | Juke Joint Slide (Club Mix) | 4:38 |
| | Juke Joint Slide (Techno Mix) | 4:19 |
| | Juke Joint Slide (Hip Mix) | 3:59 |
13 Songs

℗ 2003 2003 Ecko Records
About Lee Shot Williams
Vocalist Lee "Shot" Williams sang a style of Southern soul-blues in keeping with the tradition of vocalists like Bobby "Blue" Bland, Johnnie Taylor, and Albert King. He got the nickname "Shot" from his mother at a young age, owing to his fondness for wearing suits and dressing up as a "big shot." Williams grew up with guitar player Little Smokey Smothers and knew his older brother, Big Smokey Smothers. Williams' stepsister, Arlean Brown, was surrounded by a family of musicians, and the Brown brothers gave Williams his first introduction to blues performing via the juke joints of the Delta.

Williams moved to Detroit in 1954 and to Chicago in 1958. He rejoined Little Smokey Smothers there and got to know other paragons of Chicago blues, including Magic Sam (McGhee) and Howlin' Wolf. Williams began singing with Smokey's band in 1960 and a few years later joined Magic Sam's band as a vocalist. In 1962, Williams recorded his first singles for Chicago's Foxy label, "Hello Baby" and "I'm Trying." He recorded a series of singles for other labels, including King/Federal, Palos, Gamma, Shama, and Tchula. His 1964 recording "Welcome to the Club" was a hit in Chicago, so much so that it was later covered by guitarist/singer Little Milton Campbell for Checker Records in 1965. Another regional hit, "I Like Your Style," came out in 1969 and was later covered by Junior Parker. (Williams remade the single in 1993.) After joining up with guitarist Earl Hooker, he had his first experience on the road as part of a touring band in the mid-'60s, playing around the South. Williams also served tenures with Little Milton and Bobby "Blue" Bland. His first album under his own name, Country Disco, was released on the Roots label in 1977. In the '80s, Williams moved back to Memphis, where he had spent many of his earlier years, knowing there would still be an audience for his brand of soul-blues. He released an album on cassette and recorded for a Japanese label in 1992.

Later that year, his guest vocals on his cousin's album prompted the Black Magic label to look into recording Williams with his own band. The result, Cold Shot, was released in 1995, demonstrating Williams' gospel-inflected, powerful vocals in the proper setting. Williams was accompanied by a seasoned team of studio musicians, including former Albert Collins bassist Johnny Gayden, Ronnie Earl organist Tony Zamagni, saxist Charles Kimble and trumpeter Mike Barber of the Chicago Playboy Horns. The album was voted best blues album of 1995 in a poll conducted by the magazine Living Blues. On Cold Shot, Williams interpreted familiar covers by Gladys Knight ("Neither One of Us") and Wilson Pickett ("Don't Let the Green Grass Fool You"). His debut for the Memphis-based Ecko Records, Hot Shot, was released in 1996; She Made a Freak Out of Me followed in early 2000; Somebody's After My Freak appeared in early 2001. Williams made an appearance at the 1994 Chicago Blues Festival, and while it boosted his visibility, he continued to perform mostly in clubs around the U.S. during subsequent years. Lee Williams passed away on September 24, 2011.
ORIGIN

Lexington, MS

BORN

May 21, 1938