MetService
By MetService
Open iTunes to buy and download apps.
Description
MetService NZ Weather Features include:

- Morning, afternoon, evening and overnight icons for 47 forecast areas, set by our meteorologists, to help you plan your day
- Automatically see the forecast and observations that are most relevant to you, by enabling location services or choosing your suburb, town or city
- Customise your weather dashboard and the order of forecast modules
- 48 hour forecast graphs
- Severe Weather Warnings and Watches for your location
- MetService TV updates for your region
- Real-time Rain Radar for your area
- 3 day Rain Forecast maps
- Live Traffic Cameras for urban locations
- Widget available

Full terms and conditions regarding the purchase and use of MetService mobile applications are available here: www.metservice.com/about/application-terms
What's New in Version 2.0
New Zealand's most popular weather app has been completely redesigned and is now available free of charge. We've integrated our urban and regional forecasts into one app so all New Zealanders can get the right forecast wherever they are.
iPhone Screenshots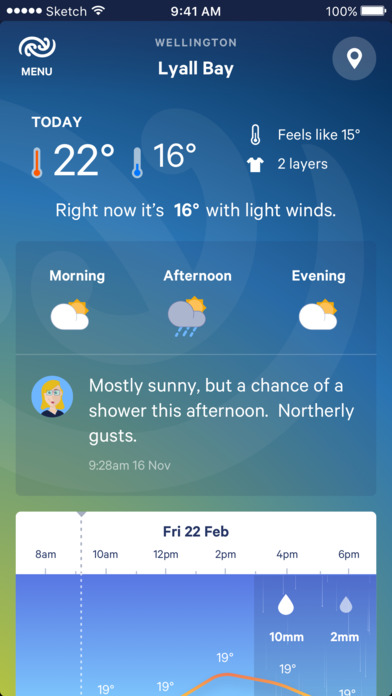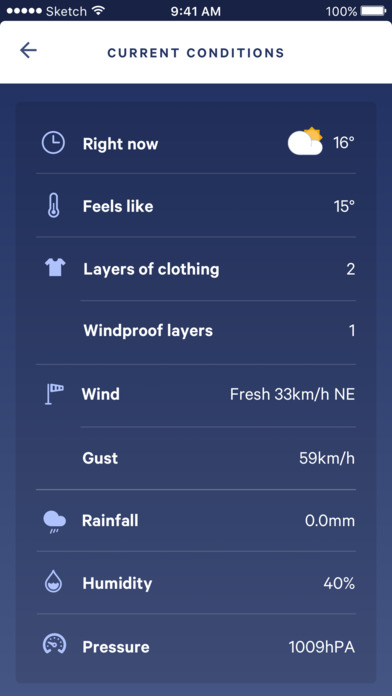 Customer Reviews
Average
It's ok, not great but I suppose there aren't great weather stations on every corner in nz and forcasting is obviously a challenge. It's basically better than the built in yahoo based weather app which is rubbish as all things yahoo are. It needs a refresh and more updating, a temp reading at 9.48am will certainly not be the same as a temp at 2.15pm on the same hot summer day. But yeh, it's a nz app and let's be frank, you only need look at what's available in the passport apps in nz to see what apple, iTunes and app developers think. Many nz companies are still struggling to get a facebook page, and app in ten more years so met serv are ya know, doing ok, kinda, sorta.

Update: the app has a refresh, which is ok, it's not amazing though. It feels clunky, its harder to see certainly and there are adverts all about - not happy about the latter given I paid for it to avoid ads. Anyways, it does now seem to have my part of small town Nz on it rather than a larger town 15kms away. Let's see what they do with the ad revenue, keep updating as promised? Yeh righto.
It's a must-have App... is what I used to say... (MetService - PLEASE take my money again!)
I still use this App most days, and it still works well and reliably. I can get used to the new interface, eventually, I'm sure. I miss the simple, cute version we had, but it will be handy, I expect, to have access to all the extra information.

I paid for the App, when that was an option... before the ads came...

I don't want ads in my app. They get in the way of what I am actually trying to do when I launch it.

Let's see what happens with the advertising model... I'm hoping we can get an option to drop it, for those people prepared to put money where their mouths are. Or where the app development costs are, whichever's more useful.

MetService - what can we offer you? How about a subscription model? The price of a cup of coffee every year, and we get to sign-in for the ads-free version? I'd pay in a heartbeat. I'd bet I'm not alone.
The old app was better!
With the old app I could see everything I wanted in one place. Now to see the 5 day forecast I need to scroll down and click on long range forecast. Rainfall seems to have disappeared completely. Other useful information is put into different modules so you have to scroll a lot to find anything. Also ads have returned! Please bring back the old app!!!!!!! At least add rainfall to the 48 hour forecast graph and 2 more days to the 3 day forecast or make it configurable. For now I will go back to using the web site. On the web site I can see the 5 day forecast. I can see sunrise, sunset, rainfall, wind and temp for the day all in one screen.
View in iTunes
Free

Category:

Weather

Updated:

18 April 2017

Version:

2.0

Size:

30.8 MB

Language:

English

Seller:

Meteorological Service of New Zealand Limited
Compatibility: Requires iOS 9.3 or later. Compatible with iPhone, iPad, and iPod touch.
More iPhone Apps by MetService