MyPad+ - for Facebook, Instagram & Twitter
De Loytr Inc
Esta app solo está disponible en App Store para dispositivos iOS.
Descripción
"THE BEST APP FOR FACEBOOK" - Wired Magazine
SALE 50% OFF - Limited Time Only! (or try MyPad Free)
Facebook, Instagram & Twitter beautifully designed for the iPad
~~~ Join 12 million people who already love MyPad! ~~~
View multiple profiles as stackable, scrollable pages that are visually stunning & interactive.
- Beautiful Photo Galleries (with Slideshow)
- Add PIN code for extra security (re-login to add/reset PIN)
- Add multiple Facebook accounts (in 'More...' section)
- Re-Share links & updates!
- Twitter Timeline, Search, Mentions & more (via + button)
- Instagram Timeline, Videos, Popular, Profiles & more
- Upload multiple photos at once (& select album)
- Chat (OFFLINE mode included!)
- NO Ads!
===MyPad, your home for social now with INSTAGRAM!===
- Add Pinterest, Reddit & more (tap name in Nav)
- Tap + to bookmark favorite Profiles, Websites & more!
- Cover Photo slideshows!
- Free Music (listen in MyPad!)
- Swipe-based navigation
- Push Notifications
- Birthday & Event Calendars (with free Gifts!)
- Interactive Video Player
- Games with Friends - Poker, Tiny Zoo, Tiny Chef, Mob Empire & more!
- Trending iPad Apps
- Upload & Download Photos
- iPad2 Camera Support
- Photo Effects & Change Profile Picture
- Quick Links (Inbox, Notifications, Groups, Profile, News Feed, Friends, Search & more!)
- Portrait & Landscape modes
- Pull-Down to Refresh

A more friendly way of being social. Optimized for fun.

Privacy:
MyPad only accesses user data when the application is running. In order to offer some of the features without a re-login prompt, users need to allow offline permission. Your information is not being collected or saved. We are adding Privacy settings shortly in order for you to control application access.

We take our users' privacy very seriously and have taken many steps to ensure you are protected. Thank you for using MyPad, we hope you love it!

Notes:
iPad, Facebook, Twitter and Instagram and the iPad, Facebook, Twitter and Instagram logos are trademarks of Apple Inc, Facebook Inc, Twitter Inc and Burbn Inc, respectively.
MyPad is not affiliated with, or sponsored by Apple, Facebook, Twitter or Instagram.

---------
NEED HELP? Please delete then reinstall MyPad - This has been confirmed to fix the issue. If that does not fix your problem, please visit us :-) Facebook.com/GetMyPad
@MyPadApp on Twitter
---------

For the best possible experience, please upgrade your device to iOS version 4.0 or greater (plug your device into iTunes, then select "Update"). Unfortunately we can not support all features for iOS 3.2 indefinitely - Thank you.
Novedades de la versión 3.2.1
Problems? Delete & reinstall MyPad+ to fix!
- Add PIN code for security & multiple accounts (re-login to add or reset PIN)
- Add Pinterest, Reddit, YouTube & more via Dashboard (tap your name in left Navigation)
- Swipe posts in Popular Instagram to view previous pics!
- Favorite anything - Tap + to bookmark!
- See Apps from friends!
- Many bug fixes & speed improvements!

NEED HELP?
Please delete then reinstall MyPad+ - This has been confirmed to fix many issues after a new update. If that does not fix your issue, please visit us on Twitter @MyPadApp or:
http://facebook.com/GETMYPAD

Added in Previous Versions:
- FB & Twitter merged notifications
- Pages support & Post-As-Admin (tap your pic when posting)
- Fixed freezing, crashes & blank newsfeed
- iOS7 optimized & speed improvements
- Twitter fixed + Instagram videos!
- Improved design w/full photos + swipe ANY post!
- Track Pageviews (in Notifications)
- Swipe top of ANY post to view related pics & more!
- Fixed post to Groups, friends' walls
- Post to FB, Twitter & Inst in 1 tap (+filters!)
- Added sound effects
- Added Twitter Lists & in-line photos
- Track clicks on your posts (in Notifications, tap Track Pageviews)
- Upload many photos at once (+ filters!)
- Re-share tweets/updates, photos & links
- Added Check-Ins
- Themes to customize MyPad's background :)
- View friends' tagged photos
- Message friends & view FB Timeline (tap More on profile)
- Block apps in your News Feed (no more annoying game updates! Just tap + then "Block App")
- Free Music (listen in MyPad!)
- Added Twitter $cashtags (try $FB or $GRPN)
- Many, many Bug & Stability fixes, thanks for your patience :-)

There is nothing more important to the @MyPadApp team than providing the best social apps on the iPad & iPhone, and we have been working with Apple to release our updates as soon as possible - thanks for your patience & sharing MyPad with your friends!

Thanks for using MyPad, we have many more new features coming very soon! Have suggestions or need help?
Capturas de pantalla del iPad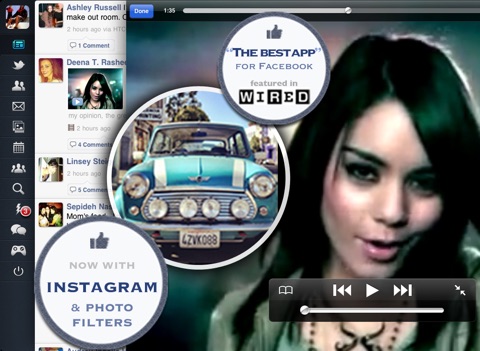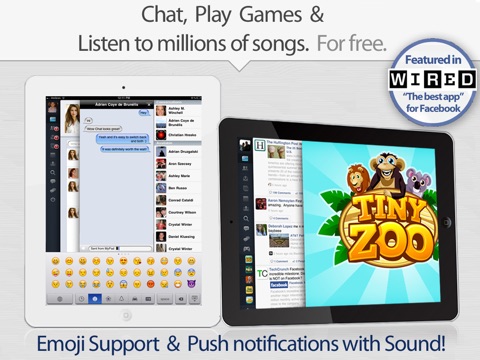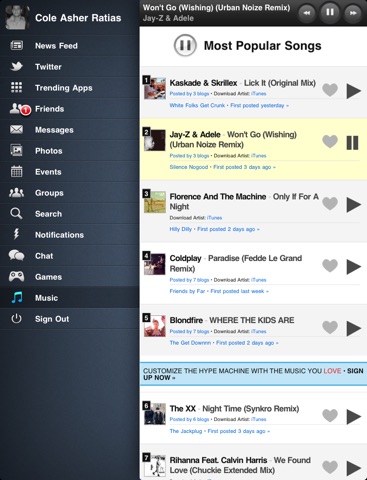 Reseñas de usuarios
Buena alternativa
Muy útil para tener tus tres cuentas (Facebook! Twitter e instagran) en una sola app o para quienes tienen más de una cuenta en facebook
Ver en iTunes
S/ 3.50

Categoría:

Redes sociales

Actualizado :

15/02/2014

Versión:

3.2.1

Tamaño:

28.2 MB

Idiomas:

Español, Alemán, Chino, Francés, Inglés, Italiano, Neerlandés, Portugués, Tailandés

Vendedor:

Loytr Inc
Compatibilidad: Requiere iOS 5.0 o posterior. Compatible con iPad.
Top compras dentro de la app
Bitly Analytics - 1 MonthS/ 12.90
Más Apps para el iPad de Loytr Inc