Affinity Designer
Autor: Serif Labs
Wybór redakcji
Otwórz sklep Mac App Store, aby kupić i pobrać aplikacje.
Opis
** Apple Design Award Winner 2015 **

Professional Graphic Design Software for the Mac.
Affinity Designer is the fastest, smoothest, most precise vector graphic design software available. Whether you're working on graphics for marketing materials, websites, icons, UI design or just like creating cool concept art, Affinity Designer will revolutionize how you work.

It takes full advantage of macOS technologies such as OpenGL, Grand Central Dispatch, Core Graphics and is fully optimized for 64-bit and multi-core processors to squeeze every ounce of available performance from your hardware – so it's seriously fast. Whether it's a 100 megapixel image or the most complex vector drawing with thousands of curves, you still pan and zoom at 60fps, move objects in correct z-order and see live views of all adjustments, brushes and effects as you're working with no compromise.

Experience the best PSD import engine out there – making it easy to collaborate with other creative professionals. Along with support for PSD, PDF, SVG, AI (PDF Stream), Freehand and EPS files you get all the flexibility you need so whether you switch to Affinity Designer for all your work, or just elements of what you do, it's completely painless.

With professional color model support, full 16-bit per channel editing, real-time pixel preview, image slices, masks, adjustment layers and tablet support, Affinity Designer is a serious tool for creative professionals.

Real-time performance
• Panning and zooming is always live at 60fps
• Live gradients, transforms, effects and adjustments
• Optimized for documents of any complexity, zoom to over 1,000,000% for absolute precision
• Live pixel and retina view of vector artwork, wireframe view, split screen mode
• Seamless switching between tools and editing modes for frustration-free design

Perfect color and output
• Professional CMYK, LAB, RGB and Grayscale color models
• Full 16-bit per channel editing
• End-to-end ICC color management
• Advanced Lanczos 3 image resampling plus Bicubic, Bilinear and Nearest Neighbor methods

Truly multi-discipline
• Rock solid vector tools that work just the way you want them to
• Live effects, blend modes, image adjustments, and raster and vector masks for any part of your design
• Use the strengths of vector and raster behaviors for the best of both worlds
• The best pen tool, node tool, curve editing, geometry operations, and smart shape tools available
• Flexible text handling including comprehensive support for OpenType
• High quality raster tools for texturing, masking and finishing artwork. Create your own brushes too.
• Optimized workspaces give focus to design disciplines including web graphics, UI/UX, print, and concept art
Co nowego w wersji 1.6
• New light user interface option
• New stroke stabiliser for all pencil and brush tools
• Metal 2 accelerated view optimised for macOS High Sierra
• New font chooser dropdown with recents, used fonts and favourites
• New Glyph browser
• Improved view pan/zoom performance
• Improved performance with large documents
• Align to key items
• Text frame vertical alignment options
• Fit frame to text
• Many PDF export improvements including vector export of multi-stop gradients
• Added 'Unlock All' and 'Show All' commands
• Numerous bug fixes and other improvements
Wygląd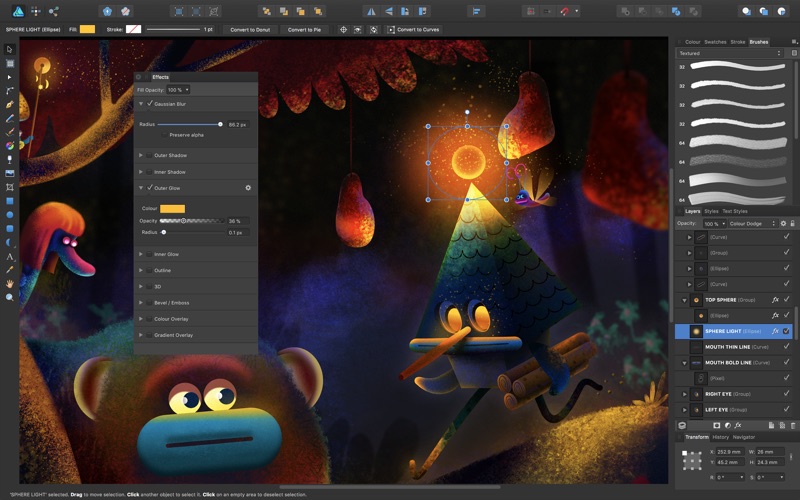 Recenzje użytkowników
Let us copy guides!
I would be happy to give it a 5-star rating, but I really can't understand why it is impossible to copy guides - as far as I am concerned, this is the basic tool to make sure spacing within design elements is even. I really hope this is implemented in future versions.
Żegnaj Adobe
Mam licencję Adobe CS3. Wydałem na nią kilka lat temu dużo pieniędzy.
Dziś za 40 euro kupuję aplikację, która ma większość potrzebnych do projektowania funkcji i przy tym jest wydajna i znacznie lepiej przemyślana.
Praktycznie w całości migrowałem już na Affinity i gdy muszę Illustratora uruchomić to mam takie wręcz niemiłe uczucie, bo jest po prostu gorszy :/ Gdy wprowadzą wektoryzację (Live trace) to prawdopodobnie Illustrator odejdzie w niepamięć.
Affinity sprawia, że chce się projektować :)
Aktualizacja: Wersja 1.6 jest jeszcze wspanialsza!
Pokaż w sklepie Mac App Store
239,99 zł

Kategoria:

Grafika i DTP

Uaktualnione w dniu:

2 lis 2017

Wersja:

1.6

Wielkość:

244 MB

Języki:

Angielski, Chiński uproszczony, Francuski, Hiszpański, Japoński, Niemiecki, Portugalski, Rosyjski, Włoski

Deweloper:

Serif (Europe) Ltd.
Zgodność: OS X w wersji 10.7 lub nowszej, procesor 64-bitowy