Be Focused Pro - Focus Timer & Goal Tracker
Autor: Denys Yevenko
Otwórz sklep Mac App Store, aby kupić i pobrać aplikacje.
Opis
Staying on task seems is a real challenge for our screen-bound generation. The Be Focused lets you get things done by breaking up individual tasks among discrete intervals, separated by short breaks. It's a surprisingly effective way to retain motivation and focus. Create tasks, configure breaks and track your progress throughout the day, week or custom period. Use either your iPhone, iPad or Mac – your devices always stay in sync.

Key features:
- Manage your tasks
- Track your progress throughout the day, week or custom period
- Fast and easy goal tracking
- Customize to maximize productivity:
• Work interval duration
• Short break duration
• Long break duration
• Number of intervals between long breaks
• Target number of intervals per day
- Ability to start, pause, or skip work interval
- Auto-start the next timer (option)
- Ability to edit the number of intervals
- Export to a CSV file
- Ability to paste a task list from other applications
- Global hotkeys
- Optional ticking sound
- Different alarm sounds
- Launch at startup option
- Syncs between iPad, iPhone and Mac*
- Also available for iPhone and iPad

* Sync with iOS devices requires Be Focused Pro for iOS, sold separately.
Co nowego w wersji 1.6.2
• Fixed "Unable to start timer" issue
• Updated the app icon design
• Multiple fixes and improvements
Wygląd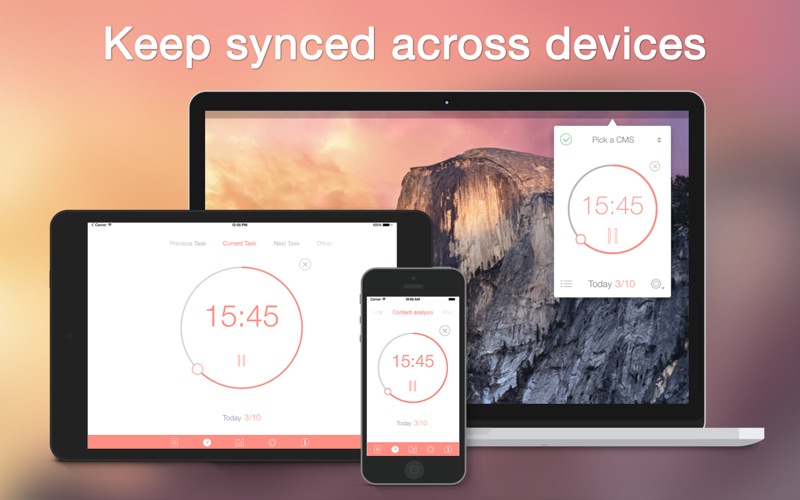 Recenzje użytkowników
it is really good app
I like how it organizes your tasks and the sync feature with all iOS devices
The deveolopers have done great job. However it is still needs one major improvment.
which is, when switching from task to task it mixes the number of cycles all in one counter and that is annoying !
each task has to has its cycle numbers so you can keep track of each task cycles.
amazing task managing app
I really like how I can manage to get my tasks done without getting distracted .
this app really helpped me use my time more efficient and organized in every task
simply beautiful
Nice one
I would give it 5 starts if it were not for "Rate me" dialog. Seriously, it is supposed to improve focus, but "Rate me" dialog is annoying.

Besides that - a great app improving productivity.
Pokaż w sklepie Mac App Store
23,99 zł

Kategoria:

Produktywność

Uaktualnione w dniu:

9 gru 2016

Wersja:

1.6.2

Wielkość:

11.4 MB

Języki:

Angielski, Rosyjski

Deweloper:

Denys Yevenko
Zgodność: OS X w wersji 10.9 lub nowszej, procesor 64-bitowy