Calm: Meditation to Relax, Focus & Sleep Better
Autor: Calm.com
Ta aplikacja jest dostępna tylko w sklepie App Store dla urządzeń iOS.
Opis
Calm is the #1 app for mindfulness and meditation to bring more clarity, joy and peace to your daily life. Join the millions experiencing less anxiety and better sleep with our guided meditations, breathing programs and Sleep Stories. Recommended by top psychologists and mental health experts to help you de-stress.

Calm is the perfect meditation app for beginners, but also includes hundreds of programs for intermediate and advanced users.

Guided meditation sessions are available in lengths of 3, 5, 10, 15, 20 or 25 minutes so you can choose the perfect length to fit with your schedule. Topics include:

* Calming Anxiety
* Managing Stress
* Deep Sleep
* Focus and Concentration
* Happiness
* Gratitude
* Self-Esteem
* Body Scan
* Loving-Kindness
* Forgiveness
* Non-judgement
* Commuting to work or school
* Walking meditation
* Calm Kids
* And so much more....

Also featuring:

* Daily Calm: a new 10-minute program added daily to help ease you into the day or unwind with before bed
* 50+ Sleep Stories: adult bedtime stories guaranteed to lull you to sleep
* 7 day and 21 programs for both beginner and advanced users
* Breathing exercises to relax
* Unguided timed meditation
* Open-ended meditation
* 30+ soothing nature sounds and scenes to use during meditation, yoga or to help you sleep

Track your progress with:

* Daily streaks
* Time spent meditating

Calm is loved by the press:

* "I'm generally wary of meditation apps because they sometimes weave in too much mystic talk for my taste. But Calm instead contains guidance like 'Concentrate on your body'" - New York Times

* "In the frenetic, crazy, digital world we live in, sometimes it's necessary to take a step back and smell the roses" - Mashable

* "Eliminating distraction...ended up helping me relax and realize that all the stuff I was stressing about wasn't that big a deal" - Tech Republic

* "Found myself similarly refreshed afterwards" - TechCrunch

Subscription pricing and terms:

Calm offers two auto-renewing subscription options:
$12.99 per month
$59.99 per year

These prices are for United States customers. Pricing in other countries may vary and actual charges may be converted to your local currency depending on the country of residence.

Your Calm subscription will automatically renew at the end of each term and your credit card will be charged through your iTunes account. You can turn off auto-renew at any time from your iTunes account settings but refunds will not be provided for any unused portion of the term.

Calm also offers a Lifetime subscription which is paid for by a one-off upfront payment of $299.99 with unlimited access to the Calm Collection forever.

Calm integrates with the Health app. This feature is optional.

Read more about our terms and conditions here:

Terms of service: https://www.calm.com/terms
Privacy policy: https://www.calm.com/privacy
Co nowego w wersji 3.7
We're excited to introduce Calm Music — our biggest new feature this year!

Calm Music features 3 channels: Calm Focus (subtly rhythmic music to help you focus while working or studying), Calm Relax (for kicking back and winding down) and Calm Sleep (to help you drift off to dreamland). Over the last year we've carefully composed the music for each channel using cutting-edge audio science and we think the results are incredible. We hope you agree.

You'll find Calm Music on the home screen of the app in the bottom left, where the Breathe Bubble feature used to be. You can now find the Breathe Bubble linked under the Meditate Menu.

While you're waiting for the update to install, try this simple practice: Relax, close your eyes, and take a few deep breaths. As you breathe, allow any tension you're holding to melt away. Scan your body starting with your head and face, and slowly scan your attention down to your toes, softening each body part one by one. See how it feels to stop and fully relax the mind and body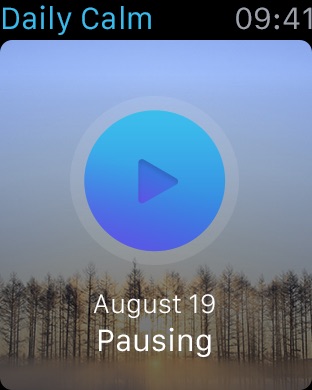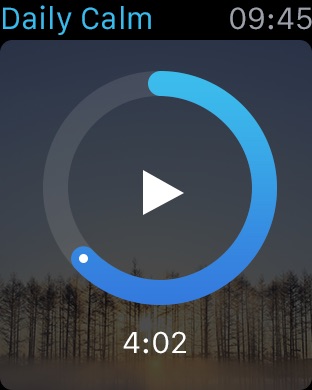 Recenzje użytkowników
Wow
That is simply amazing!
Pokaż w iTunes
Oferuje aplikację Apple Watch na iPhone'a
Gratis

Kategoria:

Zdrowie i fitness

Uaktualnione w dniu:

21 sie 2017

Wersja:

3.7

Wielkość:

124 MB

Apple Watch:

Tak

Język:

Angielski

Deweloper:

Calm.com, Inc.
Zgodność: Wymaga systemu iOS 9.0 lub nowszego. Zgodność z urządzeniami: iPhone, iPad oraz iPod touch.
Najlepsze zakupy w aplikacjach
Subscription34,99 zł
Calm Subscription47,99 zł
Subscription149,99 zł
Calm Premium209,99 zł
Calm Subscription224,99 zł
Calm Premium52,99 zł
Calm Premium157,99 zł
Calm Subscription49,99 zł
Calm Lifetime1 399,99 zł
Calm Subscription359,99 zł
Więcej od Calm.com na telefon iPhone