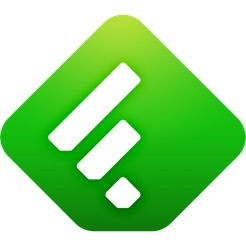 feedly. Read more, know more.
4+
Opis
The feedly app gathers the content of your favorite websites, blogs, Youtube channels and RSS feeds in one place.

It is the world's #1 reader with more than 15 million users.

The feedly Mac app syncs seamlessly with the feedly iPhone app and the feedly iPad app so that you can read your favorite sites anytime, anywhere.

The feedly Mac app has a few super powers that the feedly web interface does not include.

1) You get to easily login with a Google or Twitter account which is different from the one you use in our Safari browser.

2) You get a nice dock icon with an unread count badge.

3) The feedly Mac app is configured to handle feed:// URLs so that you can easily add new feeds to your feedly.

4) You have the possibility to open articles in a new tab inside the app without having to switch to your web browser.

We know that a lot of you use feedly on a Mac. We are excited to embark on the journey of making the feedly Mac app the most efficient way to organize, read and share the content of your favorite sites.

If you have suggestions on how to improve the experience, please join the open feedly community.
What's new in version 0.2?

New stuff:
- You now have the possibility to open articles in a new tab inside the feedly app!
Default behavior is still the same (article links are opened inside you web browser), so modify your app preferences to try out the new feedly tab bar.

Bug fixes:
- Popups inside the app are now resized to fit their content.
- Fix Buffer bug with login via Facebook or Twitter
- Fix Pinterest bug where users can't pin images.
- OPML file upload via the app is now supported.
- Remove bounce behavior on scroll
Recenzje użytkowników
Najlepszy RSS
Najlepszy program do RSS. Jedyny jaki działa i synchronizuje pomiędzy wszystkimi urządzeniami: Mac - iPad - iPhone. Piękna sprawa. Używałem różnych programów ale feedly jest po prostu super.
Aktualizacja popsuła aplikacje
Nadal wielkim plusem aplikacji jest lekkość, ale…
Po aktualizacji nie działają powiadomienia w docku. Po prostu nie pojawiają się nowe, dopóki nie wejdzie się bezpośrednio w aplikację, także po starcie systemu nie pojawiają się nowe powiadomienia. Nie wiem, czy tylko ja tak mam, ale wcześniej działało.
Informacje
Sprzedawca

DevHD Inc

Wielkość

924.3 kB

Kategoria

Wiek

Ocena 4+

Prawa autorskie

© DevHD inc.

Cena

Gratis
Obsługuje
Chmura rodzinna

Po włączeniu Chmury rodzinnej z aplikacji tej będzie mogło korzystać do sześciu członków rodziny.