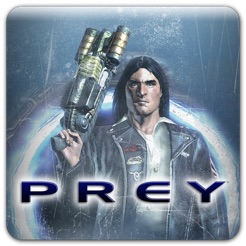 Description
We are next.

Tommy is a Cherokee garage mechanic, refuting his heritage and undecided about his next step in life. His world comes to a halt when an extraterrestrial crisis forces him to awaken spiritual powers from his long-forgotten birthright. Abducted with his people to a menacing mothership orbiting Earth, he sets out to save himself, his girlfriend, and eventually, the entire planet.

Features:

Gravity Flipping – Manipulate gravity by shooting special targets located throughout the sphere. There are also zones in the world where gravity is automatically flipped in various directions.
Wall Walking – Wall walk surfaces allow Tommy to traverse the sphere's walls and explore otherwise unreachable areas.
Death Walking – Death isn't the end. After losing all of his health, Tommy enters the Death Realm. He must battle the wraiths of fallen spirits to regain both health and spirit energy before returning to his living body.
Spirit Mode – Tommy can use the power of his ancient ancestors to leave his body and enter a spirit form. Spirit mode allows Tommy to sneak up on enemies, as well as overcome the sphere's many obstacles.

*** Please Check System Requirements Prior to Purchasing. ***

-iTunes© Support – If you have iTunes, simply name a playlist "Prey" and that music will be available on jukeboxes in the game.

Prey for Mac App is LAN only multiplayer

In order to run the game with satisfactory performance, your Mac must meet these minimum system requirements: 1.8 GHz CPU Speed | 512 MB RAM | 3.0 GB free disk space | (ATI): Radeon X1600; (NVidia): GeForce 7300 | 128 MB VRam

Recommended System Requirements:
CPU Speed: 2.4 GHz | Memory: 2 GB or higher | Video RAM: 256 MB

NOTICE: This game is not supported on volumes formatted as Mac OS Extended (Case Sensitive)

NOTICE: This game is rated M for Mature by the ESRB.
_____________________________________________________________________________
BE THE FIRST TO KNOW!
Get the latest Aspyr news, get insider information, deals and more…
SURF US: http://aspyr.com
LIKE US: http://facebook.com/aspyrmedia
FOLLOW US: http://twitter.com/aspyrmedia

Thank you for playing Prey from Aspyr!

© 2017 Take-Two Interactive Software and its subsidiaries. All rights reserved. 2K Games, the 2K logo, and Take-Two Interactive Software are all trademarks and/or registered trademarks of Take-Two Interactive Software, Inc. © 2013 3D Realms Entertainment. All rights reserved. The Prey name and logo, 3D Realms Entertainment and the 3D Realms logo are trademarks of Apogee Software, Ltd. Developed by Human Head Studios, Inc. Human Head Studios and the Human Head Studios logo are trademarks of Human Head Studios, Inc. All other marks and trademarks are property of their respective owners.
Ratings and Reviews
Polecam!!!
na łindzie przechodziłem z 5 razy. nawet nie miałem pojecia, że to wyszło ma maka. zakupiłem i od razu zacząłem grać po raz 6. nic sie nie zestarzała. super gra.
Polecam !
Pomimo upływu prawie 6 lat od premiery nadal gra się wspaniale.
Warto, szczególnie w takiej dobrej cenie jak teraz za 4 euro ! Czekam na podobną promocję z Call of Duty ;)
Information
Seller

Aspyr Media (iDP)

Size

1.7 GB

Category

Compatibility

OS X 10.6.6 or later

Languages

English, French, German

Age Rating

You must be at least 17 years old to download this application.

Frequent/Intense Horror/Fear Themes

Frequent/Intense Mature/Suggestive Themes

Frequent/Intense Alcohol, Tobacco, or Drug Use or References

Frequent/Intense Profanity or Crude Humour

Frequent/Intense Realistic Violence

Copyright

© 2017 Take-Two Interactive Software and its subsidiaries.

Price

47,99 zł
Supports
Family Sharing

Up to six family members will be able to use this app with Family Sharing enabled.