Zabrze mobile
By GISPartner Sp. z o.o.
Open iTunes to buy and download apps.
Description
Aplikacja Zabrze Mobile jest rozszerzeniem funkcjonalności istniejącego Systemu Informacji o Terenie, która zapewnia dostęp do wybranych danych z odniesieniami przestrzennymi.

Aplikacja umożliwia użytkownikowi przeglądanie kompozycji mapowych oraz dostarcza następujące funkcje:
• Nawigacja w oknie mapy – zasięg mapy zostanie zmieniony (przesunięty, zwiększony, zmniejszony) zgodnie z działaniem wykonanym przez użytkownika,
• Zarządzanie widocznością warstw i serwisów. Przykładem jest Ortofotomapa, której treść przedstawiona jest obrazem aerofotograficznym (zwykle zdjęcia lotnicze lub satelitarne powierzchni ziemskiej)
• Dodawanie zewnętrznych usług WMS – usługa umożliwia rozszerzenie kompozycji mapowych o usługi WMS rejestru usług systemu,
• Wyszukiwanie adresów oraz działek – wyszukane obiekty mogą zostać zlokalizowane w oknie mapy,
• Pomiar długości linii rysowanej na mapie,
• Pomiar powierzchni i obwodu poligonu narysowanego na mapie,
• Udostępnij lokalizację – umożliwia użytkownikowi udostępnianie aktualnej pozycji jako link do aplikacji wyświetlający wskazane współrzedne na mapie,
• Identyfikacja adresów, miejscowości – użytkownik wykorzystując gest Long Press (długie naciśnięcie) na mapie ma możliwość pobrania informacji o obiektach we wskazanym punkcie

Uwaga:
Używanie GPS działającego w tle może znacznie zmniejszyć żywotność baterii.

Mobile Zabrze app is a functionality extension of existing Land Information System, which provides access to selected data with spatial references.
This app enables user viewing maps and provides him the following functions:
• Map window navigation – changing map extent based on users action (pan, zoom in, zoom out)
• Visibility and services layer management. The example is Orthophotomap (usually aerial or satellite photos of earth's surface)
• Adding external WMS services – this service allows user to add map content by adding WMS services.
• Searching for address and parcels – a chosen address or parcel will be displayed in map window.
• Measure length – measures the length of a line drawn on map,
• Measure area – enables measurement of area or outline of a drawn polygon,
• Current location – allows user to share his current position as the link to the application displaying coordinates on the map,
• Identification of addresses and localities - using gesture Long Press (long press) on the map, you can download information about the objects in the specified point.

Disclaimer:
Continued use of GPS running in the background can dramatically decrease battery life.
iPhone Screenshots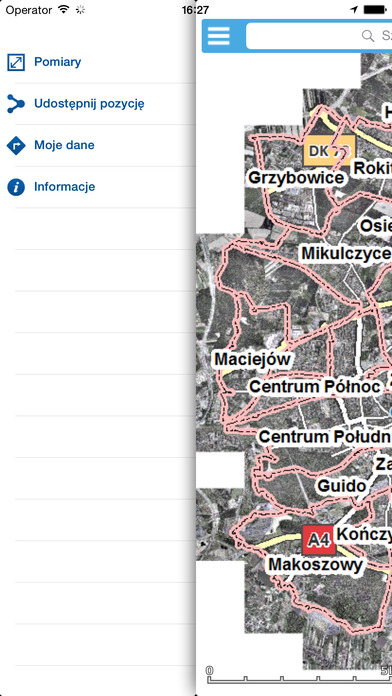 View in iTunes
Free

Category:

Navigation

Released:

30 December 2014

Version:

3.0.0

Size:

21.9 MB

Languages:

English, Polish

Developer:

GISPartner Sp. z o.o.
Compatibility: Requires iOS 7.0 or later. Compatible with iPhone, iPad, and iPod touch.
More iPhone Apps by GISPartner Sp. z o.o.