Expensify - Expense Reports, Receipts, Mileage, Time Entry, Travel
De Expensify, Inc.
Abra o iTunes para comprar e descarregar apps.
Descrição
Can't stand your expense reports? Look no further! Expensify makes capturing receipts, tracking time or mileage, business travel and creating expense reports quick and easy. Acknowledged by the tech community as the best app for expense reporting, Expensify takes the time, paper, and headaches out of your expense reports! Simply put, Expensify does expense reports that don't suck!

"The Best Business Travel App" - Business Insider

"Expensify is like a virtual accountant" - Wall Street Journal

"A mobile app that helps you run your business" - Forbes

Expensify is great for salespeople, business travelers, and companies of all sizes! Expense reporting has never been easier. Here's how it works:

1. Use Expensify to take a picture of your receipt.
2. Select which report that expense goes on.

...and you're done! Our SmartScan technology reads the receipt and creates the expense, eliminating any manual entry and saving you precious time and energy.

Did you lose your receipt? No problem! Expensify lets you import your credit card transactions and automatically creates an IRS guaranteed eReceipt for all purchases under $75!

Who's using Expensify? There are over 2.5 million users and 300,000 companies around the world using Expensify. And the reviews are in:

"Expensify delivers exactly what it promises: a simple and (dare we say) fun way to upload, scan and attach receipts to expense reports."
- Mashable.com (also an Expensify customer)

"More companies should look to Expensify, a San Francisco-based startup that takes the pain out of expense reports"
- USA Today

"Expensify's super slick web and mobile apps make it seem almost too easy to file expense reports"
- TechCrunch.com

"Expensify finally brought expense reports into the 21st century"
- Slate.com

Here's what Expensify does for you:
- Easy Receipt Capture: Simply take a picture of your receipt and then throw it away
- Automatic Receipt Scanning: Our SmartScan Technology "reads" your receipt and creates an expense
- Mobile Expense Creation: Create and edit expenses on the go - in your car, at the airport, anywhere
- Time Entry: Enter your hourly rate and length of time worked
- Mileage Entry: Enter distance, use your phone's GPS, or take a picture of your odometer
- Bank & Credit Card Import: Sync your card with Expensify and we'll automatically pull your transactions into your account
- Easy Report Submission: Email expense reports to your manager or convert to PDF and save
- Expensify Trips: We make travel easy with free flight alerts plus automatic expense report based on your itinerary
- Worldwide Currency Support: Including automatic currency conversion
- Company Expense Policies: Create and admin the categories, tags and rules for all users
- Offline Mode: Use Expensify even if your phone is out of service or in airplane mode
- ExpenseIt with Expensify: We take receipts from anywhere! Send your receipts to receipts@expensify.com and we'll scan them and put them in your account.
- IRS Guaranteed eReceipts - No receipt? No problem! Using our bank & credit card import, we create eReceipts for all transactions under $75!
- Tons of Integrations with Import/Export: Excel, Evernote, Dropbox, Oracle, SalesForce, FinancialForce, Xero, Quickbooks, SAP, NetSuite, ADP, Intacct, Microsoft Dynamics

Expensify's usefulness goes beyond the app! All your expenses sync up with our powerful web app at www.expensify.com.

Have any questions? Just email help@expensify.com for help.

*Please note extended use of GPS functionality can dramatically decrease battery life.
Novidades da versão 5.0.3
We had a couple mileage tracking issues last release so here's the updated Expensify DriversEd guide:
- Your starting point/mile now saves even when app is backgrounded/closed.
- Odometer page crash has been pulled over to the right. It's fixed, and we're good to go now.
- The speed limit for most four-lane highways is still 65 mph.
Captura de ecrã do iPhone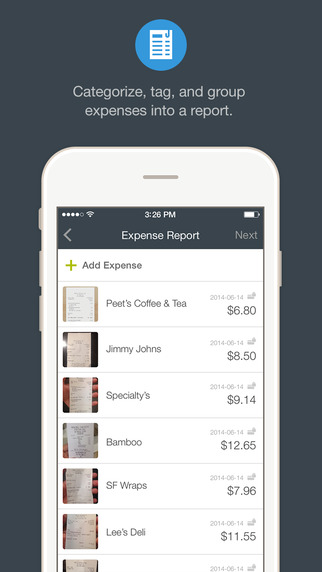 Ver no iTunes
Gratuito

Categoria:

Empresas

Actualizado:

01/04/2015

Versão:

5.0.3

Tamanho:

16.6 MB

Idioma:

Inglês

Programador:

Expensify, Inc.
Compatibilidade: Requer o iOS 7.0 ou posterior. Compatível com iPhone, iPad e iPod touch. Esta app está optimizada para iPhone 5, iPhone 6 e iPhone 6 Plus.
Mais apps para iPhone de Expensify, Inc.