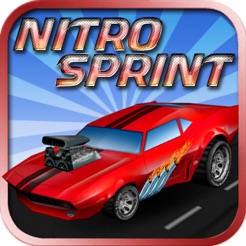 Nitro Sprint
4+
Grátis
Oferece compras integradas
Descrição
Be the number one test driver!

Enjoy your 500 horsepower muscle car on the Nitro Sprint and be the first on the integrated "Game Center" leaderboard! You can easily share your results on Facebook, Twitter or via email.

- Avoid obstacles and civilian cars!
- Collect nitro dots to fill your nitro!
- You have autogas and a min. speed!
- Use the pedal on the right for nitro!
- More speed, more score points!
- You have also a brake pedal!
- Puddles makes you slower!
- Try the sensitivity slider in the options menu if the control is difficult!
- Upgrade your car using "Nitro Coins" for a better performance.
- You can choose from 4 different paint colors.

Beware: One crash and the trip is over!

Have fun!!

********************************

Nitro Sprint is a universal app running on the iPhone, iPod touch and iPad. It supports retina display on the iPhone4.
The game is also compatible with older devices, but an iPhone 3GS or better is recommended for optimal performance.

Please rate the game in the iTunes Store if you've enjoyed it. Feel free to send us an email, if you have opinions, ideas or questions about the game. We are listening!

Email: info@catmoongames.com

Please take a look at our other racing game "Playroom Racer HD". It is a cool top-down racer.
- Minor performance optimizations
Classificações e críticas
Informação
Vendedor

Intuitive Computers

Tamanho

17.4 MB

Categoria

Compatibilidade

Requer o iOS 3.1.2 ou posterior. Compatível com iPhone, iPad e iPod touch.

Idade

Classificação de 4+

Copyright

© 2011 Intuitive Computers

Preço

Grátis

Compras integradas

9000 coins

3,49 €

2000 coins

1,09 €

5000 coins

2,29 €
Suporta
Game Center

Desafie amigos e consulte marcadores e proezas.

Partilha com a família

Ao ativar a Partilha com a família, a app pode ser utilizada por 6 membros da família.