Transas iSailor - Marine Navigation, Chart Plotter and AIS Viewer
De Transas Marine Limited
Abra o iTunes para comprar e descarregar apps.
Descrição
iSailor is an award-winning easy-to-use marine and river navigation system developed for amateur seafarers.
Intended for use on boats and yachts, iSailor provides clear presentation of navigation information, electronic charts and additional content. Transas own TX-97 vector format charts supported by iSailor are recognized worldwide as one of the most accurate and reliable sources of navigational information.

The application operates on iPhones and iPads utilizing the built-in GPS or an external Bluetooth GPS.

Supported devices (with iOS version 7.x.x and higher):
• iPhone 4 or higher
• iPad - 2nd generation or higher

Available chart folios cover coastal and offshore waters of North America, Latin and South America, Europe, Africa, Middle East, Far East, Asia, Australia & New Zealand.

All chart folios can be selected, purchased and downloaded via the iSailor application interface using its Chart Store section utilizing the standard iTunes Store payment/purchasing procedure.

iSailor features:

• Positioning system: iOS (Built-In GPS), NMEA GPS or AIS Class B (Optionally)
• NMEA Heading and Rate-Of-Turn sensors (Optionally)
• NMEA Echo Sounder with a graphical 2D echogram and water temperature sensor (Optionally)
• NMEA Wind Sensor, including True & Relative wind calculation (Optionally)
• Display of charts, routes, track(s) and user objects
• AIS target presentation. target contours and dimensions (Optionally)
• Internet AIS service (Optional subscription)
• Weather service (Optional subscription)
• Tides and tidal currents (Optional subscription)
• Sailing guides. regional marinas (Optional subscription)
• North Up, COG Up, Head Up and Route Up chart orientations
• Information on any vector chart objects
• Free cursor, Point-To-Point and Own ship referenced ERBL functionality
• Monitoring of navigational data: Position, Course (COG) and Speed Over Ground (SOG)
• Route creation by the graphic and tabular methods. "Go To" routes.
• Waypoint monitoring: Bearing to WP, Distance to WP, XTD, Time-To-Go and ETA
• Schedule information: Time-To-Go and ETA to any selected waypoint ahead
• Multiunits and multilanguage support
• Custom track colours
• Day and night chart palettes
• Alarm monitoring functionality
• Route, track and user object: export/import via GPX, KML and KMZ formats
• User object sharing via: Facebook, Twitter, iMessenger, e-Mail

Warning: continued use of the GPS running in the background can dramatically decrease your device battery life.

iSailor web site: http://www.isailor.us

Any questions? Feel free to contact us at support@isailor.us

Sincerely yours,
iSailor team
Novidades da versão 1.8.2
• Apple Watch support
• The new Battery Level Alarm for the Anchor Watch mode
Apple Watch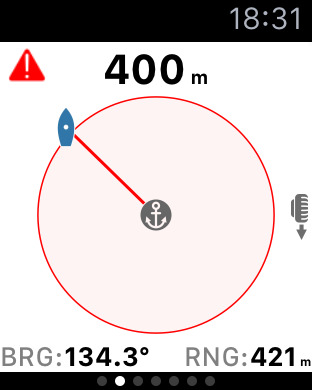 Ver no iTunes
Esta app foi concebida para o iPhone e o iPad
Oferece a App Apple Watch para iPhone
Gratuito

Categoria:

Navegação

Actualizado:

06/06/2016

Versão:

1.8.2

Tamanho:

65.3 MB

Apple Watch:

Sim

Idiomas:

Português, Alemão, Chinês, Coreano, Dinamarquês, Espanhol, Francês, Inglês, Italiano, Japonês, Russo, Sueco

Programador:

Transas Marine International AB
Compatibilidade: Requer o iOS 7.0 ou posterior. Compatível com iPhone, iPad e iPod touch.
Top de compras integradas
Portugal34,99 €
Internet AIS Service 1 year subscription15,99 €
AIS Receiver Support9,99 €
AIS Ship Contours0,99 €
Spain. Mediterranean Sea34,99 €
Atlantic Ocean. Offshore waters34,99 €
Tides & Currents subscription9,99 €
Africa, West Coast. Tanger to Cape Town excluding the Canary Islands34,99 €
Weather Service 1 month subscription7,99 €
Weather Service 1 year subscription24,99 €
Mais de Transas Marine Limited