Photo Garden - Visual Garden Journal for Professionals
Por Apps by Erik
Abre iTunes para comprar y descargar Apps.
Descripción
Welcome to Photo Garden! Visually track your gardening progress from week to week. Manage your garden like a professional with Photo Garden.

🌻🌻🌻🌻🌻🌻🌻🌻🌻🌻🌻🌻🌻🌻🌻🌻🌻

"Excellent App. Two thumbs up!"
- wcarterhoggard

🌻🌻🌻🌻🌻🌻🌻🌻🌻🌻🌻🌻🌻🌻🌻🌻🌻

Mostly everyone has some sort of garden, whether it be a window flower bed or a full vegetable garden. With the Photo Garden app you can track your progress easily with a simple click of your green thumb.

Share photos with friends and family across the country. Easily track your week to week gardening progress. Share or brag about how well your garden is doing with built in sharing through email or Facebook.

🌹🌹🌹🌹🌹🌹🌹🌹🌹🌹🌹🌹🌹🌹🌹🌹🌹

Whether you plant vegetables, flowers, bushes, or trees, Photo Garden helps visually track your progress.

💐💐💐💐💐💐💐💐💐💐💐💐💐💐💐💐💐

Enjoy showing off your garden to friends and family. Photo Garden has an easy to use interface that lets you upload photos of your progress, manage specific gardens and share photos with friends and family via email or Facebook!

🌸🌸🌸🌸🌸🌸🌸🌸🌸🌸🌸🌸🌸🌸🌸🌸🌸

Use Photo Garde as a garden management system. Easily track your progress week to week or year to year. Started your tomatoes too late this year? You won't make that mistake next year with Photo Garden.
Not sure when to pick your carrots? Access photos from last year's crop to remind yourself of how long they take to grow to your desired size.

🌷🌷🌷🌷🌷🌷🌷🌷🌷🌷🌷🌷🌷🌷🌷🌷🌷

HOW TO USE PHOTO GARDEN:

1. Create a garden
2. Name your garden
3. Take a picture of your entire garden
4. Add each plant found in your garden
7. Each week, update the photos of your plants and garden
8. Enjoy your collection over time!

🌺🌺🌺🌺🌺🌺🌺🌺🌺🌺🌺🌺🌺🌺🌺🌺🌺

Comments/Questions? info@PhotoGardenApp.com
Captura de pantalla del iPhone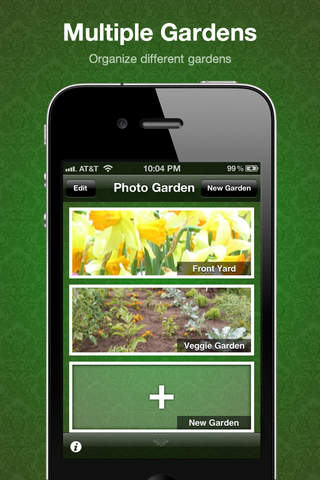 Ver en iTunes
USD 0.99

Categoría:

Estilo de vida

Publicado:

18/05/2012

Versión:

1.0.0

Tamaño:

2.9 MB

Idioma:

Inglés

Vendedor:

Erik Bye
Compatibilidad: Requiere iOS 3.2 o posterior. Compatible con iPhone, iPad y iPod touch.