Babbel – Learn Languages Spanish, French & more
От Lesson Nine GmbH
Откройте iTunes, чтобы купить и загрузить приложения.
Описание
Learn Spanish, French, Italian, German, and many more languages with Babbel, the shortest path to real-life conversations in a new language. Developed by a team of language learning experts, Babbel has helped millions of people speak a new language with confidence.

The Babbel Method

Here's what makes Babbel more effective than any other language learning app:

1. Confidence — Our goal is to get you speaking from your very first lesson. And our elegantly designed courses give you the confidence to get there. We teach you how to engage in practical, everyday conversations, making it easier for you to have authentic experiences in your new language.

2. Comprehension — Our lessons immerse you in relevant culture and real-life conversations. We want you to really take in the language, not just memorize useless phrases. And we provide helpful hints in English (or your native language) to make your new language more relatable.

3. Retention — We know you're busy. That's why our lessons are short but sweet: about 10-15 minutes, and designed to send your new language straight to long-term memory. We regularly refresh your memory with our dynamic review sessions, which target areas where you need improvement most. Finally, we make sure you really grasp what you're learning by bringing it back later in a new context.

Features

• 14 languages to choose from
• 10-15 minute, bite-sized lessons that fit conveniently into your schedule
• Lessons covering a wide range of useful topics, from travel to business (and more!)
• Speech recognition technology to keep your pronunciation on point
• Courses at a variety of skill levels, making Babbel ideal for both beginners and more advanced learners
• Our robust Review Manager helps you retain new vocabulary
• Learning progress that's synchronized across all your devices, so you can easily pick up right where you left off

Languages
Spanish, French, German, Italian, Brazilian Portuguese, Russian, Turkish, Polish, English, Indonesian, Dutch, Danish, Swedish, and Norwegian

Works for your goals
After just one month, you will be able to speak confidently about practical topics, such as:
• Transportation
• Shopping
• Directions
• Making friends and socializing
• Dining
And much more!

What people are saying about Babbel:

"Babbel is one of the stalwarts of the online language-learning sphere." -The Next Web

"Babbel's lessons, unlike Duolingo's, first focus on building basic conversational skills." -The Economist

"Babbel exceeds expectations, delivering high-quality, self-paced courses in 13 languages." -PC Magazine

*Named 2016's "most innovative company in education" by Fast Company*
*The World's Highest Grossing Language Learning App*

PLEASE NOTE
You will need a subscription in order to get access to the full learning materials for one language.

For each language there are four subscription options available:
One-month subscription for $9.99
Three-month subscription for $19.99
Six-month subscription for $33.99
Twelve-month subscription for $59.99

Each subscription will be automatically renewed unless auto-renew is turned off at least 24 hours before the end of the current payment period.

Your iTunes account will be automatically charged at the same price for renewal within the 24-hour period prior to the end of the current payment period unless you change your subscription preferences in your iTunes Account Settings.

When a subscription is canceled, access to the app's courses and features will expire at the end of the current payment period.

Privacy policy: http://about.babbel.com/en/privacy/
Terms of use: http://about.babbel.com/en/terms/
Что нового в версии 5.4.3
Hugs, not bugs.

That's what we'd prefer. Unfortunately, bugs happen. So, in those rare moments we're not enjoying the warm embrace of a hug, we're working hard to fix what needs to be fixed and introducing new features that improve your learning experience.

Did you know?
There are about 7,000 languages in the world.

Questions? Feedback? Hug requests? We'd love to hear from you. Email us at support-mobile@babbel.com

Your Babbel Team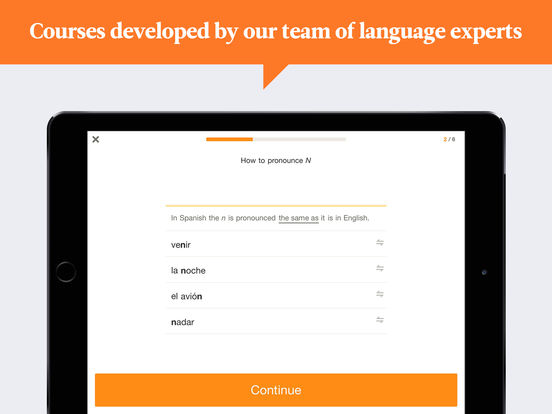 Отзывы покупателей
Worthy of notice
Good help for independent students
Просмотреть в iTunes
Приложение для iPhone и iPad
Включает приложение для Apple Watch (для iPhone)
Бесплатно

Категория:

Образование

Обновлено:

19.12.2016

Версия:

5.4.3

Размер:

135 МБ

Apple Watch:

Да

Языки:

английский, испанский, итальянский, немецкий, португальский, французский, шведский

Разработчик:

Lesson Nine GmbH
Совместимость: Требуется iOS 8.0 или более поздняя версия. Совместимо с iPhone, iPad и iPod touch.
Топ встроенных покупок
Learn French1 490 р.
Learn Spanish1 490 р.
Learn French749 р.
Learn German1 490 р.
Learn Italian1 490 р.
Learn German749 р.
Learn Spanish749 р.
Learn Italian749 р.
Learn Portuguese1 490 р.
Learn Italian4 490 р.