Brainwaves Binaural Beats - Anxiety Stress Healing
Av iMobLife Inc.
Öppna iTunes när du vill köpa och hämta appar.
Beskrivning
Brainwaves - use the power of binaural beats and peaceful meditation sounds for stress healing and a soothing sleep cycle and pattern.

Brainwaves is the No. 1 Brainwave App in 32 Countries! It has top quality Isochronic Tones and Binaural Beats combined with relaxing ambient music and soothing nature sounds. Including 110+ programs for Relaxation, Sleep, Meditation, Anxiety, Stress Relief, Positive Mind, Confidence, Focus, Memory, Healing, Brain Function, and much more!

As a world-renowned brainwave specialist, The Unexplainable Store® (http://www.unexplainablestore.com/) has been providing brainwave entrainment since the year 2000. All the brainwaves are meticulously created with the latest brainwave entrainment technology. And all the Isochronic Tones are 320 Bitrate!

*** FEATURES
- 90+ brainwave programs bring you to an altered state of mind
- Download for free with a full Relaxation Brainwave session (a value of $6)
- Compatible with both iPhone and iPad
- Sync your purchases between iOS, Mac and other devices with one account
- Time your session with built-in Timer feature
- Build and save your own playlists
- Elegant design makes it a pleasure to use on a daily basis
- Free samples of each brainwave recording
- No extensive practices required, and feel the effects in minutes
- Support Apple Watch

*** BENEFITS OF BRAINWAVES
- Total relaxation of the entire body from head to toe
- Reduce Anxiety or Relieve Stress
- Feeling of sedation
- Enhance cognitive ability
- Increase ability to meditate deeply
- Explore spiritual side of life
- Place you in a state of hypnosis
- Treat ADHD and personality disorders
- Heighten your mood
- Ease the symptoms of depression
- Beat insomnia and sleep like a baby
And a lot more is waiting for you to explore. Download now and experience the benefits of Brainwaves.

So, what are you waiting for? Download Brainwaves right now and start treading on the path to a healthy mind, body and soul!

PROGRAMS
Solfeggio Frequencies, Astral projection, Lucid Dreaming, Chakra Opening, Aura Viewing, Past Life Regression, Remote Viewing, Meditation, ESP/Psychic, Shaman Consciousness, Automatic Writing, Telepathy, Self Hypnosis, Spirit Guide Contact, Christ Consciousness, Chanting, Yoga Enhancer, Healing Tones, Color Noise, Language Learning, Memory, Creativity, IQ Increase, Stay Alert, Manifestation, Prosperity, Motivation, Weight Loss, Sleep, Hormone Growth, Wake Up, Headache Remedy, Pain Relief, Good Health, DNA Stimulation, Endorphin Release, Energy, Fountain of Youth, Hair Loss, Eyesight, Sinus Congestion, Allergy Relief, Arthritis Aid, Female Health, Inner Balance, Mind Body Detox, Anxiety Aid, Addiction Help, Attention Disorder, Relaxation, Depression Help, Visualization, Makeover, Eat Healthy, Start Exercising, Improved Concentration, Anger Management, Confidence, Positive Mindset, Courage, Ego Control, Leadership, No Regrets, Public Speaking, Right Path, Self Esteem, Serotonin Release, Find Love, Braintuning Classical

To Contact Us:
feedback@imoblife.net

NOTE
Every person's brain works differently, but on the same basic principles. It takes some time to really feel effects, so don't give up if you fail to reach where you would like to be after the first try. Also, headphone is highly recommended.

SUBSCRIPTION PRICING & TERMS
We offers two auto-renewing subscription options:
$13.99/month
$59.99/year

Your subscription will automatically renew within 24-hours prior to the end of each billing period and your credit card will be charged through your iTunes account. You can turn off auto-renew at any time from your iTunes account settings but refunds will not be provided for any unused portion of the term.

Pricing in different countries may vary and actual charges may be converted to your local currency depending on the country of residence.

Terms of Use:http://www.imoblife.net/PrivacyPolicy/Terms_of_Use.html
Privacy Policy:http://www.imoblife.net/PrivacyPolicy/
Nyheter i version 5.2.0
New features:
1. iPad version full update, more features for exploring.
2. Be able to present tracks to your friends after buying. Update now.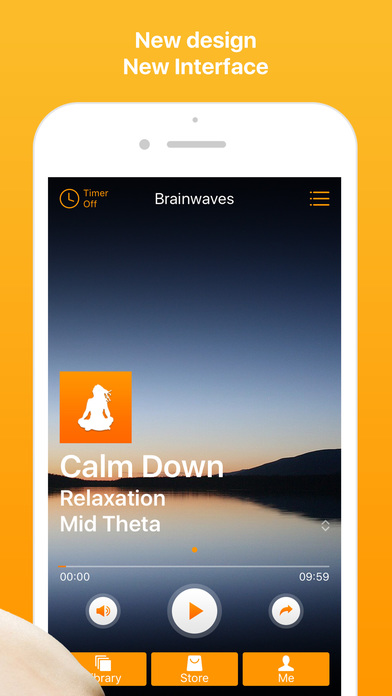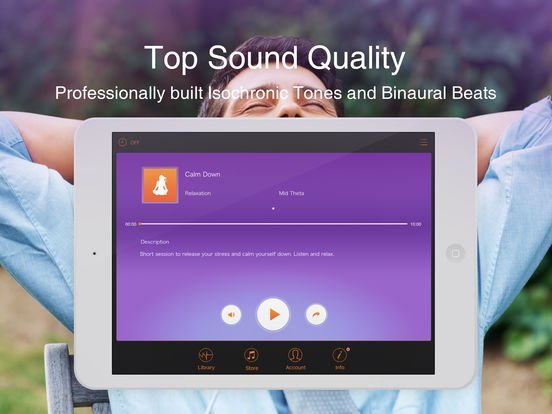 Visa i iTunes
Den här appen är utvecklad för både iPhone och iPad
Erbjuder appen Apple Watch för iPhone
Gratis

Kategori:

Hälsa och motion

Uppdaterad:

28 jun 2017

Version:

5.2.0

Storlek:

80.8 MB

Apple Watch:

Ja

Språk:

engelska, spanska, tyska

Utvecklare:

iMobLife Inc.
Kompatibilitet: Kräver iOS 8.0 eller senare. Kompatibel med iPhone, iPad och iPod touch.
Mest populära köp inuti app
Super Gift Package1.095,00 kr
Brainwaves209,00 kr
Dive Quickly and Deeply40,00 kr
Lucid Dreaming139,00 kr
Hopes and DreamsGratis
Chakra Opening85,00 kr
Brainwaves special offer109,00 kr
Astral Projection Binaural Beats75,00 kr
Dive Quickly and Deeply Binaural Beats20,00 kr
Astral Projection139,00 kr