Cachly - Geocaching
Av Zed Said Studio LLC
Den här appen är endast tillgänglig i App Store på iOS-enheter.
Beskrivning
Cachly is a simple and powerful Geocaching app for iOS that includes many advanced features that include the following:

- Geocaching account
Cachly uses the Geocaching Live API so that you can login with your account and see all of your information.

- FTF!
Show available FTFs on the map so you can be the first to grab the find!**

- Find Caches
Current location, coordinates, search for a location, or GC code. *Basic member restrictions apply. Some features only show for Premium users.

- DNF
See all your blue frowns and turn those into smilies!

- Offline Vector Maps
Maps can be saved for offline use using powerful offline capabilities using OpenStreet vector maps.

- Offline caches
Save caches to offline lists for use anywhere!

- Offline filtering
Filter lists of caches by attributes and other cache data

- Bulk log upload
Upload all your pending logs at once!

- Translate
Translate cache descriptions, hints, and logs from any language to any language.

- Map Options
Choose from Apple Maps, Google Maps, Ordnance Survey and OpenStreet Map online or offline vector maps

- Import & Export GPX
Import GPX files from Dropbox, iTunes, email and other apps or export and share a GPX of any caches.

- Advanced Search
Search for user finds, hides, exclude your finds and hides and so much more.

- Advanced Sorting
Sort the found caches by type, container, size, trackables and many other sort types.

- Navigate to Cache
Find the directions and route to the cache using Google Maps, Apple Maps, Waze, Sygic, Navigon, Tom Tom, Gaia and Pocket Earth.

- Log Caches/Trackables now or later
Log them now or save them and send later.

- Log Keywords
Set default text for logs as well as use keyword replacements for common text such as cache code, date, etc.

- Souvenirs
See your user Souvenirs as well as other users.

- Trackables
Drop multiple trackables into a cache

- Multiple Image Upload
Upload multiple photos to logs

- Pocket Queries
Download and view Pocket Queries offline.

- Bookmark Lists
View your bookmark lists and add caches to them. View other users bookmarks as well!

- Waypoints
Create user waypoints as well as set a corrected coordinates.

- User Profiles
View Finds, Hides, Logs, User Gallery and much much more.

- More features
Cachly includes loads of other feature that make it the best Geocaching app out there!

*Basic members of geocaching are limited to returning only Traditional geocaches, Pocket Queries are not available, and Custom Search is limited. Basic members are also limited to loading 3 full caches per 24 hour period. This is not a restriction of Cachly, but of the Geocaching platform.

**Premium feature
Nyheter i version 3.1
Cachly 3.1 is finally here! With this release comes some amazing new features:

- Multiple log text templates
- User logs can be filtered by different log types
- Filtering options for Found Date, Downloaded Date, Last Update Date and Last Found Date, Placed Date, Favorited and Distance
- Filtering logic for AND/OR
- Login can now use your iOS keychain usernames and passwords
- Find caches near this cache option
- Description and Hint uses fonts based on iOS text accessibility
- Option to delete a cache from all offline lists
- Option to backup all offline lists in the new Backups section
- Download all available images for a cache
- Delete offline images for a single cache
- Search for caches within map bounds
- Offline images are saved in a single location to prevent duplicate downloads
- Deleting offline list performance greatly increased
- Pending Logs bulk upload will flag logs with errors
- Related webpage option is now available on caches that have this
- Force touch or long press on list view or map callout to show options including Show cache on map option
- Images in the cache description will now be download offline
- GPX exports and imports include FTF attribute
- Offline lists have the option to update only visible caches
- Updates for the iPhone X

We have also fixed over 200 bugs.

Questions or comments please contact support@cach.ly.
iPhone-skärmavbilder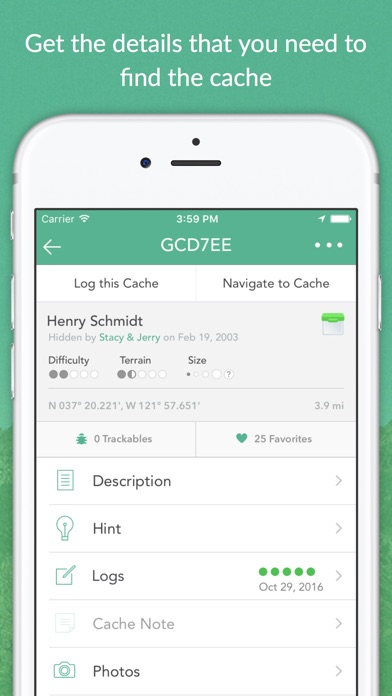 Visa i iTunes
50,00 kr

Kategori:

Navigering

Uppdaterad:

20 nov 2017

Version:

3.1

Storlek:

30.0 MB

Språk:

svenska, engelska, franska, isländska, italienska, japanska, katalanska, nederländska, polska, portugisiska, tyska

Utvecklare:

Zed Said Studio LLC
Kompatibilitet: Kräver iOS 10.0 eller senare. Kompatibel med iPhone, iPad och iPod touch.
Fler iPhone-appar från Zed Said Studio LLC