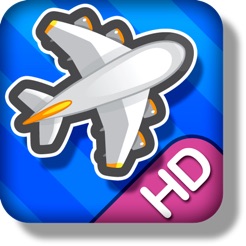 Beskrivning
The Classic iPhone Hit is Now Available on Your Mac!

In Flight Control HD, you're an air traffic controller at an increasingly busy airport. Just point and drag aircraft to their landing zones with your mouse or trackpad, but don't let them collide. It's simple, but not easy! You'll need nerves of steel and smart strategy to keep the chaos under control. Flight Control HD has been especially redesigned for the Mac, with beautiful high resolution graphics, subtle snap-to landing zones suitable for mouse and trackpad play, and collision warnings adapted for a larger screen.

✈ NEW ✈ Play Safari Airfield, an all-new map with unique gameplay, available only on the Mac App Store!
✓ Insanely addictive – easy to start, but impossible to stop
✓ Enjoy 9 maps of varying difficulty to suit players of all levels, including 4 large scale HD maps
✓ Unlock a range of achievements
✓ Compete on online leaderboards
✓ Fast-forward mode for advanced players
✓ Multiple player profiles, so the whole family can play
✓ Quirky retro style graphics, inspired by the golden era of aviation
✓ Infinite replayability as you chase ever higher scores!

So welcome aboard - please sit back, fasten your seatbelt and enjoy the mayhem on the big screen. Treat yourself and buy Flight Control HD now, or surprise a friend and "Gift This App"!

_____________________________________
ⓘ For the latest inside info from Firemint:
► Join us on http://facebook.com/flightcontrol
► Follow us at http://twitter.com/firemint
► Visit our site at http://firemint.com
* PLAY SAFARI AIRFIELD, AN ALL-NEW MAP EXCLUSIVE TO THE MAC APP STORE!
Safari Airfield is the new, high-definition map for Flight Control HD for Mac App Store. It's available only in this version of the game and includes unique gameplay that will really boost your score!

To earn instant points, just take photos of the animal herds dotted around the map by flying over them. Elephants, buffalo, hippos and zebras are worth one point while lions will net you three!

For more information, check out the step-by-step guide: http://www.firemint.com/safari

* Two new achievements:
- Lion Pride: Photograph 20 or more lions on Safari Airfield.
- Shutterbug: Fly through all six photo points and land safely on Safari Airfield using a single aircraft.

* Minor performance optimizations.
Betyg och recensioner
Magiskt...
Riktigt bra portning, fungerar fantastiskt bra med touchpad och flyter på smidigt.

... det enda jag saknar är Game Center-integration, men det ligger ju som bekant hos Apple ...
Jättekul!
Jättekul! Som tidigare sagt saknar jag Game Center-integrationen så man kan ta med sig rekorden från iPhonen, men annars en höjdare. Perfekt spel spela med en Wacom Bamboo-platta (till och med bättre känsla än trackpaden :-))
Information
Säljare

EA Swiss Sarl

Storlek

96.2 MB

Kategori

Ålder

Åldersgräns 4+

Copyright

© 2010 Firemint

Pris

50,00 kr
Support
Familjedelning

Upp till sex familjemedlemmar kan använda den här appen när Familjedelning är aktiverat.