Media5-fone SIP VoIP Softphone
Av Media5 Corporation
Öppna iTunes när du vill köpa och hämta appar.
Beskrivning
Important: Since iOS 10+, there is a new limitation in background mode that may prevent the app to receive calls.
This seems to be more frequent in the latest version (10.3.2), when the device is sleeping.
We are currently investigating this situation.

The famous SIP Softclient with High Audio Quality for the iPhone / iPad / iPod Touch!

Media5-fone is the best and most comprehensive Mobile VoIP SIP Softphone application that enables you to make and receive free or inexpensive secured phone calls over the Internet using Wi-Fi or Cellular Data connection.

Get a VoIP SIP account with one of the validated SIP Providers and use the Media5-fone SIP Client to start making and receiving calls all around the world.

Compatible Enterprise IP-PBX & SIP servers:
• 2600Hz
• Aastra
• Asterisk
• Broadsoft (certified)
• Ericsson
• FreePBX
• FreeSwitch
• Kamailio
• Nokia-Siemens
• Nortel CS1K, CS2K, CS5200
• OpenSIPS
• Panasonic
• Samsung
• sipXecs
• Sylantro
• Unify OpenScape
• And many more…

FEATURES:
• Easy to configure:
- Flexible Codec selection and prioritization;
- Authentication Username;
- Dial plan;
- Pre-configured list of SIP Service Providers;
- Selectable ringtone;
- Customizable tab bar;
- Acoustic Echo Cancellation / Automatic Microphone Gain Control;
- Highly interoperable.
• Telephony/Communications Features:
- Make and Receive VoIP Calls over Wi-Fi and 3G;
- SIP URI Dialing support (e.g. sip:media5@sip.media5.com);
- Audio routing (Loudspeaker / Handset / Bluetooth / Wired Headset) / Mute;
- Access to the native contact list;
- Favorites / Speed Dial;
- Call History / Contact management;
- Voicemail integration / notification (SIP MWI);
- Hold / Resume / Redial;
- In call contact picture;
- Configurable DTMF (SIP INFO / RFCs 2833/4733 / RTP Inband);
- Notification Center Support for missed calls, voicemail and registration status;
- Blocked Numbers List.
• Codecs:
- Included: G.711 (uLaw & ALaw), iLBC;
- Purchasable: G.722 (Wideband), iSAC (HD), G.729 Annex-B;
- Support for UDP and TCP.
• Other:
- Call Waiting / 2nd Call / Call Toggle / Call Transfer / Conference;
- Switch between Multiple SIP accounts (one registration at a time);
- Secured SIP Transport (TLS);
- Secured Encrypted Media (SRTP) with SDES;
- VoiceOver support;
- Languages: English, French, German, Spanish, Portuguese, Arabic, Japanese, Chinese (Simplified), Russian, Turkish.

SUPPORT:
• See the "Media5-fone support" link below.

NOTES:
• Media5 Corporation is not a telephony provider; you must previously obtain a SIP account from your SIP IP-PBX IT administrator or from your SIP Service Provider. Media5-fone IS OPENED (UNLOCKED) AND THEREFORE NOT ATTACHED TO ANY SIP TELEPHONY PROVIDER.
• Allowing VoIP over Cellular Data – Important note: Some mobile network operators may prohibit or restrict the VoIP (Voice over Internet Protocol) over their data network or impose additional fees and/or charges when using VoIP over their network. Please ask your mobile network operator before enabling the VoIP over 3G feature.
Nyheter i version 4.24.3.12382
• iOS 10 Bluetooth support
• Media engine update
• Stability and bug fixes
iPhone-skärmavbilder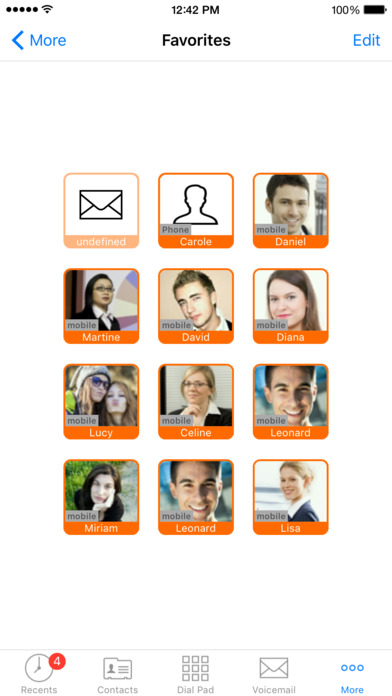 Visa i iTunes
Gratis

Kategori:

Sociala nätverk

Uppdaterad:

13 mar 2017

Version:

4.24.3.12382

Storlek:

30.7 MB

Språk:

arabiska, engelska, franska, förenklad kinesiska, italienska, japanska, portugisiska, ryska, spanska, turkiska, tyska

Utvecklare:

Media5 Corporation
Kompatibilitet: Kräver iOS 8.0 eller senare. Kompatibel med iPhone, iPad och iPod touch.
Mest populära köp inuti app
Unlock65,00 kr
Telephony Pack10,00 kr
G.729 Codec95,00 kr
Secure Comm. Pack10,00 kr
Fler iPhone-appar från Media5 Corporation