Be Focused - Focus Timer & Goal Tracker for work
Av Denys Yevenko
Öppna Mac App Store när du vill köpa och hämta appar.
Beskrivning
Staying on task seems is a real challenge for our screen-bound generation. The Be Focused lets you get things done by breaking up individual tasks among discrete intervals, separated by short breaks. It's a surprisingly effective way to retain motivation and focus. Create tasks, configure breaks and track your progress throughout the day, week or custom period.

Key features:
- Manage your tasks
- Track your progress throughout the day, week or custom period
- Fast and easy goal tracking
- Customize to maximize productivity:
• Work interval duration
• Short break duration
• Long break duration
• Number of intervals between long breaks
• Target number of intervals per day
- Ability to start, pause, or skip work interval
- Auto-start the next timer (option)
- Ability to edit the number of intervals
- Ability to paste a task list from other applications
- Global hotkeys
- Optional ticking sound
- Different alarm sounds
- Launch at startup option
- Also available for iPhone and iPad

Pro Version:
- Full synchronization between iPad, iPhone and Mac
- Export to a CSV file
- No banners, no ads
Nyheter i version 1.6.2
• Fixed app launch on Mac OS Mavericks (10.9)
• Minor fixes and improvements
Skärmavbilder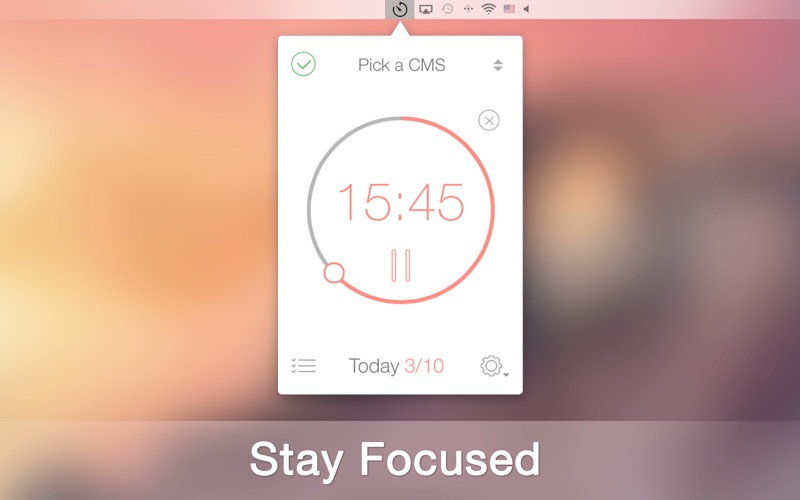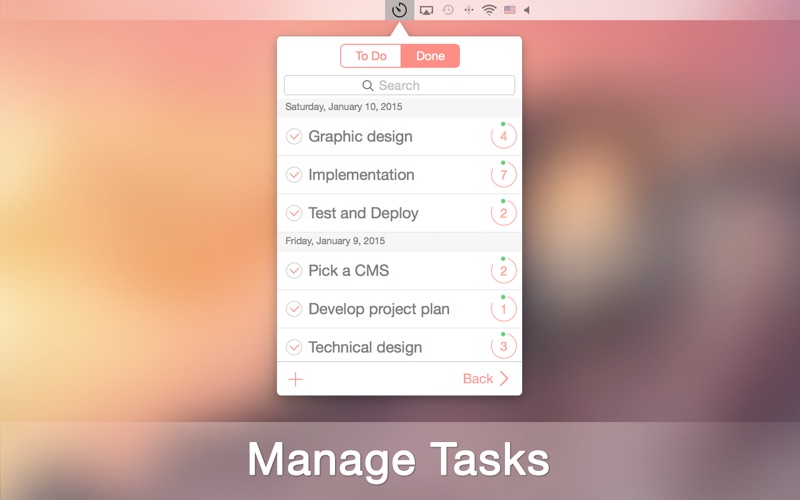 Kundrecensioner
super simple pomodoro timer, get's the job done!
I love this app. Minimalistic, does exactly what I need.

I use it every time I study and the Pomodoro method has definitely increased my productivity and time management skills. Bonus points for being able to track how much time I've spent on different activities over time.

Loving the new functionality that automatically separates days from each other when I've paused in the middle of a session the previous day. Could potentially be improved by a second reminder to turn the timer back on after a break is up as I sometimes get lost in my own thoughts.
Great app! It's simple and it works.
Nothing to add other then what Master's Student allready said. I used it for all kinds stuff, such as cleaning my apartment. Always nice to have a 5 min break in between.
Yes, would be nice to have a second 'reminder alarm'.
A little buggy when using multiple desktops
Behaves a litte bit odd when I'm using multiple desktops. It sometimes snaps to a desktop when i try to access the widget and refuses to access it from one of my desktops. Otherwise good
Visa i Mac App Store
Gratis

Kategori:

Produktivitet

Uppdaterad:

16 mar 2017

Version:

1.6.2

Storlek:

11.4 MB

Språk:

engelska, ryska

Utvecklare:

Denys Yevenko
Kompatibilitet: OS X 10.9 eller senare, 64-bitars processor