Real Racing 3
Av Electronic Arts
Essentials
Den här appen är endast tillgänglig i App Store på iOS-enheter.
Beskrivning
**#1 Top Free App in over 100 countries**
Real Racing 3 is the award-winning franchise that sets a new standard for mobile racing games – you have to play it to believe it.
This app offers in-app purchases. You may disable in-app purchasing using your device settings.
This app may contain content provided by third parties. Electronic Arts is not responsible for such content.

Over 300 Million Downloads!

TabbyAwards 2014 – WINNER: Best Action, Adventure, Arcade & Racing Game
Mobile Excellence Awards – WINNER: Best Mobile Game 2013
Game Connect Asia Pacific – WINNER: Game of The Year 2013, Technical Excellence, Excellence in Art
Meffy Awards – FINALIST: Best Mobile Game 2013

Real Racing 3 features an ever-expanding roster of officially licensed tracks with 40 circuits at 18 real-world locations, a 43-car grid and over 170 meticulously detailed cars from manufacturers like Ferrari, Aston Martin, Porsche, Bugatti, Chevrolet, Lamborghini, Mercedes-Benz, McLaren and Audi. Plus Real-Time Multiplayer, Social Leaderboards, Time Trials, night racing, and innovative Time Shifted Multiplayer™ (TSM) technology, allowing you to race anyone, anytime, anywhere.

**This is a resource-intensive game featuring extremely high quality visuals. Please make sure you have at least 1.5GB of free space on your device.**

PRAISE FOR REAL RACING 3
"Feels a full generation ahead of the competition" (IGN, 9.1/10, Editors' Choice)
"A stunning visual masterpiece on mobile" (Touch Arcade)
"Sets the new standard on mobile for racing games" (Pocket Gamer, 9/10, Gold Award)

REAL CARS
Take the wheel of over 170 intensely detailed vehicles from iconic manufacturers like Ford, Aston Martin, McLaren, Koenigsegg and Pagani, and test your skills on an authentic 43-car race grid – the most epic racing experience on any handheld.

REAL TRACKS
Burn rubber on a full lineup of 18 real tracks in multiple configurations from top worldwide locations, including Silverstone, Hockenheimring, Le Mans, Dubai Autodrome and many more.

REAL PEOPLE
Go bumper to bumper with friends and rivals in global 8-player, cross-platform, real-time racing with drafting. Or drop into any race to challenge their AI-controlled versions in Time-Shifted Multiplayer™.

MORE CHOICES THAN EVER
Compete in over 4,000 events, including Cup races, Eliminations and Endurance challenges. Choose from a diverse range of upgrades to maximize your car's performance. Customize your car with a huge collection of paints, vinyls and rims. View the action from a variety of camera angles, tweak the HUD and fine-tune the controls to your personal preference.

THE PREMIER RACING EXPERIENCE
Powered by the remarkable Mint™ 3 Engine, Real Racing 3 features detailed car damage, fully functioning rear view mirrors, and dynamic reflections for truly HD racing. Enjoy a rich, next-gen game with the most advanced cross-platform social and competitive racing community ever. Real Racing 3 delivers it all and pushes the boundaries with every update.

RACE AROUND THE CLOCK
Exclusively for the Apple Watch, activate your Team Driver to race events, collect rewards and progress your career.

Welcome to the definitive racing experience.
__
Terms of Service: http://www.ea.com/terms-of-service
Game EULA: http://tos.ea.com/legalapp/mobileeula/US/en/GM/
Visit https://help.ea.com/ for assistance or inquiries.
EA may retire online features and services after 30 days' notice posted on www.ea.com/1/service-updates

Important Consumer Information: requires a persistent Internet connection (network fees may apply); requires acceptance of EA's Privacy & Cookie Policy, TOS and EULA includes in-game advertising; collects data through third party analytics technology (see Privacy & Cookie Policy for details); contains direct links to the Internet and social networking sites intended for an audience over 13.
Nyheter i version 5.6.0
The Aston Martin Vantage AMR Pro - the first of a new generation of race cars - glides into Real Racing 3 with Track to Tarmac, a 7-day special event. Also, the incredible Aston Martin One-77 could be yours for the taking. In this jam-packed update, you can:

• Earn the Lotus Type 125, Jaguar XE SV Project 8, and Lamborghini Huracán Super Trofeo EVO in each of their own limited-time series
• Dominate in the return of the Track Day Domination, Generations, and Speedrush TV 2 Flashback Events
• Unlock two exclusive series and get Gold and Fame when you fully upgrade the Bugatti Veyron 16.4 and the McLaren 720s Coupe

Keep an eye on Real Racing TV for insights on the game, tips, and tricks. Check it out today, and start racing!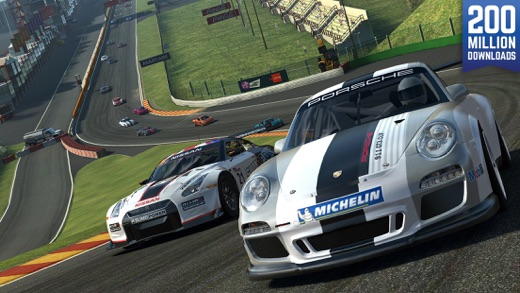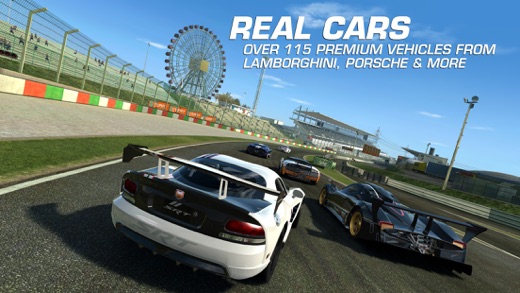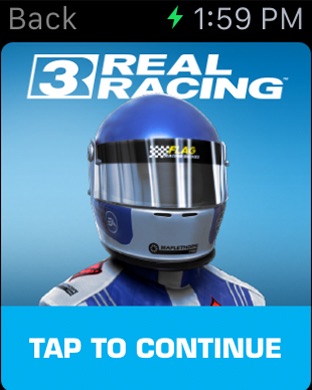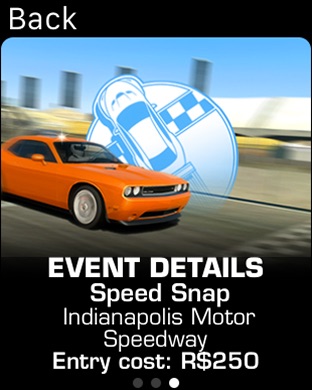 Kundrecensioner
Trevligt spel med bra körkänsla, online multiplayer är tyvärr helt kass.
Jag gillar RR3. Bra körkänsla och bra precision när man kör. Som många andra konstaterat så är det ganska dyrt om du skall köpa nåt i spelet, eller till coh med riktigt dyrt.
Men det som suger hårdast är online multiplayer, RR3 är banracing men i multiplayer så verkar det gå ut på att krascha ut folk. Hur svårt kan det vara att få bort alla dessa kraschande förare. RR3 är sämre online än RR2. Helt kasst.

2017 oktober, nu är online helt omöjligt att spela, finns alltid minst en spelare som bara kör in i andra och pajar spelet. Sänker därför betyget till två stjärnor. SÄMST!
Ett bra spel. När man väl är etta så håller man platsen.
Men servisen va jobbig.
Too expensive
It is an excellent experience and I love playing it but the relevance between the rally
Coins and Rally dollar and how much we have to pay for it in r al dollars.... it is insane. I would play a lot more but these idiotic sums of money keeps me
From playing it and to recommend it to anyone.
Visa i iTunes
Den här appen är utvecklad för både iPhone och iPad
Erbjuder appen Apple Watch för iPhone
Gratis

Kategori:

Spel

Uppdaterad:

23 okt 2017

Version:

5.6.0

Storlek:

920 MB

Apple Watch:

Ja

Språk:

engelska, franska, förenklad kinesiska, italienska, japanska, koreanska, nederländska, portugisiska, ryska, spanska, traditionell kinesiska, tyska

Utvecklare:

EA Swiss Sarl
Kompatibilitet: Kräver iOS 7.0 eller senare. Kompatibel med iPhone, iPad och iPod touch.
Apple TV:
Ja
Mest populära köp inuti app
Stack of Gold209,00 kr
Pile of Gold109,00 kr
Handful of Gold20,00 kr
Pocketful of Gold50,00 kr
Everyday Card20,00 kr
Starter Pack50,00 kr
VIP Delivery Tier 340,00 kr
VIP Delivery Tier 120,00 kr
Heap of Gold519,00 kr
Reliant Card50,00 kr