Ultimate Guitar Tabs - largest catalog of songs with guitar and ukulele chords, tabs, lyrics and guitar lessons
Från Ultimate Guitar
Öppna iTunes när du vill köpa och hämta appar.
Beskrivning
Ultimate Guitar Tabs is a mobile version of the world's largest catalog of guitar & ukulele chords, tabs and lyrics, available even offline.

Learn how to play your favorite songs on acoustic, electric guitar or ukulele. Get over 800,000 tabs and free daily updates with recent hit songs! Learn guitar from scratch or refresh your knowledge of the instrument with our interactive lessons.

App includes:

• Popular songs from latest releases
• Chords, notes and guitar scores for more than 400,000 songs
• Chord diagrams with notes' placement on fretboard. Each chord features multiple variations
• Free daily updates
• Interactive guitar lessons
• Оffline access to favorite tabs
• Quick search by type, difficulty, tuning and rating
• Autoscroll

Powerful extensions:

Tab Pro

• Access to 150,000+ interactive tabs with realistic sound playback
• Multiple instrument tracks available for each tab (guitar, bass, drums etc)
• Loop and tempo control

Guitar Tools

• Accurate Tuner
• Precision Metronome
• Chord Library with more than 2 million chords

Tab Tools

• Print and share tabs
• Change font style and size
• "Fit To Screen" feature
• Export tabs and chords to Dropbox, send them via email with just one tap

See what Ultimate Guitar Tabs users have to say about the app:

"This app is amazing! It's great for any musician or even just a casual player!" - by A.x.l

"Worth every penny, glad I found this app!" - by Thomas Kunstler

"Best guitar app I've ever used. In app purchases are definitely worth it" - by Dskippy70

We strive for excellence and we're always eager to improve your Tabs experience! Please do not post bug reports or feature requests as an App Store review. Let us help you in person - contact development team at support-iphoneugt@ultimate-guitar.com and your feedback will be heard.
Nyheter i version 2.3.7
• Tab Pro pack added - learn and play popular songs with interactive Tab Pro tabs for FREE!
• Minor bug fixes
iPhone-skärmavbild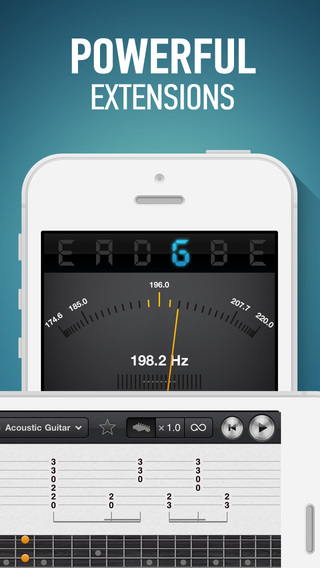 Kundrecensioner
Worth every penny!
Truly fun and a great tool for learning! Best function = listen to your favorite song while you play it 👍
You can become a master of the guitar!
If you are a pro, beginner or just want to learn how to play guitar/bass, I highly recommend this app! I personally have used this site for seven years and the app sense it came out on the AppStore. I have learnt a lot of songs like: nothing else matters, shoot to thrill, stairway to heaven, back in black and a lot of more songs.

So if you want to learn how to play the guitar/bass or just looking for the tabs for that special song! Download ultimate guitars app! It's worth it!
Visa i iTunes
29,00 kr

Kategori:

Musik

Uppdaterad:

20 dec 2014

Version:

2.3.7

Storlek:

22.2 MB

Språk:

engelska

Utvecklare:

Ultimate Guitar
Kompatibilitet: Kräver iOS 5.0 eller senare. Kompatibel med iPhone, iPad och iPod touch. Appen är optimerad för iPhone 5.
Mest populära köp inuti appen
Tab Pro59,00 kr
Guitar Tools59,00 kr
Tab Tools29,00 kr
Upgrade pack79,00 kr
Special upgrade pack49,00 kr
Ultimate pack95,00 kr
Special ultimate pack69,00 kr
Ultimate pack109,00 kr
Lesson 1. Guitar basics9,00 kr
Special ultimate pack89,00 kr