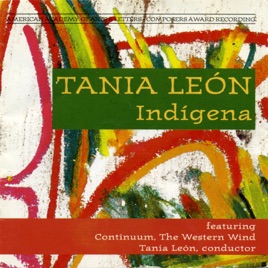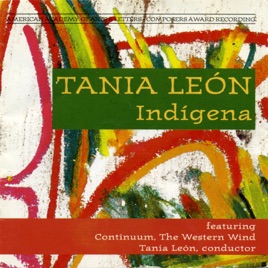 | | TITLE | TIME |
| --- | --- | --- |
| | | 8:26 |
| | Continuum | 3:18 |
| | Clemons Leske | 5:33 |
| | Christopher Lamb & Virginia Perry Lamb | 12:55 |
| | | 20:44 |
5 Songs

℗ 1994 Anthology of Recorded Music, Inc.
About Tania León
Highly regarded internationally as a composer and conductor, and recognized for her contributions as an educator and advisor to arts organizations, Tania León has established a unique and sophisticated musical style.

After completing her studies at the National Conservatory in Cuba, León moved to New York City in 1967. At the invitation of Arthur Mitchell, she became a founding member of the Dance Theatre of Harlem in 1969. As the group's first musical director, a position she held until 1980, she established the group's music department, school, and orchestra. For the Dance Theatre she created the ballets Tones (1970), The Beloved (1972), Haiku (1973), and Dougla (1974).

She studied directing with Laszlo Halasz, and took a course with Bernstein and Ozawa in Tanglewood. She instituted the Brooklyn Philharmonic Community Concert Series in 1978, and since then has conducted important American orchestras (Louisville Orchestra, Metropolitan Opera Orchestra, etc.) and well-known orchestras in Germany and Johannesburg.

The 1980s were a period of high creativity. During that time she composed the dynamic Concerto Crillo (1980); incidental music to Wendy Kesselman's play, Maggie Magalita (1980); music for Robert Wilson's three-act The Golden Windows (1982); the piano concerto Kabiosile (1988), described by León as a salute "to my ancestors and the power they gave me to do what I have chosen to do -- which is music" and which reflects the Afro-Cuban, Spanish, French, and Chinese cultural mix of her birthplace; Heart of Ours -- A Piece (1988), with texts by R. Sandecki and American Indians, commissioned by the Vietnam Veterans' Theater Company, and other pieces.

From 1993 to 1997 she was New Music advisor to the New York Philharmonic, and served as Latin American Music advisor to the American Composers Orchestra until 2001, co-founding the award-winning Sonidos de las Americas festival. In 1998 she held the Fromm Residency at the American Academy in Rome.

In the 1990s, she created Carabalí (1991), an orchestral extravaganza with Cuban rhythms, jazz, Stravinsky-like timbres, and soaring melodic lines, and the widely performed Para Viola y Orquesta (1994). In 1994, León's earthy, rhythmic, nostalgic opera, Scourge of Hyacinths, was premiered at the Munich Biennale, and has since been given in Geneva, France, Austria, and Mexico City. It designed by Robert Wilson, with a libretto by the composer based on a radio play by Nobel Prize-winner Wole Soyinka. The year 1995 saw the creation of the Seven Spirituals for baritone solo and orchestra, and the Hechizos (Spells) for chamber orchestra. In 1997, her multi-cultural, multi-media work Drummin' was premiered in Miami. Besides these works, León has composed many songs and chamber works for brass and other ensembles.

León has received numerous awards for her compositions, and an Honorary Doctorate from Colgate University (1999). She has taught at Harvard and Yale.

In May, 2001, León was named a Lifetime Achievement Honoree by the NY Governor's Commission. She is currently working on an opera to a text by Isabel Allende, and is professor of music at Brooklyn College.
ORIGIN

Havana, Cuba

BORN

1943