Narišimo Črke
Uroš Vošnjak
This book can be downloaded and read in Apple Books on your Mac or iOS device.
Description
Avtor  je v pesmih na zabaven in zanimiv način opisal kako se napišejo črke. Pesmice dopolnjujejo izvrstne dvostranske ilustracije.
Iz  Priročnika za branje kakovostnih mladinskih knjig v letu 2008:
Že na prvi pogled izjemno bogata in privlačna slikanica prinaša s svojo raznolikostjo mnogostransko uporabnost. V prvi vrsti je to prav gotovo leposlovni priročnik za učenje abecede, bralca pa lahko nagovori tudi kot zbirka igrivih pesmic ali navihanih ugank - v vsakem primeru nas bo presenetila in navdušila. Vratolomno začinjeni poetični utrinki in posrečeni zasuki bralca varno vodijo skozi besedne in situacijske akrobacije vse do zadnje črke abecede. Razposajene besedne igrarije iščejo vzporednice v likovni podobi; prožne ilustracije tako z uporabo različnih likovnih tehnik ustvarjajo svet, v katerem črke zaživijo svoje lastno, malce prismuknjeno življenje.
Screenshots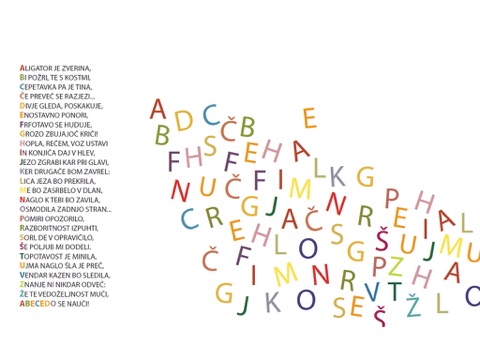 View in iTunes
6,99 €

Category:

Family & Relationships

Published:

07 February 2013

Publisher:

Založba Obzorja d.d., Maribor

Print Length:

54 Pages

Language:

Slovenian