MyTalkTools Mobile
By 2nd Half Enterprises LLC
Open iTunes to buy and download apps.
Description
MyTalkTools is an award-winning app that enables over 100,000+ people with communication difficulties to express their needs and desires to those around them. A good solution for people with down syndrome, cerebral palsy, hearing or visual impairments, autism or other diagnoses that impair communication ability. It supports users, teachers, therapists, caregivers and parents with many innovative features.

Complete Solution

MyTalk Mobile is a complete stand-alone solution. No other software is required. But, we include a 30 day trial of MyTalk Workspace. Together, they represent a major breakthrough in augmentative alternative communications (AAC) by making it easy to customize how you communicate through a variety of images, video and audio files including human voice. The only solution that simultaneously supports browser, Apple Watch, Apple TV, iPhone, iPad and iTouch.

Quick Start

In 5 minutes, you can download standard content, and customize it for your needs, to communicate in a way that YOU choose. MyTalk offers ease of use and time-savings in a portable, effective, and cool communication tool. Take the iTunes University Course, to see how simple it is. https://itunesu.itunes.apple.com/enroll/ERF-ASN-WAB

Keep your work safe

Don't worry about losing your device. All information is backed up on MyTalk Workspace. Every version you create is kept. Don't worry about experimenting. You can always back up to almost any point in time with undo/redo or restore.

Community Sharing & Resources

Create and participate in family and professional communities by creating and sharing libraries of boards, cells, or other media with others. Get pre-programmed boards from our public submissions library. Share PDFs, or on-line working previews with parents, family members, or teachers through email or texts. Access to 20,000+ Symbolstix images.

Accessibility

Many scanning features to customize to the user's specific needs. Works directly with many popular switches and can be programmed to support most BT switches. Additional features for visual impairment and other physical limitations including auditory scanning and fine motor adjustments. Print hard copy for use without access to a device. Works without internet access.

Language Generation

Keep core words in standard locations through our repeat function. Grammar support with word variants. Use Fitzgerald or Goosen encoding to categorize words. Use phrase bar to generate complete phrases. Use popup lists to customize variant selections or select simple choices. Popup keyboards for users to add custom words and phrases. Popup Recents, Most-Used or Predicted word lists for quick access to relevant choices.

Text-To-Speech

A free text-to-speech voice is included. 100 additional voices available as in-app purchase for most languages including English, Spanish, French, Chinese, Hebrew and others. Bi-lingual support – 2 TTS languages can be used simultaneously.

Media

20,000+ Symbolstix images. Photographs, videos and recorded audio are supported. Use videos to enable modeling. Download photos and images from your device, the web, or community libraries.

Innovative Author Features

Variable cell sizes, drag-and-drop arrangement, copy or link pages, user logging with geo-context to provide continuous refinement. Search MyTalkTools content using apple global search. Integrate with apps – like Pandora, FaceTime or others. Integrate pages with automatic reminders or geo-location reminders (Continued use of GPS running in the background can dramatically decrease battery life). Multiple authors can support a single page using our patented sync technology to merge all changes. Many, many user interface customization options.

MyTalk LLC is a member of Moms with Apps, a collaborative group of family-friendly developers seeking to promote quality apps for kids and families.
Recommended Ages: all
Categories: Early Learning, Special Needs, Parents
What's New in Version 6.5.1
* Bug Fixes

* 3 New Input Methods - 2 experimental ones based on face detection

1) You can mimic eye gaze using the front facing camera by detecting the angle of the face relative to the camera. This works best on smaller grids - and 1-row grids work the best. You can select cell by a dwell time, or by left blinking (hold your eye closed until the action is started). You can "go back" using a right blink (hold your right eye closed until you go back).
2) You can use blinking as a switch - switch 1 = left eye, switch 2 = right eye. Keep your eye closed until the action starts.
3) Screen as a Switch. Tap the grid once = switch 1, tap the grid with 2 fingers = switch 2. This is a simple way to address some people's physical disabilities without purchasing as switch.

* You can now copy files directly from the device to your PC or Mac using iTunes file sharing.
* Undo/Redo will now work across sessions. If you shut down MyTalk on your device and restart - it remembers the undo/redo state.
* Syncing of media (sounds, videos and pictures) is handled in the background after syncing boards.
* Copy images/sound from library into paste buffer - then paste them into cells from the edit dialog. This is an alternate way to add library items to cell.
* Import media (photos, videos, sounds) directly to a library. Tap '+' when viewing a library to import media.
* Share sounds and video from cell edit dialog
* Multi-select and delete library items.
* Library printing is improved.
* Select on Down Press - Optionally select a cell by just pressing down (it does not require you to press down and then release). This can assist some people with certain physical disabilities and it may be useful when using certain assistive devices that can not emulate a press down and up. Features that rely on a long-press will not work when using this mode.
*Phrase Bar - more natural voicing (eliminates the pause between TTS voiced cells).
* Phrase bar history now has "Favorites" feature. Tap the arrow to the left of the phrase bar on an iPad, or double-tap the phrase bar. It will show the phrase bar history. Swipe left on an item in the phrase bar history list and then turn on the favorites switch. The item will now always be at the top of the phrase bar history.
* on iPad - Swipe Right to get Cell Directory - there is a search box at the top. Swipe left on an item and make it a "favorite".
* Most Used, Recents or Wizard when displayed as Popup Lists include the new "favorites" interface.
* The "Type Words" History feature now uses the new "favorites" interface.
* Folder Metaphor - Blank items now look blank (no borders).
* Improved internationalization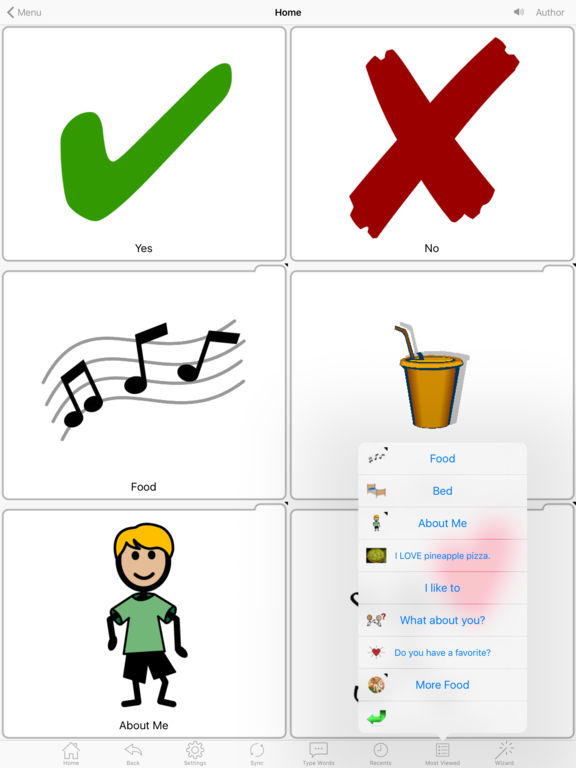 View in iTunes
This app is designed for both iPhone and iPad
Offers Apple Watch App for iPhone
USD 99.99

Category:

Education

Updated:

04 June 2017

Version:

6.5.1

Size:

104 MB

Apple Watch:

Yes

Languages:

English, Danish, Dutch, French, Hebrew, Italian, Polish, Spanish, Traditional Chinese

Developer:

2nd Half Enterprises LLC
Compatibility: Requires iOS 8.2 or later. Compatible with iPhone, iPad and iPod touch.
More Apps by 2nd Half Enterprises LLC