TFOS MGD Report
開發者:CITYnet
此 App 只在 iOS 裝置的 App Store 提供。
描述
The Tear Film & Ocular Surface Society (TFOS) reported the conclusions and recommendations of the International Workshop on Meibomian Gland Dysfunction (MGD).



The MGD Workshop, sponsored by TFOS, was conducted to provide an evidence-based evaluation of meibomian gland structure and function in health and disease. MGD is an extremely important condition, conceivably underestimated, and very likely the most frequent cause of dry eye disease.

The Report required over 2 years to complete and involved the efforts of more than 50 leading clinical and basic research experts from around the world.

Complete or partial translations of the report will be offered in numerous languages, including English, Dutch, French, German, Greek, Italian, Japanese, Polish, Portuguese, Spanish, Turkish, Chinese and Russian.



About the Tear Film & Ocular Surface Society
TFOS, incorporated in 2000, is an international non-profit organization headquartered in Boston, MA. TFOS is committed to advancing the research, literacy and educational aspects of the scientific field of the tear film and ocular surface. TFOS reaches out to basic scientists, academic clinicians and industry representatives originating from more than 80 countries. TFOS organizes and coordinates international conferences, workshops and seminars, and promotes research collaborations, to help achieve its educational mission. More information about the Society can be found on the TFOS web site.
iPhone 螢幕快照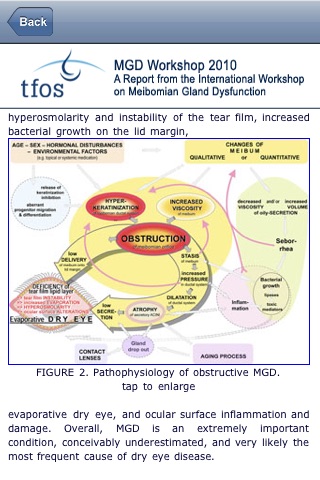 在 iTunes 上檢視
免費

類別:

醫藥

發行日期:

2011年12月10日

版本:

1.0

大小:

11.8 MB

語言:

英語

開發人員:

Sabrina Zappia
相容性: 需要 iOS 4.1 或以上版本。與 iPhone、iPad 及 iPod touch 相容。