Workflow
開發者:Apple
此 App 只在 iOS 裝置的 App Store 提供。
描述
Workflow is your personal automation tool, enabling you to drag and drop any combination of actions to create powerful workflows for your iPhone, iPad, and Apple Watch.

Workflow includes over 200 actions, including those for Contacts, Calendar, Maps, Music, Photos, Camera, Reminders, Safari, AirDrop, Twitter, Facebook, Dropbox, Evernote, iCloud Drive, and Health, to name a few.

For example, you can use Workflow to:
* Make animated GIFs
* Add a home screen icon that calls a loved one
* Make PDFs from Safari or any app with a share sheet
* Get directions to the nearest coffee shop in one tap
* Tweet the song you're listening to
* Get all of the images on a web page
* Send a message including the last screenshot you took
* And so much more...

Your workflow creations can be launched from inside the Workflow app, from other apps using Workflow's Action Extension, or from our new lightning-fast Today Widget. You can even export a workflow as a standalone app on your home screen.

Workflow opens up infinite possibilities of what you can do with your iPhone, iPad, and Apple Watch. But this is just the beginning. Stay tuned.
1.7.7 版本的新內容
Workflow 1.7.7 is optimized for iPhone X and iOS 11.

See the full list of changes at workflow.is/whatsnew.

Love Workflow? Write us an App Store review!

Have an idea? Something not working? Shoot us an email at support@workflow.is.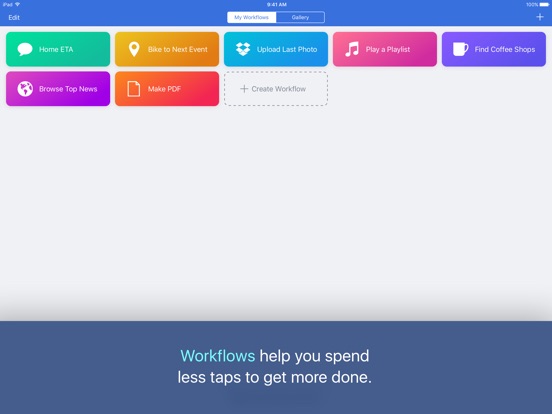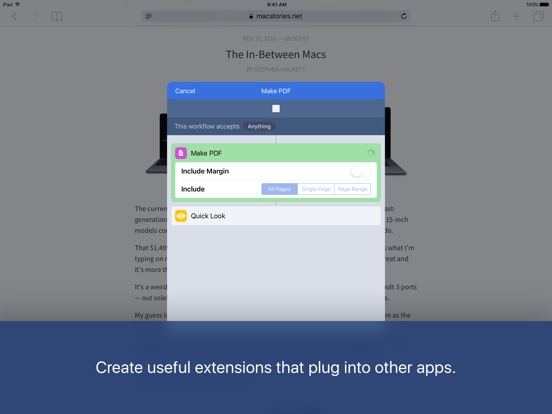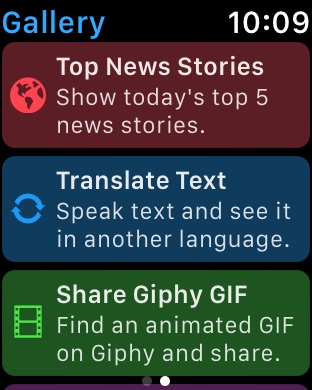 客戶評論
It's a great great great app!
However, i have a question. Every time i run my "already done " workflow which i put it on my iphone as an icon. It will finish all the process i want it to do( of course, it's written by myself), but it will stop at the final edit screen. Did i miss any action to let it automatically back to home screen?
中文化
如果可以中文化,那麼就可以多人人下載了,希望能改中文化,謝謝🙏
在 iTunes 上檢視
此 App 專為 iPhone 和 iPad 設計
提供 iPhone 版的 Apple Watch App
免費

類別:

生產力工具

更新日期:

2017年11月08日

版本:

1.7.7

大小:

101 MB

Apple Watch:

是

語言:

英語

開發人員:

DeskConnect, Inc.
相容性: 需要 iOS 9.0 或以上版本。與 iPhone、iPad 及 iPod touch 相容。