Fare Check - Instant Uber Price and Arrival Estimates
Від Great Time Apps
Ця програма доступна лише в App Store для пристроїв iOS.
Опис
Instant Time Estimates and Fare Quotes for Uber across all services

- Quickly compare uberX, uberXL, Black and SUV pricing
- Spot surge pricing
- Enter your destination for a full fare quote, including arrival estimate
- Tap to open the uber app, and request your car instantly

A free, awesome service for the amazing Uber Community

Powered by the Uber API
Що нового у версії 1.0.2
Place Search Improvements via Goolge Autocomplete
Знімки екрана iPhone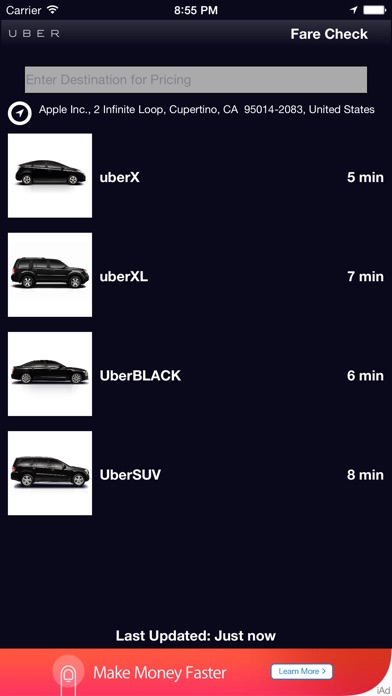 Переглянути в iTunes
Безкоштовно

Категорія:

Туризм

Оновлено:

18 бер. 2015 p.

Версія:

1.0.2

Розмір:

10.9 MB

Мова:

Англійська

Надає:

Great Time Apps
Сумісність: Потрібна iOS 7.0 або новішої версії. Сумісність із iPhone, iPad і iPod touch.