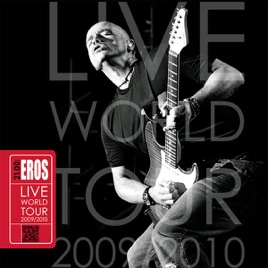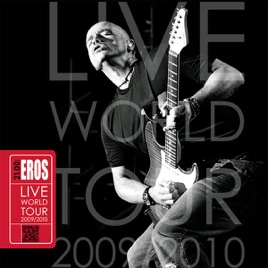 21.00: Eros Live World Tour 2009/2010 (Special Edition)
| | TITLE | TIME |
| --- | --- | --- |
| | Appunti E Note (Live 2010) | 4:29 |
| | Dove C'è Musica (Live 2010) | 4:47 |
| | Un Attimo Di Pace (Live 2010) | 4:49 |
| | Quanto Amore Sei (Live 2010) | 4:05 |
| | Stella Gemella (Live 2010) | 4:49 |
| | Terra Promessa (Live 2010) | 3:26 |
| | Una Storia Importante (Live 2010) | 2:09 |
| | | 2:13 |
| | Se Bastasse Una Canzone (Live 2010) | 5:54 |
| | | 4:18 |
| | | 5:57 |
| | Un'emozione Per Sempre (Live 2010) | 4:24 |
| | I Belong to You (Il ritmo della passione) [Live 2010] | 4:43 |
| | | 7:06 |
| | | 3:02 |
| | | 3:22 |
| | | 4:02 |
| | Per Me Per Sempre (Live 2010) | 3:31 |
| | | 3:42 |
| | | 4:23 |
| | | 3:44 |
| | L'ombra Del Gigante (Live 2010) | 4:59 |
| | Cose Della Vita (Live 2010) | 4:48 |
| | Questo Immenso Show (Live 2010) | 5:02 |
| | | 4:09 |
| | Più Bella Cosa (Live 2010) | 5:05 |
| | Fuoco Nel Fuoco (Live 2010) | 4:08 |
27 Songs, 1 Hour, 57 Minutes

℗ 2010 Sony Music Entertainment Italy S.p.A.
Ratings and Reviews
Eros, thank you for my Christmas Present :) I Love You!!!!!
YOU ARE THE BEST.... GOD BLESS YOU ...
Simply... Amazing!!
I proposed to my wife at his concert in December 2009 in Firenze. After personally watching Eros in Firenze 2009 and Miami 2010, this album is a gift that comes with valuable memories. Looking forward to the next tour!!
We want you in NEW YORK!!!
We promise that you will be sold out in Madison Square Garden, New York City! We are a diverse country and their are so many of us here that love you and of course your music. This album is your best yet, so many of us love it. My 2 & 5 year old's favorite song is Musica e. They love you just as much as I do!
About Eros Ramazzotti
An international superstar whose appeal spans not only Western Europe but also Latin America, Eros Ramazzotti is an Italian singer/songwriter with a distinctive voice and a wide-ranging pop/rock style that encompasses everything from adult contemporary to classical crossover. He initially established himself as a chart-topping twentysomething pop star in the mid-'80s before growing ever more sophisticated as a singer/songwriter over time, remaining remarkably successful from both a critical and commercial standpoint in the process.

Born on October 28, 1963, in Rome, Italy, Ramazzotti began his recording career in the early '80s in association with the DDD label. While he made his commercial debut in 1982 with the one-off single "Ad un Amico," his big break came in 1984 when he won Newcomer of the Year at the Sanremo Music Festival with his song "Terra Promessa." Released as a single that same year, "Terra Promessa" became a breakout hit for Ramazzotti and led to the release of his full-length album debut, Cuori Agitati (1985), which spawned another significant early hit single, "Una Storia Importante." The first of Ramazzotti's international hits, "Una Storia Importante" was not only a chart-topping smash hit in Italy, where it was showcased by Ramazzotti at the 1985 Sanremo Music Festival; it was also a smash hit in neighboring France, where it spent three weeks at number two on the singles chart, and in Switzerland, where it reached the Top Ten. "Adesso Tu," performed at the 1986 Sanremo Music Festival, was another significant hit with international appeal.

In addition to these early hit singles, Ramazzotti proved popular as an album artist, with Nuovi Eroi (1986), In Certi Momenti (1987), and In Ogni Senso (1990) all reaching number one on the Italian albums chart and the Top Ten elsewhere in Europe. Ramazzotti took his career to the next level in 1993 with Tutte Storie, the first of his albums to be released in Spanish (as Todo Historias) as well as Italian. The album was a hit throughout Western Europe, as was the single "Cose della Vita" (his first bilingual hit), and Ramazzotti took his supporting tour to Latin America for the first time, performing in over a dozen countries there. Moreover, Ramazzotti negotiated a worldwide distribution deal with BMG, another pivotal step in building his international fan base. His next album, Dove C'è Musica (1996), capitalized on the enormity of his fast-growing fan base, topping the charts throughout much of Western Europe and spawning the international smash hit "Più Bella Cosa."

At the height of his success, Ramazzotti took a four-year break from album-making, releasing only the greatest-hits compilation Eros (1997), for which he re-recorded early hits such as "Terra Promessa" and "Una Storia Importante." After the turn of the century Ramazzotti returned with Stilelibero (2000), 9 (2003), and Calma Apparente (2005), a trilogy of chart-topping albums with a more sophisticated, adult-oriented style. Then came E2 (2007), another greatest-hits compilation for which he recorded new versions of past hits, this time collaboratively, and included a few new songs, most notably "Non Siamo Soli," a chart-topping smash hit collaboration with Ricky Martin. Ramazzotti's next album, Ali e Radici (2009), was another commercial blockbuster, topping the Italian charts for six weeks straight and spawning the international hit "Parla con Me."

2010 saw the release of the live album 21.00: Eros Live World Tour 2009/2010, recorded on Ramazzotti's world tour in support of Ali e Radici, the album featured two discs of greatest hits from Ramazzotti's back catalogue. Two years later, Mis Mejores Canciones de Amor (2012) was released, collecting together fourteen of Ramazzotti's most popular Spanish language love songs.~ Jason Birchmeier
ORIGIN

Rome, Italy

GENRE

BORN

October 28, 1963