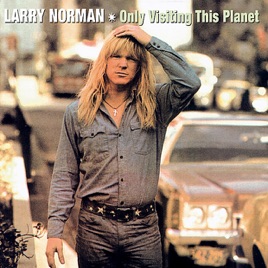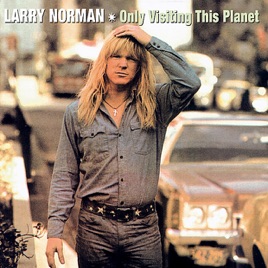 Only Visiting This Planet (Remastered Bonus Track Version)
Larry Norman
| | TITLE | | TIME |
| --- | --- | --- | --- |
| | I've Got to Learn to Live Without You | | |
| | | | |
| | Why Don't You Look Into Jesus | | |
| | | | |
| | I Wish We'd All Been Ready | | |
| | I Am the Six O'Clock News | | |
| | | | |
| | | | |
| | Why Should the Devil Have All the Good Music | | |
| | | | |
| | Peacepollutionrevolution (Radio Single Bonus Track) | | |
| | Righteous Rocker (Hard Rock Version) [Bonus Track] | | |
12 Songs, 46 Minutes
Released:

Apr 8, 1972

℗ 2008 - Solid Rock Productions, Inc.
About Larry Norman
The founding father of Jesus Rock, Larry Norman wed the rhythms of pop music with the spiritual and social outlook of Christianity to create a kind of flower-power gospel. While his efforts were instrumental in shaping the sound and themes of contemporary Christian rock, Norman never enjoyed the commercial success or acceptance afforded to his musical descendants, admitting his sensibilities were "too secular for the Christians and too Christian for the secularists." Born in Corpus Christi, TX on April 8, 1947, Norman was raised in San Francisco. A devout follower of both Jesus Christ and Elvis Presley, as a boy he regularly sang original Christian-themed lyrics over his favorite rock & roll records, and in 1959 even appeared on the CBS television variety series The Original Amateur Hour. In 1965 Norman co-founded the Bay Area psychedelic group People!, which a year later signed to Capitol and scored a minor hit with the single "Organ Grinder." A subsequent cover of the Zombies' "I Love You" yielded a U.S. Top 20 entry, and in early 1968 the group began work on its debut LP. However, around this time a number of Norman's bandmates embraced Scientology, and when Capitol resisted his entreaties to title People!'s debut LP We Need a Whole Lot More of Jesus and a Lot Less Rock and Roll -- the album instead hit retail as I Love You -- he left the group and mounted a solo career.

Capitol nevertheless agreed to release Norman's solo debut, 1969's Upon This Rock -- the album vaulted him to iconic status within the growing Jesus People counterculture movement but earned the scorn of the conservative Christian establishment, and because secular pop radio wanted nothing to do with the album, either, Capitol soon cut its ties with the singer. Norman resurfaced in 1972 on MGM, issuing the landmark Only Visiting This Planet, commonly cited among the most influential Christian rock records of all time. The first chapter in a three-album trilogy retelling the story of creation, the fall, and redemption, it was followed by So Long Ago the Garden and In Another Land, and together the LPs represent the creative zenith of his career. Upon leaving MGM in 1974, Norman's founded his own Solid Rock Records imprint, releasing his own material as well as albums by Christian acts including Randy Stonehill, Mark Heard, and Daniel Amos -- he also launched The Vineyard, a Bible study program for musicians and actors that at one point welcomed Bob Dylan, who later embraced Christianity and released a series of Norman-inspired spiritual LPs highlighted by 1979's Slow Train Coming. Secular performers including Van Morrison, John Mellencamp, and the Pixies' Black Francis later cited Norman as an influence as well, and more than 300 artists covered his songs, among them Sammy Davis, Jr.

By the early '80s Norman's Capitol and MGM efforts were out of print, and as a thriving bootleg market mushroomed around his music, he formed a new label, Phydeaux Records, in an attempt to regain control of his catalog. He issued more than a dozen new LPs in the decade to follow, a staggering number of them live releases, and while his productivity was never in question, his latter-day material was wildly uneven, and often derivative of his most acclaimed records. Poor health dogged him, and over time his behavior grew increasingly erratic -- diagnosed with bipolar trauma, Norman often claimed he was drugged by the KGB during a 1988 tour of Russia, and in 1992 he suffered a heart attack, spending the remainder of his life in and out of hospitals. In 1995 he was the subject of a tribute album, One Way: Songs of Larry Norman, which featured contributions from CCM superstars like dc Talk, Audio Adrenaline, and Rebecca St. James. In 2001, Norman also earned induction into the Gospel Music Hall of Fame, entering alongside his boyhood idol Elvis. He officially retired that same year, although in June 2005 he returned long enough to play one final concert in Salem, OR, his home for more than two decades. A day after posting a message on his official website that he felt "like a prize in a box of Cracker Jacks with God's hand reaching down to pick me up," Norman died of heart failure on February 24, 2008 -- he was 60 years old. ~ Jason Ankeny
HOMETOWN

Corpus Christi, TX

GENRE

BORN

April 8, 1947
50 million songs.
Zero ads.
New subscribers only. Plan automatically renews after trial.