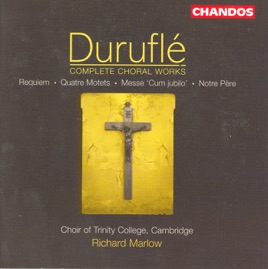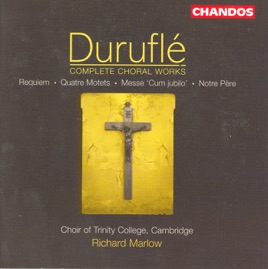 TITLE
TIME

Mark Williams & Trinity College Choir, Cambridge

Henry Herford & Trinity College Choir, Cambridge

Henry Herford & Trinity College Choir, Cambridge

Clare Wilkinson & Trinity College Choir, Cambridge

Henry Herford & Trinity College Choir, Cambridge

4 Motets sur des themes gregoriens, Op. 10

Trinity College Choir, Cambridge

4 Motets Sur Des Themes Gregoriens, Op. 10: No. 1. Ubi Caritas

4 Motets Sur Des Themes Gregoriens, Op. 10: No. 2. Tota Pulchra Es

4 Motets Sur Des Themes Gregoriens, Op. 10: No. 3. Tu Es Petrus

4 Motets Sur Des Themes Gregoriens, Op. 10: No. 4. Tantum Ergo

Trinity College Choir, Cambridge

Messe, Op. 11, "Cum jubilo"

Mark Williams & Trinity College Choir, Cambridge

Messe, Op. 11, "Cum Jubilo": Kyrie

Messe, Op. 11, "Cum Jubilo": Gloria

Henry Herford & Trinity College Choir, Cambridge

Messe, Op. 11, "Cum Jubilo": Sanctus

Messe, Op. 11, "Cum Jubilo": Benedictus

Henry Herford & Trinity College Choir, Cambridge

Messe, Op. 11, "Cum Jubilo": Agnus Dei
19 Songs, 1 Hour 6 Minutes
Released:

Sep 1, 2005

℗ 2005 Chandos
About Richard Marlow
Richard Marlow came of age amid ancient and venerable institutions whose works he triumphantly shepherded through an era sorely challenging traditional assumptions. As a chorister at Southwark Cathedral, he sang at the coronation of Queen Elizabeth II in 1953. His education was accomplished at Cambridge University's Selwyn College, where he became an organ scholar and research fellow, studying under Thurston Dart, the musicologist and harpsichordist whose performances and recordings of English Renaissance music -- shoulder to shoulder with those of Alfred Deller and Gustav Leonhardt -- revealed it afresh to a new generation of listeners in the 1950s and '60s. Richard Marlow was perhaps the most compelling inheritor of Dart's knack for transforming important but potentially dry scholarship into ringing gold, as his many broadcast performances and recordings attest. His doctoral dissertation, for instance, dealt with the seventeenth century composer Giles Farnaby, whose music he edited and for whom he wrote the article in The New Grove. Marlow's empathetic grasp of such anomalous figures is revealed in his observation that Farnaby "was an instinctive composer with something original to say and sufficient conviction to put it across effectively. His music is correspondingly vital, telling; at its best it has a spontaneity and charm few of his contemporaries can rival." This divinatory perceptiveness was not limited to early music, but extends to such moderns as Fauré, Duruflé, Poulenc, Messiaen, Vaughan Williams, and Walton. After a teaching stint at the University of Southampton, Marlow returned to Cambridge in 1968 as fellow, organist, lecturer, and (replacing Raymond Leppard) director of music at Trinity College. Trinity College -- and the Trinity College Choir -- founded by King Henry VIII in 1546, was an institution of boys and men until the 1970s, when female undergraduates began to be admitted. Marlow established the mixed choir in 1982, a group that toured extensively not only throughout Europe but in Canada and the U.S., Brazil, Japan, Taiwan, Hong Kong, New Zealand, Australia, Namibia, Zimbabwe, and South Africa. Under his leadership, the choir has made many award-winning recordings remarkable not merely for superbly glowing ensemble but for substantial and revelatory contributions to knowledge of figures deemed marginal, for instance, two CDs drawn from Sweelinck's Cantiones sacrae, which lifted that master from his niche as a one-work composer to something like the international acclaim he enjoyed in his own time. Marlow has been visiting professor at universities in Tokyo, the U.S., and New Zealand.
HOMETOWN

Banstead, Surrey, England

GENRE

BORN

July 26, 1939
Millions of songs.
Zero ads.
New subscribers only. Plan automatically renews after trial.