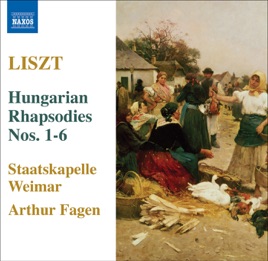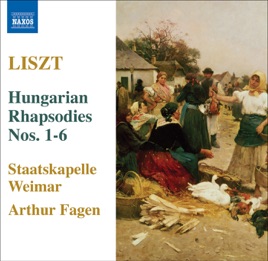 | | TITLE | | TIME |
| --- | --- | --- | --- |
| | 6 Hungarian Rhapsodies, S359/R441: Hungarian Rhapsody No. 1 In F Minor | | |
| | 6 Hungarian Rhapsodies, S359/R441: Hungarian Rhapsody No. 2 In D Minor | | |
| | 6 Hungarian Rhapsodies, S359/R441: Hungarian Rhapsody No. 3 In D Major | | |
| | 6 Hungarian Rhapsodies, S359/R441: Hungarian Rhapsody No. 4 In D Minor | | |
| | 6 Hungarian Rhapsodies, S359/R441: Hungarian Rhapsody No. 5 In E Minor | | |
| | 6 Hungarian Rhapsodies, S359/R441: Hungarian Rhapsody No. 6 In D Major | | |
6 Songs, 1 Hour 7 Minutes
Released:

Oct 30, 2007

℗ 2007 Naxos
About Arthur Fagen & Weimar Staatskapelle
Arthur Fagen has rightly earned the reputation as one of the most versatile conductors before the public today. He has conducted more than 70 operas at the world's major opera houses, including at the Met, Chicago Lyric Opera, Vienna State Opera, Deutsche Oper Berlin, Theatre Capitole de Toulouse, and many others. On the international concert scene he has been busy guest-conducting such ensembles as the Tokyo Philharmonic, Czech Philharmonic, Baltimore Symphony, Munich Radio Symphony, and major orchestras in Israel, Italy, South America, and elsewhere. In addition, he has held important conducting posts, including music director of both the Dortmund Philharmonic Orchestra and Dortmund Opera, and, since 2010, music director of the Atlanta Opera. As a conductor of opera, Fagen has led performances of the major works of Verdi, Puccini, Wagner, Strauss, and Mozart, as well as lesser known fare by Menotti (Maria Golovin), Glass (Akhnaten), and others. In the concert realm his repertory is similarly broad, taking in many of the standards but also including less popular fare like the symphonies of Martinu and concertos of Edward MacDowell. Fagen has recorded for Naxos, RCA, and Thorofon.

Arthur Fagen was born in New York City on February 24, 1951. He began conducting studies there with Laszlo Halasz and later enrolled at Curtis Institute, where he studied under Max Rudolf. He took further courses at the Salzburg Mozarteum and also studied with Hans Swarowsky in Vienna.

As a winner of the Baltimore Symphony Orchestra Conductors Competition, Fagen became an assistant at the Frankfurt Opera under Christoph von Dohnányi and at the Met under James Levine.

From 1989-2004, Fagen served as music director of the Queens Symphony Orchestra. Fagen also held conducting posts in Kassel and Brunswick, Germany, and served as chief conductor of the Flanders Opera. Among his earliest recordings was a 1997 Naxos disc of The Caucasian Sketches and other works by Ippolitov-Ivanov.

From 2002-2007 Fagen was music director of the Dortmund Philharmonic and Dortmund Opera. In the 2008-2009 season he was principal guest conductor of the Bolzano, Italy-based Haydn Orchestra. From fall 2008, Fagen served as professor of music at the Indiana University Jacobs School of Music. In 2010 he was appointed music director of the Atlanta Opera. Among his more acclaimed recordings are a pair of 2010 Naxos discs containing the complete piano concertos of Bohuslav Martinu, with the Bohuslav Martinu Philharmonic Orchestra and pianist Giorgio Koukl.