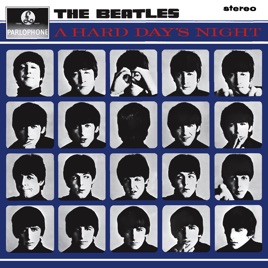 EDITORS' NOTES
A Hard Day's Night was both a soundtrack to the dazzling Richard Lester-directed film and a triumphant album unto itself. It was the first album to contain only music written by John Lennon and Paul McCartney as well as the band's first foray into four-track recording. A Hard Day's Night offers up a multitude of different sounds (bongos, harmonica, double-tracked vocals, cowbells) included on vibrant tracks such as the title tune and "Can't Buy Me Love" as well as thoughtful melodies like "I Should Have Known Better." A Hard Day's Night is full of youthful optimism, but The Beatles show a remarkable maturity in their songwriting and arranging on tracks like "If I Fell" and "And I Love Her."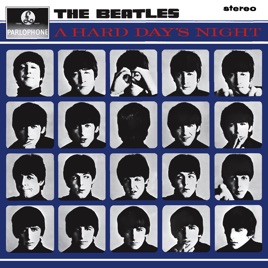 EDITORS' NOTES
A Hard Day's Night was both a soundtrack to the dazzling Richard Lester-directed film and a triumphant album unto itself. It was the first album to contain only music written by John Lennon and Paul McCartney as well as the band's first foray into four-track recording. A Hard Day's Night offers up a multitude of different sounds (bongos, harmonica, double-tracked vocals, cowbells) included on vibrant tracks such as the title tune and "Can't Buy Me Love" as well as thoughtful melodies like "I Should Have Known Better." A Hard Day's Night is full of youthful optimism, but The Beatles show a remarkable maturity in their songwriting and arranging on tracks like "If I Fell" and "And I Love Her."
| | TITLE | | TIME |
| --- | --- | --- | --- |
| | | | |
| | I Should Have Known Better | | |
| | | | |
| | I'm Happy Just to Dance With You | | |
| | | | |
| | | | |
| | | | |
| | | | |
| | | | |
| | | | |
| | | | |
| | | | |
| | | | |
| 14 | A Hard Day's Night (Documentary) | | |
14 Songs, 30 Minutes
Released:

Jul 10, 1964

℗ 2009 The copyright in this audio & audiovisual compilation is owned by EMI Records Ltd
Ratings and Reviews
greatest album ever 10 out 0f 10
WOW
Great Album
This is their 3rd album. They really come into their own on this LP. 'And I Love Her' is one of my favorite Beatles tracks. 'If I Fell' is another gem. Title track and 'Can't Buy Me Love' are classics. From start-to-finish this is a another all time great from this band that produced many. My favorites are 'Abbey Road' and 'The White Album'...but this would be next.
Not a complete album!
Where are the instrumentals that are on the original album? I mean besides being on the sing movie....