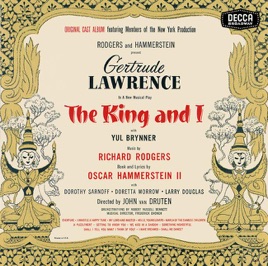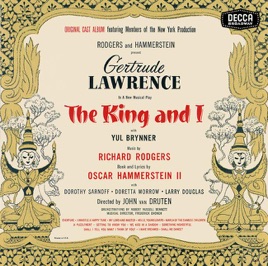 TITLE
TIME

Original Cast & Various Artists

March of the Siamese Children

Original Cast & Various Artists

Doretta Morrow & Larry Douglas

Shall I Tell You What I Think of You?

Gertrude Lawrence

Doretta Morrow & Larry Douglas

Yul Brynner & Gertrude Lawrence
12 Songs, 37 Minutes
Released:

Jan 1, 1993

℗ 1993 UMG Recordings, Inc.
Ratings and Reviews
It's Rodgers and Hammerstein at their best
This is truly their most beautiful score (Carousel is the best score). We Kiss in the Shadow, Something Wonderful, and I Have Dreamed are standouts. My only disappointment is that the recording does not include the music for the "Cabin of Uncle Thomas" scene, but at least it includes the March of the Siamese Children (how could it not?).
The original recording of one of the greatest musicals, a must
Newcomers to the Bway cast album scene may be put off by the vocal quality of Gertrude Lawrence, who was battling cancer at the time the show opened, and died soon thereafter. The brevity of the album by modern contrast is also evident, particularly in the key "Shall We Dance" number. Still, this is the orignal, and is a crucial recording in the Bway pantheon. Many recordings, cast and studio, have since been done of K&I, arguably one of the best Bway musicals, and one of the top R&H productions. An excellent one is the 77 revival with Constance Towers in the lead, and Yul Brynner back as the King. I have issues with Donna Murphy (fresh out of Sondheim's "Passion") and Lou Diamond Phillips in the 1996 recording, but the London recording of that production, with Elaine Paige as Anna, is outstanding. But the 1951 original recording is a vital part of Broadway's "Golden Age", despite its flaws by modern standards (you could argue much the same for many "old" originals and modern revivals-- "Carousel" comes immediately to mind.) Still, it's a must.
Shall We Dance?
One of the greatest musicals ever the music really makes the story great!