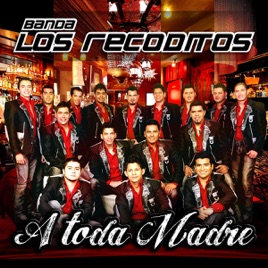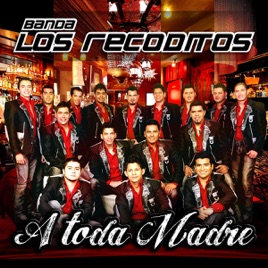 | | TITLE | | TIME |
| --- | --- | --- | --- |
| | | | |
| | | | |
| | | | |
| | | | |
| | | | |
| | | | |
| | | | |
| | | | |
| | | | |
| | Que a Toda Madre (Que a Todo Dar) | | |
10 Songs, 24 Minutes
Released:

Jan 1, 2011

℗ 2011 El Recodo Enterprises LLC Exclusively LIcensed to Disa Latin Music A Division Of UMG Recordings Inc.
About Banda Los Recoditos
A Mexican banda from Sinaloa, Banda los Recoditos scored their first international smash hit in 2010 with "Ando Bien Pedo" after two decades of intermittent activity and limited success. Hailing from Mazatlán, Sinaloa, the group was founded in 1989 by friends and family members of La Banda el Recodo de Cruz Lizárraga. Vocalists Alfonso Lizárraga (also known as Poncho Lizárraga) and Pancho Barraza (born Francisco Javier Barraza Rodríguez) were two of the more than dozen bandmembers in the original incarnation of Banda los Recoditos. In association with Musart, the group released several albums during the 1990s before Lizárraga left to join La Banda el Recodo and Barraza left for a solo career.

After a period of dormancy, Banda los Recoditos regrouped with vocalists Carlos Perez, Luis Angel Franco, and Carlos Sarabia and refashioned itself with a looser, hipper style that appealed to the emerging regional Mexican youth market and was well suited to video television. In 2005 the group was awarded Popular Breakthrough of the Year at the Premios Oye! for Si No Existieras, the third album by the new lineup. In the wake of this acclaim, Banda los Recoditos teamed up with parent group La Banda el Recodo and released Dos Generaciones (2006).

While subsequent albums Vengo a Decirte (2007) and Y Seguimos Enamorados (2009) continued to expand their fan base, ¡Ando Bien Pedo! (2010) was the album that ultimately put Banda los Recoditos over the top in the United States. Released on the Univision Music Group label Disa Records, ¡Ando Bien Pedo! topped the Billboard Latin Albums chart and its title track topped the Top Latin Songs chart. One of the most popular regional Mexican songs of the year, "Ando Bien Pedo," was unique in that it crossed over to the Latin pop market.

The band's profile remained high over subsequent releases such as 2011's A Toda Madre and 2012's Para Ti Solita. Arriving in 2013, El Free was Banda los Recoditos' final album for Disa. They signed with Fonovisa the following year and released the controversial Sueno XXX, followed in 2015 by the companion album Mas Sueno XXX. Despite the album's sexually themed content, the recording eventually ended up on the Top 200 charts in early 2016 -- the same week that their follow-up, Me Esta Gustando, did. A compilation album, Las Bandas Románticas, appeared the following April. In 2017, Banda los Recoditos returned with the studio effort Los Gustos Que Me Doy, featuring the single "No Le Hago Falta." While the single placed inside the Top 25 on the Hot Latin Songs chart, the album topped the Regional Mexican Albums list. Banda los Recoditos followed it with the concert date En Vivo in the spring of 2018. ~ Jason Birchmeier
ORIGIN

Mazatlán, Sinaloa, Mexico

GENRE

FORMED

1989
50 million songs.
Zero ads.
New subscribers only. Plan automatically renews after trial.