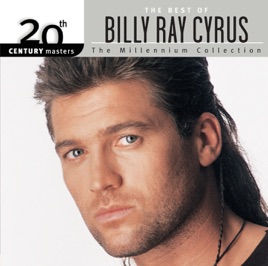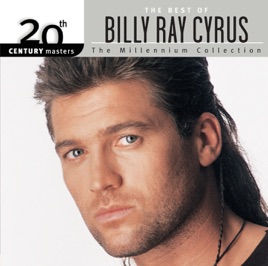 20th Century Masters - The Millennium Collection: The Best of Billy Ray Cyrus
| | TITLE | TIME | PRICE |
| --- | --- | --- | --- |
| | | 3:24 | $1.29 |
| | | 4:05 | $1.29 |
| | | 3:45 | $1.29 |
| | | 3:26 | $1.29 |
| | | 3:29 | $1.29 |
| | | 4:00 | $1.29 |
| | | 3:45 | $1.29 |
| | | 3:05 | $1.29 |
| | | 4:24 | $0.99 |
| | | 3:16 | $1.29 |
10 Songs

℗ 2003 Mercury Records, a Division of UMG Recordings, Inc.
Customer Reviews
Achy Breaky Heart!
As soon as I heard it I fell in love with it. Not that the other songs aren't good but my fave is achy breaky heart. He's a cool artist!**
I love you Billy!
Achy Breaky is the best song ever!! I love it and i will continue to hum it 4ever!
About Billy Ray Cyrus
Garth Brooks was far and away the biggest country music star of the 1990s, but Billy Ray Cyrus was the artist who best exemplified how Nashville's take on the music business had changed in that decade. Brooks was the first country act who was introduced to the world with the same degree of marketing savvy and commercial calculation as a major pop star, and with results nearly any pop star would envy. Cyrus' first album debuted on the Billboard album charts at number one, and would stay there for 17 weeks in 1992, supported by a music video that sparked a new dance craze and a wave of publicity that made him one of the most talked-about people in America, and one of country music's first real-deal sex symbols. To many, Cyrus became a symbol of Nashville's new commercial acumen, while others saw him as evidence of how far country music had strayed from its roots. Caught somewhere in between was Cyrus himself, a performer who found he had to prove himself as an artist after he had become one of the greatest popular success of all time.

William Ray Cyrus was born in Flatwoods, Kentucky on August 25, 1961. Cyrus' father, Ron Cyrus, was a politician who spent 21 years in the Kentucky House of Representatives before retiring from office in 1996. Ron Cyrus was also an amateur guitar picker, Billy Ray's mother played piano, and his grandfather, a Pentecostal minister, played the fiddle, and family jam sessions were common in the Cyrus household, dominated by country, gospel, and old standards. Billy Ray's initial attempts to teach himself to play his father's guitar were foiled by the fact he was left-handed while his dad was right-handed, and it was years before he finally picked up the right instrument and learned to play.

While Cyrus enjoyed music, he had a talent for baseball, and attended Georgetown College on an athletic scholarship. But academics and baseball took a backseat to music after he picked up the guitar; he and his brother formed a country-rock band called Sly Dog, and in 1982 they landed a standing gig at an Ironton, Ohio roadhouse, prompting Cyrus to quit school and pursue music full-time. Sly Dog broke up after a fire burned down their home club as well as their gear in 1984, and Billy Ray relocated to Los Angeles in hopes of kick-starting his career. Cyrus had little luck in California, and moved back to Kentucky, but booked shows in Nashville as often as he could, refining his trademark blend of country and rock. In time, Cyrus attracted the attention of veteran country star Del Reeves, and when Cyrus landed a spot opening for Reba McEntire in Louisville in 1990, Reeves encouraged A&R men at Mercury Records to give him a look. After seeing Cyrus on an arena-sized stage, they quickly signed him to a record deal.

Mercury put together an aggressive promotional campaign for Cyrus that focused on his rugged good looks and his stage presence. Both were on prominent display in the music video for Cyrus' first single, which was designed to tie in to the growing popularity of line dancing in country music clubs. The video for "Achy Breaky Heart" received extensive play in clubs and on country-formatted television outlets, leading to major airplay for the single. "Achy Breaky Heart" became a phenomenon as the single went platinum, and Cyrus' debut album, Some Gave All, shot to the top of the Billboard charts and went on to sell nine million copies.

The history of popular music teaches that most great success come with a backlash, and Cyrus soon found himself strongly criticized by country music traditionalists, who didn't care for his rock-oriented sound, as well as by a variety of commentators who saw him as a product that became a success as a result of marketing rather than talent. Cyrus enjoyed enough success in 1992 to shrug off such criticism, but when he released his second album, pointedly titled It Won't Be the Last, in 1993, it failed to produce a single as successful as "Achy Breaky Heart," and though the album went platinum, it was a considerable disappointment compared to the debut. Cyrus' third album, 1994's Storm in the Heartland, received little support from country radio and struggled to go gold, and while critics began to warm to Cyrus with the tougher and more personal sound of 1996's Trail of Tears, the album was a flop, and following 1998's Shot Full of Love, Mercury parted ways with the man who helped them change the shape of the country music recording industry.

In 1999, Cyrus began dipping his toes into acting, playing a country singer named Lasso Larry Larson on an episode of The Love Boat: The Next Wave, and he landed a small role in David Lynch's Mulholland Drive in 2001. While Cyrus continued to make albums -- Southern Rain in 2000, Time Flies in 2003 -- they largely went unnoticed, but in late 2001, he landed the lead role in a cable television series, Doc, in which he played Dr. Clint Cassidy, a physician from the deep south who relocates to New York City. The show fared well enough to last until 2004, and made him a viable name in show business again; Cyrus also recorded a Christian album in 2003, The Other Side, which gave him a chance to explore his gospel roots.

In 2006, Cyrus dropped his ninth album, Wanna Be Your Joe, on Universal's New Door Records imprint; the album included his tribute to the hairstyle he rocked in his "Achy Breaky Heart" days, "I Want My Mullet Back," and its release coincided with his return to television. Cyrus' daughter Miley (born the same year "Achy Breaky Heart" was a hit) was cast in the title role of the Disney situation comedy Hannah Montana as an ordinary teenager who moonlights as a pop star, and Billy Ray, reasonably enough, co-starred as her father and manager, Robbie Stewart. While Miley was the show's star, Hannah Montana's massive success gave Billy Ray plenty of face time and raised his profile considerably. Wanna Be Your Joe became his first album to go gold since 1994, and he also enjoyed chart success with the 2006 Hannah Montana album, which included his duet with Miley, "I Learned from You." Disney, eager to make the most of the show's success, signed Cyrus to its own label, and Home at Last, which fused his country-rock sound with pop leanings, arrived in 2007. (That same year, Cyrus was a contestant on the popular television series Dancing with the Stars, where he lasted eight weeks.) A second album for Disney, Back to Tennessee, was released in 2009, while in 2010, Cyrus appeared on the self-titled debut album by his side project, Brother Clyde, an alternative/hard rock band. While Brother Clyde was initially launched as an all-star project with John Waite, Jeffrey Steele, and Phil Vassar, by the time the album was recorded, Cyrus was the only member of the original lineup still on board, and the group featured Jamie Miller of Snot on guitar and Samantha Maloney of Hole and Eagles of Death Metal on drums.

In January 2011, Hannah Montana finally ended its run after 98 episodes and a spin-off feature film, and five months later, Billy Ray released his final album for Disney, I'm American, a set of patriotic tunes that included a remake of "Some Gave All" and the title cut, written with his Brother Clyde bandmates. The following year, Cyrus announced he and producer Brandon Friesen had founded their own independent record label, Blue Cadillac Music, and their first release, Cyrus' Change My Mind, came out in the fall of 2012. Cyrus also announced he was writing his autobiography, to be published by Amazon in 2013. Three years later, Cyrus returned with Thin Line, a star-studded de facto tribute to outlaw country. ~ Mark Deming
ORIGIN

Flatwoods, KY

BORN

Aug 25, 1961
Top Songs by Billy Ray Cyrus
See All
Top Albums by Billy Ray Cyrus
See All
Top Music Videos by Billy Ray Cyrus
See All