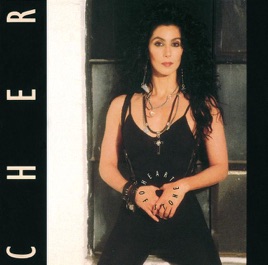 TITLE
TIME

If I Could Turn Back Time

Does Anybody Really Fall In Love Anymore?

After All (Love Theme from "Chances Are")

Cher & Peter Cetera
12 Songs, 47 Minutes
Released:

Jan 1, 1989

℗ 1989 Geffen Records Inc.
Ratings and Reviews
Classic Cher For a Child of the 80's
First, I'm biased - I'm a huge fan - so of course I love this album. Next, I was born in '82, so for me, THIS, is classic Cher. My mom and her friends would laugh when I was a kid because I had no idea that Cher had been producing album after album before her successful record, "Cher" (1987), and its follow up, "Heart of Stone" (1989). Cher is and always will be a Rock Goddess - "Heart of Stone" is proof of that. Though dated now, this album slams its listener with amazing rock beats, tons of energy, and lots of guitar (see songs, You Wouldn't Know Love, or Emotional Fire) and still manages to have some top notch ballads (Love on a Rooftop and All Because of You). Cher's voice is crisp, bold, strong, but also sensitive when the song calls for it (see: Heart of Stone, or Kiss to Kiss). "Heart of Stone" stands as one of Cher's best albums because of its balance between powerful rock songs and well written love ballads.
Comes in 2nd
I think Cher's best album of the 80's is "Cher" but the 1989 album "Heart of Stone" comes in 2nd. While not as classic or campy as her self-titled album there are many stand out songs that could have been radio hits. Of course "If I Could Turn Back Time" and "After All" are on here...some of Cher's most popular and well-known hits. I like Cher singing pop-rock ballads or techno so for those who liked her in the 80's or 90's this album is for you. I didn't listen to this album until a few years ago but it made me a fan of her. The only song I remember from this album in the 80's was "If I Could Turn Back Time." The rest of the songs I didn't recognize. This is still a great album from beginning to finish. Cher fans will fall in love with this album just like I have. Like many Cher albums this one is addicting.
A classic from the 80's!
Some radio stations still play the hits "If I Could Turn Back Time" and "After All"! I use to love "If I Could Turn Back Time" when I was in first grade. I know I was young but I was a total Cher fan! Yes I remember her infomercials. Anyway this is a great album from beginning to finish. It has a pop-rock feel that is classic 80's. The best song on it is "Just Like Jesse James." For American Idol's next season I think they should have Cher week. That would be so cool!