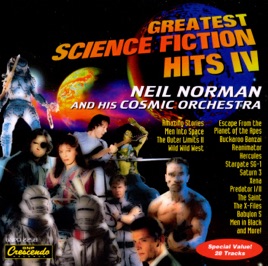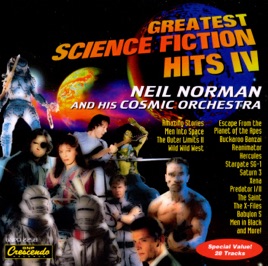 | | TITLE | | TIME |
| --- | --- | --- | --- |
| | | | |
| | | | |
| | | | |
| | Conquest of the Thaxton Nebula | | |
| | Escape from the Panet of the Apes | | |
| | | | |
| | The Lost World: Jurassic Park | | |
| | | | |
| | The Adventures of Buckaroo Banzai | | |
| | Hercules: The Legendary Journeys | | |
| | | | |
| | | | |
| | | | |
| | | | |
| | | | |
| | | | |
| | | | |
| | | | |
| | | | |
| | | | |
| | | | |
| | | | |
| | | | |
| | | | |
| | | | |
| | | | |
| | | | |
| | | | |
28 Songs, 1 Hour 16 Minutes
Released:

Sep 1, 1998

℗ 1998 GNP Crescendo
Ratings and Reviews
I enjoy some of these tracks too much, I think.
Several of these tracks are my secret guilty pleasures to listen to. Okay, so the album looks like a bargain bin find, but c'mon, you know you want to own the themes to Buckaroo Banzai and Godzilla.
AWFUL cheesy renditions...
If you want something that sounds like a 1970's Electric Light Orchestra, but not quite as good...more like someone took a bunch of MIDI files and played them on a secondrate synth, this is your album. iTunes, please, PLEASE get some SF theme CDs from other than amateurs!
What???!!!
This album is just a corny re-creation of great tv themes. it also has a vey limited selection. the few good songs are played harrible. There is not one good song on this cd.
About Neil Norman
The head of production for the GNP/Crescendo label, and the son of label owner Gene Norman, Neil Norman has transformed his band, Neil Norman & His Cosmic Orchestra, into the world's leading authorities on science fiction-inspired music. Dressed in wild space-age clothing, the group, which features Norman on guitar and synthesizer, bassist J. Palmer, drummer Bart Robley, and ex-Tom Scott and Clark Terry keyboardist Bill Burchell, brings the full repertoire of sci-fi music to life.

A session guitarist as a teenager, Norman became resident film scorer as a student at UCLA Film School. He recorded his debut solo album, Not of This Earth, while still attending school.

A highly skilled producer, Norman has worked with such artists as the Ventures, Queen Ida, Robin Trower, and Savoy Brown. He served as executive producer of 20 Star Trek albums, including soundtracks to Generations and the Emmy award-winning Star Trek Voyager, and produced the soundtrack recordings of Mission: Impossible, The Outer Limits, and Star Trek: Deep Space Nine. ~ Craig Harris