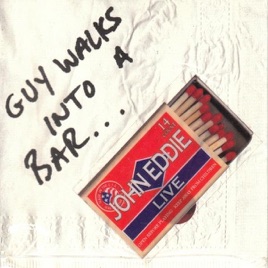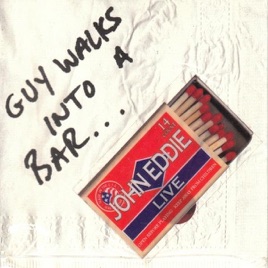 | | TITLE | TIME | PRICE |
| --- | --- | --- | --- |
| | | 3:28 | $0.99 |
| | | 4:06 | $0.99 |
| | | 5:27 | $0.99 |
| | | 4:44 | $0.99 |
| | | 4:33 | $0.99 |
| | | 5:25 | $0.99 |
| | | 4:13 | $0.99 |
| | | 8:55 | $0.99 |
| | | 4:03 | $0.99 |
| | | 4:34 | $0.99 |
| | | 4:00 | $0.99 |
| | | 8:11 | $0.99 |
| | | 6:19 | $0.99 |
| | | 4:49 | $0.99 |
14 Songs

℗ 2001 Lost American Thrill show
Customer Reviews
Awesome JE
Best of the best for the Old Faithful and soon to be favorite of the new listeners. Definitely a must have!!!
GREAT LIVE EDDIE! - but Track 1 Cut Off
Track 1 - "Gettin' Kinda Old" is cut off around 10 seconds into the song. PLEASE FIX!

Otherwise, this is a great compilation of early John Eddie...reminds of of the days I saw him playing the bars along the Jersey Shore. His newer country stuff is pretty good as well, but any true John Eddie fan will appreciate the early recordings - "Beautiful," "In Private," "Wonderful Life," "Pay Day" and "Suspicious Minds."

From a NJ member of the Old Faithful now in Texas...I wish the Lost American Thrill Show would make it's way to the North Dallas area!
About John Eddie
Born in Richmond, VA, in 1959, John Eddie relocated to New Jersey as an adult to pursue his musical career. A popular live draw on the club scene, he was joined on-stage on occasion by Bruce Springsteen. Signing a record deal with CBS/Sony, his self-titled debut was well-received in 1986 with its blend of bar-room swagger and heartland rock. The infectious single "Jungle Boy" climbed to the middle portion of the Top 100 chart, but his sophomore effort failed to ignite, despite the attention he received on such high-profile gigs as opening for Bob Seger and the Kinks. Released by Sony, Eddie signed with Elektra, but his third album for the label was never released, leading to several years of legal battles. Starting his own label, Lost American Thrill Show Records, Eddie issued Seven Songs Since My Last Confession and Happily Never After, both produced by T-Bone Wolk (Hall & Oates, Elvis Costello). Eddie continued to tour extensively and inked a distribution deal through Lost Highway Records. ~ Tom Demalon
Top Music Videos by John Eddie
See All