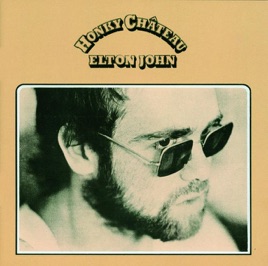 EDITORS' NOTES
Honky Chateau (1972) is the pinnacle of Elton John and lyricist Bernie Taupin's obsession with things American, not least because its themes are funny ("I Think I'm Gonna Kill Myself") and personalized ("Amy," a sly paean to young lust). Elton's small group, augmented with some daredevil electric violin by Jean-Luc Ponty, adapts to everything from the New Orleans carousel music of "Honky Cat" to the Ray Charles-ready "Mellow" to the Band-informed "Susie (Dramas)." Similarly riding varied currents, the man himself does some of his best singing here; he's positively funky on "Susie" and "Amy." The team's ears alert to many pop tongues, they commit some of Elton's truest rock and roll. This remastered edition offers a bonus in the way of a Jerry Lee Lewis-style take on "Slave."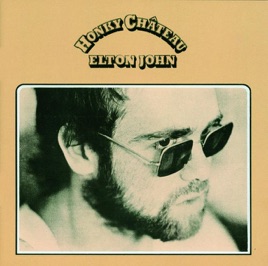 EDITORS' NOTES
Honky Chateau (1972) is the pinnacle of Elton John and lyricist Bernie Taupin's obsession with things American, not least because its themes are funny ("I Think I'm Gonna Kill Myself") and personalized ("Amy," a sly paean to young lust). Elton's small group, augmented with some daredevil electric violin by Jean-Luc Ponty, adapts to everything from the New Orleans carousel music of "Honky Cat" to the Ray Charles-ready "Mellow" to the Band-informed "Susie (Dramas)." Similarly riding varied currents, the man himself does some of his best singing here; he's positively funky on "Susie" and "Amy." The team's ears alert to many pop tongues, they commit some of Elton's truest rock and roll. This remastered edition offers a bonus in the way of a Jerry Lee Lewis-style take on "Slave."
| | TITLE | | TIME |
| --- | --- | --- | --- |
| | | | |
| | | | |
| | I Think I'm Going to Kill Myself | | |
| | | | |
| | Rocket Man (I Think It's Going to Be a Long Long Time) | | |
| | | | |
| | | | |
| | | | |
| | Mona Lisas and Mad Hatters | | |
| | | | |
| | Slave (Alternate "Fast" Version) | | |
11 Songs, 48 Minutes
Released:

Jan 1, 1972

℗ 1972 This Record Company Ltd.
Ratings and Reviews
Mona Lisa's and Madhatters
A timeless piece, it creates a singalong for all ages.
A Classic
One of Elton and Bernie's finest compositions is included on this album, the tender Mona Lisa's And Mad Hatters. This song is a touching yet bleak outlook on the state of New York City circa 1972, as told via Bernie Taupin's incredible descriptive lyrics. Elton delivers this song with a memorable chorus aided by Davey Johnstone's wonderful mandolin.

Two of Elton's best known and loved singles are on this album too: the jazzy Honky Cat and the sci-fi influenced, Rocket Man. Other highlights include the ballad Mellow and the jovial, tongue-in-cheek, I Think I'm Going To Kill Myself, the latter featuring Larry "Legs" Smith performing a peppy tap dance routine in the middle of this song (about teenage angst no less!).

Honky Chateau is heralded as Elton's first proper rock album and that's due to the formation of what would become the classic Elton John Band line-up: drummer Nigel Olsson, bassist Dee Murray and guitarist Davey Johnstone (and percussionist Ray Cooper would join a few albums later). Nigel's drums are front and center on songs like Susie (Dramas) and Murray's powerful bass never sounded as strong as on the song Salvation.

Produced by Gus Dudgeon, Honky Chateau is a classic album that established Elton John as a true rock star.
Greatest Elton John Album
Rocket Man is an awesome song. Not just that, the whole album is great. Mona Lisas and Mad Hatters always reminds me of Almost Famous, also Tiny Dancer, but its not on the album.