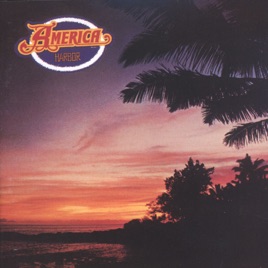 12 Songs, 33 Minutes
Released:

Dec 31, 1976

℗ 2004 Warner Bros. Manufactured and Marketed by Warner Strategic Marketing
Ratings and Reviews
The last of the "Peek" era.....
Harbor signalled the end of Dan Peek (as "we" knew him). He went off into a different "land". The songs on this album were (in a way) much darker and had that "live" feel that the album prior (Hideaway) had. Most of the songs are catchy, the topics vary and overall a nice listen! "Monster" is particularly provocative......
America's Finest
This has always been America's best album, in my opinion. Nice mix of pop, rock, and harmony. I could never understand how this was Dan Peek's parting shot with the group. I highly recommend the whole set (if only it was offered that way!).
Why is this a partial album?
12 songs. Looks like the whole album to me. I guess itunes gets more money if we purchase all the songs seperately. Great album though.
About America
A light folk-rock act of the early '70s, America had several Top Ten hits, including the number ones "A Horse with No Name" and "Sister Golden Hair." Vocalists/guitarists Dewey Bunnell, Dan Peek, and Gerry Beckley met while they were still in high school in the late '60s; all three were sons of U.S. Air Force officers who were stationed in the U.K. After they completed school in 1970, they formed an acoustic folk-rock quartet called Daze in London, which was soon pared down to the trio of Bunnell, Peek, and Beckley. Adopting the name America, the group landed a contract with Jeff Dexter, a promoter for the Roundhouse concert venue. Dexter had America open for several major artists and the group soon signed with Warner Bros. Records. By the fall of 1970, the group was recording its debut album in London, with producers Ian Samwell and Jeff Dexter.

"A Horse with No Name," America's debut single, was released at the end of 1971. In January 1972, the song -- which strongly recalled the acoustic numbers of Neil Young -- became a number three hit in the U.K. The group's self-titled debut album followed the same stylistic pattern and became a hit as well, peaking at number 14. Following their British success, America returned to North America, beginning a supporting tour for the Everly Brothers. "A Horse with No Name" was released in the U.S. that spring, where it soon became a number one single, pushing Neil Young's "Heart of Gold" off the top of the charts; America followed the single to the top of the charts. "I Need You" became another Top Ten hit that summer, and the group began work on their second album. "Ventura Highway," the first single released from this collaboration, became their third straight Top Ten hit in December of 1972. In the beginning of 1973, America won the Grammy Award for Best New Artist of 1972.

Homecoming was released in January of 1973, becoming a Top Ten hit in the U.S. and peaking at number 21 in the U.K. America's essential sound didn't change with this record; it just became more polished. However, the hits stopped coming fairly soon -- they had only one minor Top 40 hit in 1973. Hat Trick, the group's third album, was released toward the end of 1973; it failed to make it past number 28 on the American charts. Released in the late fall of 1974, Holiday was the first record the group made with producer George Martin. Holiday returned America to the top of the charts, peaking at number three and launching the hit singles "Tin Man" and "Lonely People." "Sister Golden Hair," pulled from 1975's Hearts, became their second number one single. That same year, the group released History: America's Greatest Hits, which would eventually sell over four million copies.

Although America's 1976 effort Hideaway went gold and peaked at number 11, the group's audience was beginning to decline. After releasing Harbor to a lukewarm reception, Dan Peek left the group, deciding to become a contemporary Christian recording artist. The group continued as a duo; their last Martin-produced record, Silent Letter, was released in 1979 to little attention. America returned to the Top Ten in 1982 with "You Can Do Magic," an adult contemporary pop number that featured synthesizers along with their trademark harmonies. "The Border" became their last Top 40 hit in 1983, peaking at number 33. After releasing America in Concert in the summer of 1985, the group continued to tour successfully into the '90s, resurfacing in 1998 with Human Nature.

The early part of the new millennium saw America release not only a handful of live albums as well as a holiday-themed studio recording, but also the exhaustive, career-spanning box set Highway, released in 2000. On the heels of this renewed interest, America were tempted back into the studio in 2006 by longtime fans and musicians Adam Schlesinger of Fountains of Wayne and James Iha of the Smashing Pumpkins. Although encouraging Bunnell and Beckley to stick to America's core sound, producers Schlesinger and Iha brought in younger musicians influenced by America to guest on the album, including Ryan Adams, Nada Surf, and others. Released in early 2007, Here & Now featured new material by America as well as covers written by bands heavily influenced by the soft rock pioneers. The duo of Bunnell and Beckley returned with the independently released covers album Back Pages in July 2011. That very same month, the duo's former bandmate Dan Peek died at his home in Missouri at the age of 60. ~ Stephen Thomas Erlewine
ORIGIN

London, England

GENRE

FORMED

1967