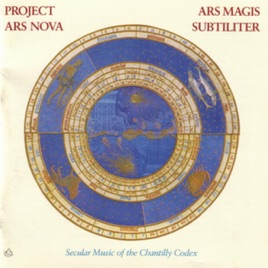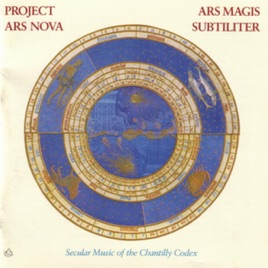 Ars Magis Subtiliter - Sacred Music of the Chantilly Codex
TITLE
TIME
4:28

Pictagoras, Jabol et Orpheus

By Johannes Susay

5:21
2:34
2:34

Medee fu en amer veritable

7:06
2:17
4:38
1:45

Tout par compas suy composés

By Baude Cordier

3:58
1:38

Quant Theseus / Ne quier veoir

By Guillaume de Machaut

6:11
2:26
2:54
4:56

Armes, amours / O flour des flour

By Fransiscus Andrieu

6:31
15 Songs, 59 Minutes
Released:

Jan 1, 1989

℗ 1989, New Albion Records, Inc.
About Ensemble P.A.N.
Evoking the mythological image of the goat-footed, flute-playing woodland scamp, P.A.N. is an acronym for the Project Ars Nova, which primarily refers to the fourteenth century polyphonic style ars nova (the new art) and in particular, Philippe de Vitry's treatise (circa 1322). The Ensemble P.A.N. is noted for its authentic interpretations and sensitivity to musical subtleties. The ensemble was founded at the beginning of the 1980s at the Schola Cantorum in Basel, Switzerland, by the American artists Laurie Monahan (mezzo soprano), Michael Collver (countertenor and playing corno muto), and Crawford Young (playing lute). This trio first performed at the Festival Estival in Paris in 1982. In 1984 two new members, Shira Kammen (on bowed strings) and John Fleagle (tenor and playing medieval harp), were added to the group. The Ensemble P.A.N.'s first widespread recognition occurred at the 1987 Boston Early Music Festival. This was followed by appearances at early music and chamber music venues in various cities, including New York, Boston, Chicago, Seattle, Vancouver, San Francisco, San Diego, and Los Angeles. Its fascinating repertoire includes secular music from the Chantilly Codex (1350-1400, in the refined yet florid ars subtilior style that moved away from ars nova and includes Johannes Symonis Puisque je suis fumeux and Solage's Fumeux fume par fumée, both woozily chromatic songs about smoking certain substances), Cyprian music from the island of St. Hylarion (which inherited the ars subtilior style exemplified by the anonymous ballade Sur toute fleur, composed circa 1410), music by the fourteenth century masters Johannes Ciconia and Guillaume de Machaut, and new works by Robert Kyr (commissioned through a Chamber Music America grant). The group's 1993-1994 four-concert series was recorded and co-presented by the National Public Radio affiliate WGBH in Boston and the Longy School of Music. Ensemble P.A.N. has also been recorded by Radio Basel, Radio France, and Westdeutsche Rundfunk, among others. In the early '90s, the group toured in Europe with a program entitled Music From the Great Papal Councils, and also performed at the Holland Festival in Utrecht, the Como Festival in Italy, the Musikfestspiele Potsdam at the Palace of Sanssouci, and at the Dartington Festival in England. It continues to perform to acclaim throughout the States and Europe at festivals and other concert venues, and is in demand at musicological conferences.