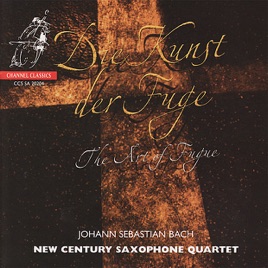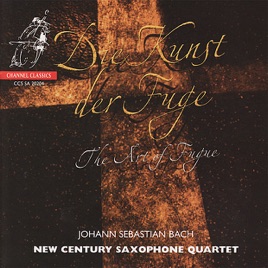 | | TITLE | TIME | PRICE |
| --- | --- | --- | --- |
| | The Art of Fugue: Contrapunctus I | 4:09 | $0.99 |
| | The Art of Fugue: Contrapunctus II | 2:47 | $0.99 |
| | The Art of Fugue: Contrapunctus III | 2:46 | $0.99 |
| | The Art of Fugue: Contrapunctus IV | 4:38 | $0.99 |
| | The Art of Fugue: Contrapunctus V | 2:31 | $0.99 |
| | The Art of Fugue: Contrapunctus XIII | 4:04 | $0.99 |
| | The Art of Fugue: Contrapunctus XIV | 5:10 | $0.99 |
| | The Art of Fugue: Contrapunctus VII | 2:17 | $0.99 |
| | The Art of Fugue: Contrapunctus VIII | 6:38 | $0.99 |
| | The Art of Fugue: Contrapunctus X | 3:52 | $0.99 |
| | The Art of Fugue: Contrapunctus VI | 3:12 | $0.99 |
| | The Art of Fugue: Contrapunctus IX | 2:25 | $0.99 |
| | The Art of Fugue: Contrapunctus XI | 5:46 | $0.99 |
| | The Art of Fugue: Contrapunctus XV | 6:18 | $0.99 |
| | The Art of Fugue: Contrapunctus XII | 2:40 | $0.99 |
| | The Art of Fugue: Contrapunctus XVI - Rectus | 2:05 | $0.99 |
| | The Art of Fugue: Contrapunctus XVI - Inversus | 2:08 | $0.99 |
| | The Art of Fugue: Contrapunctus XIX | 9:38 | $0.99 |
| | | 4:30 | $0.99 |
19 Songs

℗ 2009 Channel Classics Records
Customer Reviews
Sax and fugue: a sweet match.
Full disclosure: I love chamber music with horns, and I love Bach fugues. I've played two or three of these pieces with a chamber group. (Yes, they're pretty difficult.) This outing by a superb sax quartet is a thoughtful take on this piece, and really I think it makes some of the "math" aspect of it easier to understand. I look forward to really living with this album for some time. Technically, this is a lovely recording, and the sax players have wonderful tone and they must have a great instrument tech; I never hear their keys click and pop. Nice, nice, investigation of a difficult and important piece of literature.
About New Century Saxophone Quartet
The New Century Saxophone Quartet is among the best-known ensembles of its type. It is known for innovative programming and a deliberately unstuffy, non-traditional stage presentation and appearance.

Although there are at lease seven sizes and ranges of saxophones (including the immense contrabass saxophone), the four most common saxes -- soprano, alto, tenor, and baritone -- make up a standard saxophone quartet.

Based in Winston-Salem, North Carolina, the New Century Saxophone Quartet was founded in the 1980s. Stephen Pollack, the remaining founding member, is the tenor saxophone player; soprano saxophonist is Michael Stephenson; Chris Hemingway plays alto saxophone with the New Century; the baritone sax chores of the Quartet are handled by Brad Hubbard. The New Century Saxophone Quartet has become an internationally known group since its 1993 New York debut at Weill Recital Hall in Carnegie Hall. They were the first saxophone quartet to be booked into the Ambassador Auditorium in Los Angeles, and have also appeared at Pick-Staiger Concert Hall in Chicago; Boston's Symphony Hall and Gardner Museum; the Juneau Jazz and Classics Festival in Alaska; the Kosciuszko Foundation Townhouse; and Strathmore Hall in Washington, D.C. More unusual concerts included performing for President Clinton and with the U.S. Navy Band.

It has appeared on National Public Radio's Performance Today, in a live television broadcast from the Concertgebouw in Amsterdam, on a special Chinese New Year broadcast in 1998 that was sent live to over 100 million people, and at La Huaca del Complejo Atlapa in Panama City.

NCSQ records with the well-respected independent label Channel Classics. 2000's release, A New Century Christmas, was called "the aural equivalent of spiked eggnog" by the Chicago Tribune. Their repertoire ranges from Carol Florio, an early twentieth-century American who was one of the first to compose for saxophone quartet, to works with funk and jazz influences. They have arranged traditional works and those by Gershwin, Bernstein, and Mozart, but actively commission new works specifically for their instrumentation from such composers as Sherwood Shaffer, Arthur Frackenpohl, and Bob Mintzer. Peter Schickele's New Century Suite, a concerto for saxophone quartet and orchestra, was premiered in September 2000.