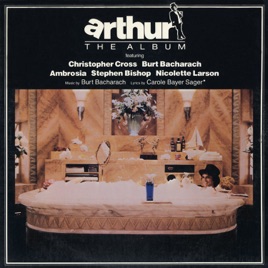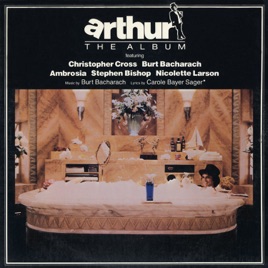 Arthur - The Album (Remastered)
Various Artists
TITLE
TIME

Arthur's Theme (Best That You Can Do)

Christopher Cross

3:54

Nicolette Larson

4:04

Ambrosia

3:20

Stephen Bishop

2:54

Burt Bacharach

3:19

Burt Bacharach

2:45

Burt Bacharach

2:21

Burt Bacharach

3:23

Arthur's Theme (Best That You Can Do)

Burt Bacharach

3:28
9 Songs, 29 Minutes

℗ 1981 Warner Bros. Records, manufactured and marketed by Rhino Entertainment Company, a Warner Music Group company
Customer Reviews
Classic Soundtrack...Only original version of "Arthur's Theme" on Itunes
This is the original recording of "Arthur's Theme"...and it is a classic. Also great to hear again is the Bacharach background tune "Money"...which is stuck firmly in our memories!
Finally!
I'm so glad they finally released this soundtrack. This album has not been available in digital form for many years, maybe never. I had heard there was a lawsuit keeping it off of CD.
Classic Film......Classic Soundtrack
I am probably one of the few people in the US who has owned this CD (Japanese import) for about 10 years before it became impossible to find. This is a movie that will make me laugh and cheer me up when I think of some of the classic lines (Arthur: "I think I'll go take a bath." Hobson: "I'll alert the media.".........Hobson (to Linda): "Usually one must go to a bowling alley to meet someone of your acquaintance."......Linda (to Arthur): "What should I wear?" Hobson (to Linda): "Steal something casual." If you haven't already seen the movie, trust me, it will tickle your funnybone AND warm your heart. Enough about the movie....

The first four songs are sweet, simple songs sung by four classic late '70s/early '80s Westcoast music artists, and the last five are essentially instrumental versions of four of the vocal tracks. Absolutely enjoyable music from start to finish.