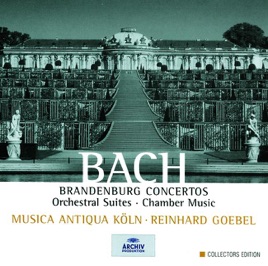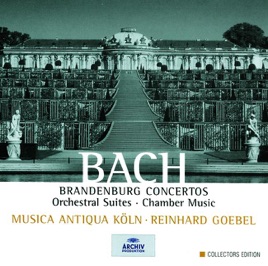 Bach: Brandenburg Concertos - Orchestral Suites - Chamber Music
TITLE
TIME

Brandenburg Concerto No.1 in F, BWV 1046

Brandenburg Concerto No. 1 in F, BWV 1046: I. (Allegro)

3:37

Brandenburg Concerto No. 1 in F, BWV 1046: II. Adagio

3:09

Brandenburg Concerto No. 1 in F, BWV 1046: III. Allegro

4:02

Brandenburg Concerto No. 1 in F, BWV 1046: IV. Menuet - Trio - Polonaise

7:32

Brandenburg Concerto No.2 in F, BWV 1047

Brandenburg Concerto No. 2 in F, BWV 1047: I. (Allegro)

4:34

Brandenburg Concerto No. 2 in F, BWV 1047: II. Andante

3:19

Brandenburg Concerto No. 2 in F, BWV 1047: III. Allegro Assai

2:35

Brandenburg Concerto No.3 in G, BWV 1048

Reinhard Goebel & Musica Antiqua Köln

Brandenburg Concerto No. 3 in G, BWV 1048: I. (Allegro)

5:06

Brandenburg Concerto No. 3 in G, BWV 1048: II. Allegro

Musica Antiqua Köln & Reinhard Goebel

3:50

Brandenburg Concerto No.4 in G, BWV 1049

Brandenburg Concerto No. 4 in G, BWV 1049: I. Allegro

6:11

Brandenburg Concerto No. 4 in G, BWV 1049: II. Andante

3:19

Brandenburg Concerto No. 4 in G, BWV 1049: III. Presto

4:16

Brandenburg Concerto No.5 in D, BWV 1050

Brandenburg Concerto No. 5 in D, BWV 1050: I. Allegro

9:43

Brandenburg Concerto No. 5 in D, BWV 1050: II. Affetuoso

5:46

Brandenburg Concerto No. 5 in D, BWV 1050: III. Allegro

5:08

Brandenburg Concerto No.6 in B flat, BWV 1051

Brandenburg Concerto No. 6 in B-Flat, BWV 1051: I. --

4:26

Brandenburg Concerto No. 6 in B-Flat, BWV 1051: II. Adagio Ma Non Tanto

4:11

Brandenburg Concerto No. 6 in B-Flat, BWV 1051: III. Allegro

4:51

Concerto for Flute, Violin, Harpsichord, and Strings in A minor, BWV 1044

Wilbert Hazelzet, Reinhard Goebel, Musica Antiqua Köln & Andreas Staier

Concerto for Flute, Violin, Harpsichord, and Strings in A Minor, BWV 1044: I. Allegro

8:13

Concerto for Flute, Violin, Harpsichord, and Strings in A Minor, BWV 1044: II. Adagio Ma Non Tanto e Dolce

5:06

Concerto for Flute, Violin, Harpsichord, and Strings in A Minor, BWV 1044: III. Tempo Di Allabreve

6:44

Suite No.1 in C, BWV 1066

Suite No. 1 in C, BWV 1066: I. Ouverture

9:37

Suite No. 1 in C, BWV 1066: II. Courante

2:35

Suite No. 1 in C, BWV 1066: III. Gavotte I-II

3:06

Suite No. 1 in C, BWV 1066: IV. Forlane

1:13

Suite No. 1 in C, BWV 1066: V. Menuet I-II

3:07

Suite No. 1 in C, BWV 1066: VI. Bourrée I-II

2:26

Suite No. 1 in C, BWV 1066: VII. Passepied I-II

2:27

Suite No.2 in B minor, BWV 1067

Suite No. 2 in B Minor, BWV 1067: I. Ouverture

10:09

Suite No. 2 in B Minor, BWV 1067: II. Rondeau

1:53

Suite No. 2 in B Minor, BWV 1067: III. Sarabande

3:13

Suite No. 2 in B Minor, BWV 1067: IV. Bourrée I-II

1:34

Suite No. 2 in B Minor, BWV 1067: V. Polonaise

2:49

Suite No. 2 in B Minor, BWV 1067: VI. Menuet

1:05

Suite No. 2 in B Minor, BWV 1067: VII. Badinerie

1:21

Suite No.3 in D, BWV 1068

Suite No. 3 in D, BWV 1068: I. Ouverture

10:24

Suite No. 3 in D, BWV 1068: II. Air

4:35

Suite No. 3 in D, BWV 1068: III. Gavotte I-II

3:43

Suite No. 3 in D, BWV 1068: IV. Bourrée

1:33

Suite No. 3 in D, BWV 1068: V. Gigue

2:39

Suite No.4 in D, BWV 1069

Suite No. 4 in D, BWV 1069: I. Ouverture

12:30

Suite No. 4 in D, BWV 1069: II. Bourrée I-II

2:37

Suite No. 4 in D, BWV 1069: III. Gavotte

1:55

Suite No. 4 in D, BWV 1069: IV. Menuet I-II

3:40

Suite No. 4 in D, BWV 1069: V. Réjouissance

2:24

Suite No.5 in G minor, BWV 1070 (attributed to Bach)

Suite No. 5 in G Minor, BWV 1070 (attributed to Bach): I. Larghetto - un Poco Allegro

5:40

Suite No. 5 in G Minor, BWV 1070 (attributed to Bach): II. Torneo (Allegretto)

1:07

Suite No. 5 in G Minor, BWV 1070 (attributed to Bach): III. Aria (Adagio)

4:03

Suite No. 5 in G Minor, BWV 1070 (attributed to Bach): IV. Menuetto - Trio

3:07

Suite No. 5 in G Minor, BWV 1070 (attributed to Bach): V. Capriccio (Vivace)

3:34

Sonata for Violin and Harpsichord No.1 in B minor, BWV 1014

Reinhard Goebel, Robert Hill & Robert Hill

Sonata for Violin and Harpsichord No. 1 in B Minor, BWV 1014: I. Adagio

3:37

Sonata for Violin and Harpsichord No. 1 in B Minor, BWV 1014: II. Allegro

2:58

Sonata for Violin and Harpsichord No. 1 in B Minor, BWV 1014: III. Andante

3:17

Sonata for Violin and Harpsichord No. 1 in B Minor, BWV 1014: IV. Allegro

3:13

Sonata for Violin and Harpsichord No.2 in A, BWV 1015

Reinhard Goebel, Robert Hill & Robert Hill

Sonata for Violin and Harpsichord No. 2 in A, BWV 1015: I. -

3:06

Sonata for Violin and Harpsichord No. 2 in A, BWV 1015: II. Allegro

3:09

Sonata for Violin and Harpsichord No. 2 in A, BWV 1015: III. Andante un Poco

2:53

Sonata for Violin and Harpsichord No. 2 in A, BWV 1015: IV. Presto

4:18

Sonata for Violin and Harpsichord No.3 in E, BWV 1016

Reinhard Goebel, Robert Hill & Robert Hill

Sonata for Violin and Harpsichord No. 3 in E, BWV 1016: I. Adagio

3:41

Sonata for Violin and Harpsichord No. 3 in E, BWV 1016: II. Allegro

3:01

Sonata for Violin and Harpsichord No. 3 in E, BWV 1016: III. Adagio Ma Non Tanto

4:33

Sonata for Violin and Harpsichord No. 3 in E, BWV 1016: IV. Allegro

3:53

Sonata for Violin and Harpsichord No.4 in C minor, BWV 1017

Reinhard Goebel, Robert Hill & Robert Hill

Sonata for Violin and Harpsichord No. 4 in C Minor, BWV 1017: I. Largo

4:01

Sonata for Violin and Harpsichord No. 4 in C Minor, BWV 1017: II. Allegro

4:23

Sonata for Violin and Harpsichord No. 4 in C Minor, BWV 1017: III. Adagio

3:00

Sonata for Violin and Harpsichord No. 4 in C Minor, BWV 1017: IV. Allegro

4:29

Sonata for Violin and Harpsichord No.5 in F minor, BWV 1018

Reinhard Goebel, Robert Hill & Robert Hill

Sonata for Violin and Harpsichord No. 5 in F Minor, BWV 1018: I. Largo

6:23

Sonata for Violin and Harpsichord No. 5 in F Minor, BWV 1018: II. Allegro

4:24

Sonata for Violin and Harpsichord No. 5 in F Minor, BWV 1018: III. Adagio

2:16

Sonata for Violin and Harpsichord No. 5 in F Minor, BWV 1018: IV. Vivace

2:21

Sonata for Violin and Harpsichord No.6 in G, BWV 1019

Reinhard Goebel, Robert Hill & Robert Hill

Sonata for Violin and Harpsichord No. 6 in G, BWV 1019: I. Allegro

3:23

Sonata for Violin and Harpsichord No. 6 in G, BWV 1019: II. Largo

1:35

Sonata for Violin and Harpsichord No. 6 in G, BWV 1019: III. Allegro

2:50

Sonata for Violin and Harpsichord No. 6 in G, BWV 1019: IV. Adagio

2:54

Sonata for Violin and Harpsichord No. 6 in G, BWV 1019: V. Allegro

3:03

Sonata for Violin or Flute and Continuo, No.1 in G Minor BWV 1020

Reinhard Goebel, Robert Hill & Robert Hill

Sonata for Violin or Flute and Continuo, No. 1 in G Minor BWV 1020: I. (Ohne Satzbezeichnung)

3:43

Sonata for Violin or Flute and Continuo, No. 1 in G Minor BWV 1020: II. Adagio

2:56

Sonata for Violin or Flute and Continuo, No. 1 in G Minor BWV 1020: III. Allegro

4:51

Sonata for Violin or Flute and Continuo, No.3 in F, BWV 1022 Anh.II 154

Reinhard Goebel, Robert Hill & Robert Hill

Sonata for Violin or Flute and Continuo, No. 3 in F, BWV 1022 Anh. II 154: I. -

3:08

Sonata for Violin or Flute and Continuo, No. 3 in F, BWV 1022 Anh. II 154: II. Allegro e Presto

2:37

Sonata for Violin or Flute and Continuo, No. 3 in F, BWV 1022 Anh. II 154: III. Adagio

2:21

Sonata for Violin or Flute and Continuo, No. 3 in F, BWV 1022 Anh. II 154: IV. Presto

1:17

Reinhard Goebel, Robert Hill & Robert Hill

4:12

Suite for Violin and Continuo, No.6 in A, BWV 1025

Reinhard Goebel, Robert Hill & Robert Hill

Suite for Violin and Continuo, No. 6 in A, BWV 1025: I. Fantasia

2:05

Suite for Violin and Continuo, No. 6 in A, BWV 1025: II. Courante

3:46

Suite for Violin and Continuo, No. 6 in A, BWV 1025: III. Entrée

3:29

Suite for Violin and Continuo, No. 6 in A, BWV 1025: IV. Rondeau

3:39

Suite for Violin and Continuo, No. 6 in A, BWV 1025: V. Sarabande

4:46

Suite for Violin and Continuo, No. 6 in A, BWV 1025: VI. Menuet

2:52

Suite for Violin and Continuo, No. 6 in A, BWV 1025: VII. Allegro

3:36

Sonata for Violin or Flute and Continuo, No.2 in G, BWV 1021

Reinhard Goebel, Henk Bouman & Jaap Ter Linden

Sonata for Violin or Flute and Continuo, No. 2 in G, BWV 1021: I. Adagio

4:49

Sonata for Violin or Flute and Continuo, No. 2 in G, BWV 1021: II. Vivace

0:56

Sonata for Violin or Flute and Continuo, No. 2 in G, BWV 1021: III. Largo

2:46

Sonata for Violin or Flute and Continuo, No. 2 in G, BWV 1021: IV. Presto

1:22

Sonata for Violin or Flute and Continuo, No.4 in E minor, BWV 1023

Reinhard Goebel, Henk Bouman & Jaap Ter Linden

Sonata for Violin or Flute and Continuo, No. 4 in E Minor, BWV 1023: I. - , -Adagio Ma Non Tanto

4:31

Sonata for Violin or Flute and Continuo, No. 4 in E Minor, BWV 1023: II. Allemande

4:21

Sonata for Violin or Flute and Continuo, No. 4 in E Minor, BWV 1023: III. Gigue

3:02

Sonata for Violin and Continuo in C minor, BWV 1024

Reinhard Goebel & Henk Bouman

Sonata for Violin and Continuo in C Minor, BWV 1024: I. Adagio

2:49

Sonata for Violin and Continuo in C Minor, BWV 1024: II. Presto

3:28

Sonata for Violin and Continuo in C Minor, BWV 1024: III. Affettuoso

3:34

Sonata for Violin and Continuo in C Minor, BWV 1024: IV. Vivace

3:54

Sonata A major, BWV Anh. 153

Reinhard Goebel, Henk Bouman & Jaap Ter Linden

Sonata in A Major, BWV Anh. 153: I. Allegro

2:10

Sonata in A Major, BWV Anh. 153: II. (Largo)

3:36

Sonata in A Major, BWV Anh. 153: III. (Allegro Assai)

1:42

Sonata in A Major, BWV Anh. 153: IV. (Adagio)

3:42

Sonata in A Major, BWV Anh. 153: V. (Allegro)

2:06

Sonata for Viola da Gamba and Harpsichord No.1 in G, BWV 1027

Jaap Ter Linden & Henk Bouman

Sonata for Viola da Gamba and Harpsichord No. 1 in G, BWV 1027: I. Adagio

3:43

Sonata for Viola da Gamba and Harpsichord No. 1 in G, BWV 1027: II. Allegro Ma Non Tanto

3:36

Sonata for Viola da Gamba and Harpsichord No. 1 in G, BWV 1027: III. Andante

2:14

Sonata for Viola da Gamba and Harpsichord No. 1 in G, BWV 1027: IV. Allegro Moderato

3:10

Sonata for Viola da Gamba and Harpsichord No.2 in D, BWV 1028

Jaap Ter Linden & Henk Bouman

Sonata for Viola da Gamba and Harpsichord No. 2 in D, BWV 1028: I. Adagio

1:56

Sonata for Viola da Gamba and Harpsichord No. 2 in D, BWV 1028: II. Allegro

3:53

Sonata for Viola da Gamba and Harpsichord No. 2 in D, BWV 1028: III. Andante

4:25

Sonata for Viola da Gamba and Harpsichord No. 2 in D, BWV 1028: IV. Allegro

4:11

Sonata for Viola da Gamba and Harpsichord No.3 in G minor, BWV 1029

Jaap Ter Linden & Henk Bouman

Sonata for Viola da Gamba and Harpsichord No. 3 in G Minor, BWV 1029: I. Vivace

5:15

Sonata for Viola da Gamba and Harpsichord No. 3 in G Minor, BWV 1029: II. Adagio

5:10

Sonata for Viola da Gamba and Harpsichord No. 3 in G Minor, BWV 1029: III. Allegro

3:40

Sonata for Violin and Harpsichord, in G, BWV 1019a

Reinhard Goebel, Robert Hill & Robert Hill

3:03
1:41

III. Cantabile Ma un Poco Adagio

5:38
1:57
3:01

Sonata for Flute or Violin No.4 in C, BWV 1033

Wilbert Hazelzet, Henk Bouman & Jaap Ter Linden

Sonata for Flute or Violin No. 4 in C, BWV 1033: I. Andante - Presto

1:46

Sonata for Flute or Violin No. 4 in C, BWV 1033: II. Allegro

2:53

Sonata for Flute or Violin No. 4 in C, BWV 1033: III. Adagio

1:59

Sonata for Flute or Violin No. 4 in C, BWV 1033: IV. Menuet I - II

2:46

Sonata for Flute or Violin No.5 in E minor, BWV 1034

Wilbert Hazelzet, Henk Bouman & Jaap Ter Linden

Sonata for Flute or Violin No. 5 in E Minor, BWV 1034: I. Adagio Ma Non Tanto

3:09

Sonata for Flute or Violin No. 5 in E Minor, BWV 1034: II. Allegro

2:40

Sonata for Flute or Violin No. 5 in E Minor, BWV 1034: III. Andante

3:52

Sonata for Flute or Violin No. 5 in E Minor, BWV 1034: IV. Allegro

3:34

Sonata for Flute or Violin No.6 in E, BWV 1035

Wilbert Hazelzet, Henk Bouman & Jaap Ter Linden

Sonata for Flute or Violin No. 6 in E, BWV 1035: I. Adagio Ma Non Tanto

2:43

Sonata for Flute or Violin No. 6 in E, BWV 1035: II. Allegro

3:26

Sonata for Flute or Violin No. 6 in E, BWV 1035: III. Siciliano

3:06

Sonata for Flute or Violin No. 6 in E, BWV 1035: IV. Allegro Assai

3:08

Partita for Solo Flute in A minor, BWV 1013

Partita for Solo Flute in A Minor, BWV 1013: I. Allemande

4:15

Partita for Solo Flute in A Minor, BWV 1013: II. Corrente

2:51

Partita for Solo Flute in A Minor, BWV 1013: III. Sarabande

4:31

Partita for Solo Flute in A Minor, BWV 1013: IV. Bourrée. Anglaise

1:52

Sonata for Flute or Violin No.1 in B minor, BWV 1030

Wilbert Hazelzet & Henk Bouman

Sonata for Flute or Violin No. 1 in B Minor, BWV 1030: I. Andante

7:41

Sonata for Flute or Violin No. 1 in B Minor, BWV 1030: II. Largo e Dolce

3:40

Sonata for Flute or Violin No. 1 in B Minor, BWV 1030: III. Presto

5:24

Sonata No.2 in E flat major, BWV 1031

Wilbert Hazelzet & Henk Bouman

Sonata No. 2 in E-Flat major, BWV 1031: I. Allegro Moderato

3:28

Sonata No. 2 in E-Flat major, BWV 1031: III. Siciliano

1:58

Sonata No. 2 in E-Flat major, BWV 1031: III. Allegro

4:18

Sonata for Flute or Violin No.3 in A minor, BWV 1032

Wilbert Hazelzet & Henk Bouman

Sonata for Flute or Violin No. 3 in A Minor, BWV 1032: I. Vivace

5:10

Sonata for Flute or Violin No. 3 in A Minor, BWV 1032: II. Largo e Dolce

3:24

Sonata for Flute or Violin No. 3 in A Minor, BWV 1032: III. Allegro

4:07
147 Songs, 9 Hours, 4 Minutes

℗ 2002 Deutsche Grammophon GmbH, Berlin
Customer Reviews
The "Bach" truly stops here!
A Uniquely hotblooded and articulate take on J.S.Bach's Famed Brandenburgs, Orchestral suites, and other chamber works. For the most part they seem to be performed on period authentic instruments, from the open sounded french horns to the woody timbred oboes and flauto traversi. A breed apart from the bigger is better approach to Baroque chamber works. Again, a truly great recording.
Stelar Performance
Musica Antiqua Koln is an oustanding ensemble since they perform with perfect articulation and balance on their authentic period insturments. I find their style to be very enjoyable to listen to. This album is somewhat a sampler of baorque music. The orchestral suites are an example of the dance suites that were popular in the day. The chamber music demonstrate the baorque style of "mutliple voices", meaning 2+ instuments play meolodies at the same time. The ones for flute and viola da gamba are especially appealing. Reinhard Goebel takes a unique appraoch to the Bardnenburg Concertos that is good to say the least. I agree that he conducts them with fast tempos, but the none of the insturments never get sueaky or try to outshine another, and I can feel alot of emotion in them, a quality that many other recordings lack. This album also includes the "triple concerto" BWV 1044", a lone flute partita BWV 1013, and the fifth orchestral suite (dance suite) that many alums do not include. Overall, an excellent performance of some of Bach's famous and lesser known works at a great price.
About Musica Antiqua Köln
Reinhard Goebel founded Musica Antiqua Köln in 1973. The ensemble devoted itself to playing Baroque music on period instruments, with a particular penchant for playing neglected or overlooked repertoire. Many of their best albums have sold well without featuring music by well-known composers. These releases also appear to have boosted the (posthumous) careers of composers such as Heinichen, with their concerti album from 1993, and the Veracini Overture album from 1994. Goebel has not only shown courage in programming unconventional repertoire, but has also been known to take risks in his approach to relatively well-known works. For instance, his ensemble plays the last movement of Bach's third Brandenburg concerto at a then unrivaled, breakneck tempo. Furthermore, Goebel had sound musicological evidence that the piece should be played that way.

The original core ensemble included Goebel and Hajo Bass on violin, with Eva Bartos on viola da gamba. However, the constituency of the ensemble has changed over the years, with only Goebel remaining constant. Bartos only appears on Musica Antiqua Köln recordings until 1977, and was replaced by Jonathan Cable and Charles Medlam. By 1980, Jaap ter Linden appears most frequently as either cellist or gambist, and by the mid-1980s, he is replaced again by Phoebe Carrai. Goebel's partners on violin have included Hajo Bass, Manfredo Kremer, and Florian Deuter among others. Many players who have left the ensemble have enjoyed spectacular careers afterward, including harpsichordists Andreas Staier and Robert Hill, violinists Hajo Bass and Manfredo Kraemer, as well as Charles Medlam, and ter Linden playing bowed bass instruments, and Wilbert Hazelzet playing flute.

In 1990, Goebel developed tendinitis and was forced to abandon his solo playing career. The last album on which he played as a soloist was his 1990 recording of the Rosenkranz sonatas by Heinrich Biber. After 1990, he continued to direct the ensemble, and eventually returned in a limited capacity by playing his violin left handed. The ensemble continued to tour and record very actively, but their best work came from the period before Goebel injured himself. It disbanded in 2007.
ORIGIN

Cologne, Germany

GENRE

FORMED

1973