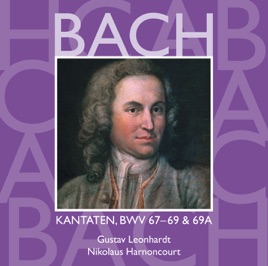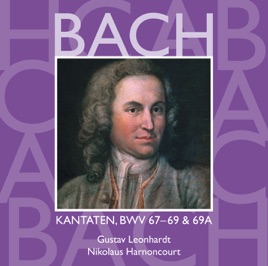 Bach, JS: Sacred Cantatas, BWV Nos 67 - 69a
TITLE
TIME

Cantata No. 67 Halt im Gedächtnis Jesum Christ, BWV 67: I. Chorus - "Halt im Gedächtnis Jesum Christ" [Choir]

Collegium Vocale, Gustav Leonhardt, Hanover Boys' Choir & Leonhardt-Consort

3:09

Cantata No. 67 Halt im Gedächtnis Jesum Christ, BWV 67: II. Aria - "Mein Jesus ist erstanden" [Tenor]

Gustav Leonhardt, Kurt Equiluz & Leonhardt-Consort

2:40

Cantata No. 67 Halt im Gedächtnis Jesum Christ, BWV 67: III. Recitative - "Mein Jesu, heissest du des Todes Gift" [Counter-Tenor]

Gustav Leonhardt & Leonhardt-Consort

0:26

Cantata No. 67 Halt im Gedächtnis Jesum Christ, BWV 67: IV. Chorale - "Erschienen ist der herrlich Tag" [Choir]

Collegium Vocale, Gustav Leonhardt, Hanover Boys' Choir & Leonhardt-Consort

0:24

Cantata No. 67 Halt im Gedächtnis Jesum Christ, BWV 67: V. Recitative - "Doch scheinet fast, dass mich der Feinde Rest" [Counter-Tenor]

Gustav Leonhardt & Leonhardt-Consort

0:50

Cantata No. 67 Halt im Gedächtnis Jesum Christ, BWV 67: VI Aria - "Friede sei mit euch" [Bass, Choir]

Collegium Vocale, Gustav Leonhardt, Hanover Boys' Choir, Leonhardt-Consort & Max Van Egmond

5:16

Cantata No. 67 Halt im Gedächtnis Jesum Christ, BWV 67: VII Chorale - "Du Friedefürst, Herr Jesu Christ" [Choir]

Collegium Vocale, Gustav Leonhardt, Hanover Boys' Choir & Leonhardt-Consort

0:42

Cantata No. 68 Also hat Gott die Welt geliebt, BWV 68: I. Chorus - "Also hat Gott die Welt geliebt" [Choir]

Concentus Musicus Wien, Nikolaus Harnoncourt & Tölz Boys' Choir

5:43

Cantata No. 68 Also hat Gott die Welt geliebt, BWV 68: II. Aria - "Mein gläubiges Herze" [Boy Soprano]

Concentus Musicus Wien, Nikolaus Harnoncourt & Peter Jelosits

4:01

Cantata No. 68 Also hat Gott die Welt geliebt, BWV 68: III. Recitative - "Ich bin mit Petro nicht vermessen" [Bass]

Concentus Musicus Wien, Nikolaus Harnoncourt & Ruud van der Meer

0:37

Cantata No. 68 Also hat Gott die Welt geliebt, BWV 68: IV. Aria - "Du bist geboren mir zugute" [Bass]

Concentus Musicus Wien, Nikolaus Harnoncourt & Ruud van der Meer

3:14

Cantata No. 68 Also hat Gott die Welt geliebt, BWV 68: V. Chorus - "Wer an ihn gläubet" [Choir]

Concentus Musicus Wien, Nikolaus Harnoncourt & Tölz Boys' Choir

3:19

Cantata No. 69 Lobe den Herrn, meine Seele, BWV 69: I. Recitative - "Wie gross ist Gottes Güte doch" [Boy Soprano]

Concentus Musicus Wien, Nikolaus Harnoncourt & Wilhelm Wiedl

1:17

Cantata No. 69 Lobe den Herrn, meine Seele, BWV 69: II. Aria - "Mein Seele, auf, erzähle" [Counter-Tenor]

Concentus Musicus Wien & Nikolaus Harnoncourt

6:04

Cantata No. 69 Lobe den Herrn, meine Seele, BWV 69: III. Recitative - "Der Herr hat grosse Ding an uns getan" [Tenor]

Concentus Musicus Wien, Kurt Equiluz & Nikolaus Harnoncourt

2:03

Cantata No. 69 Lobe den Herrn, meine Seele, BWV 69: IV. Chorale - "Es danke, Gott, und lobe dich" [Choir]

Concentus Musicus Wien, Nikolaus Harnoncourt & Tölz Boys' Choir

1:35

Cantata No. 69a Lobe den Herrn, meine Seele, BWV 69a: I. Chorus - "Lobe den Herrn, meine Seele" [Choir]

Concentus Musicus Wien, Nikolaus Harnoncourt & Tölz Boys' Choir

6:45

Cantata No. 69a Lobe den Herrn, meine Seele, BWV 69a: II. Recitative - "Ach, dass ich tausend Zungen hätte" [Boy Soprano]

Concentus Musicus Wien, Nikolaus Harnoncourt & Wilhelm Wiedl

0:44

Cantata No. 69a Lobe den Herrn, meine Seele, BWV 69a: III. Aria - "Meine Seele, auf, erzähle" [Tenor]

Concentus Musicus Wien, Kurt Equiluz & Nikolaus Harnoncourt

6:29

Cantata No. 69a Lobe den Herrn, meine Seele, BWV 69a: IV. Recitative - "Gedenk ich nur zurück" [Counter-Tenor]

Concentus Musicus Wien & Nikolaus Harnoncourt

1:11

Cantata No. 69a Lobe den Herrn, meine Seele, BWV 69a: V. Aria - "Mein Erlöser und Erhalter" [Bass]

Concentus Musicus Wien, Nikolaus Harnoncourt & Ruud van der Meer

3:27

Cantata No. 69a Lobe den Herrn, meine Seele, BWV 69a: VI Chorale - "Was Gott tut, das ist wohlgetan" [Choir]

Concentus Musicus Wien, Nikolaus Harnoncourt & Tölz Boys' Choir

0:54
22 Songs, 1 Hour
Released:

Jan 21, 2000

℗ 1994,1998 Teldec Classics International GmbH
About Collegium Vocale
The Collegium Vocale is a vocal ensemble known for its authentic performances of Baroque and pre-Baroque music.

The name "Collegium Vocale" is a generic term for a vocal ensemble with connections to a center of learning or other scholarly background. This is the best-known of several groups using the term as their name, so to avoid confusion, it is often identified as the one founded in Ghent, Belgium. In 1970 the Belgian musician Philippe Herreweghe founded this Collegium Vocale to apply the fruits of researches into actual performance practices of the Baroque to vocal music performance. It was the first choir founded with an "authentic performance" purpose. Some of the issues involved include the proper use (or non-use) of such coloristic devices as vocal vibrato, and the appropriate and fluent use of ornamentation.

The Collegium quickly achieved a reputation for its historically informed performances of older music and found itself in demand by the leading conductors and orchestras in the early music movement. These included Gustav Leonhardt, Ton Koopman, and Nikolaus Harnoncourt, who were eager to match their period-instrument ensembles with a chorus founded on the same principles in recordings of the great Baroque repertoire. This tradition has continued with conductors such as Sigiswald Kuijken, Paul Van Nevel, and René Jacobs. Collegium Vocale has frequently appeared with original instrument groups such as the Vienna Concentus Musicus and La Petite Bande, as well as modern instrument ensembles like the Concertgebouw of Amsterdam and the Vienna Philharmonic.

The Collegium Vocale has not restricted its repertoire to the Baroque. It also frequently performs great polyphonic music of the Renaissance. It also has extended its repertory to the Classical and even the Romantic era and, on rarer occasions, music of its own time. However, it still remains best known for its performances of German Baroque music, especially that of Johann Sebastian Bach.

It has recorded widely on several labels, producing well over 60 recordings for such labels as French Harmonia Mundi, Virgin, Ricercare, Accent, and Telefunken (now Teldec). In 1993 it was appointed "Cultural Ambassador of Flanders" by the Flemish regional government, a recognition of its wide touring activities, which have taken it to Asia and both Americas in addition to frequent visits around Europe.
45 million songs.
Three months on us.
New subscribers only. Plan automatically renews after trial.