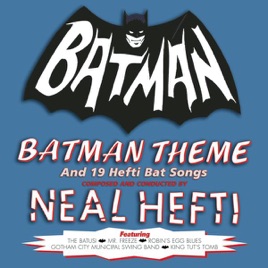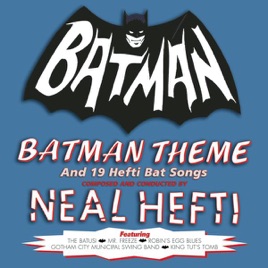 Batman Theme & 19 Hefti Bat Songs
TITLE
TIME

Neal Hefti and His Orchestra

2:18

Evil Plot to Blow Up Batman

Neal Hefti and His Orchestra

2:05

Neal Hefti and His Orchestra

2:12

Neal Hefti and His Orchestra

2:52

Holy Diploma, Batman - Straight a's

Neal Hefti and His Orchestra

1:43

Eivol Ekdol, The Albanian Genius

Neal Hefti and His Orchestra

2:04

Neal Hefti and His Orchestra

2:15

Just a Simple Millionaire

Neal Hefti and His Orchestra

1:59

Neal Hefti and His Orchestra

2:29

Neal Hefti and His Orchestra

2:24

Neal Hefti and His Orchestra

2:07

Neal Hefti and His Orchestra

1:52

Gotham City Municipal Swing Band

Neal Hefti and His Orchestra

2:36

Neal Hefti and His Orchestra

2:34

Neal Hefti and His Orchestra

2:10

Neal Hefti and His Orchestra

2:05

Neal Hefti and His Orchestra

2:09

Neal Hefti and His Orchestra

2:26

Neal Hefti and His Orchestra

2:56

Neal Hefti and His Orchestra

2:29
20 Songs, 45 Minutes
Released:

Dec 31, 1965

℗ This Compilation (P) 1997 BMG Direct Marketing, Inc.
About Neal Hefti
One of the top jazz arranger/composers of the 1950s, Neal Hefti first wrote charts in the late '30s for Nat Towles. He contributed arrangements to the Earl Hines big band; played trumpet with Charlie Barnet, Horace Heidt, and Charlie Spivak (1942-1943); and toured with Woody Herman's First Herd (1944-1946), marrying Herman's singer Francis Wayne. It was with Herman that Hefti began to get a strong reputation, arranging an updated "Woodchopper's Ball" and "Blowin' Up a Storm," and composing "The Good Earth" and "Wild Root." He also took a notable solo during a Lucky Thompson session on "From Dixieland to Bop." However, Hefti soon relegated his trumpet playing to a secondary status (although he played it on an occasional basis into the 1960s) and concentrated on his writing. He contributed charts to the orchestras of Charlie Ventura (1946), Harry James (1948-1949), and most notably Count Basie (1950-1962). For Basie, he wrote "Little Pony," "Cute," "Li'l Darling," "Whirlybird," and many other swinging songs, often utilizing Frank Wess' flute in inventive fashion. Neal Hefti also led his own bands off and on in the 1950s, but in later years concentrated on writing for films while remaining influenced by his experiences in the jazz world. Hefti passed away at his California home on October 11, 2008, at age 85. ~ Scott Yanow
HOMETOWN

Hastings, NE

GENRE

BORN

October 29, 1922
45 million songs.
Three months on us.
New subscribers only. Plan automatically renews after trial.