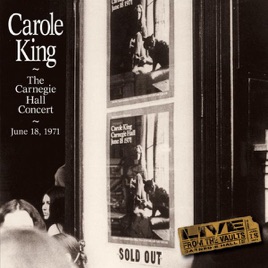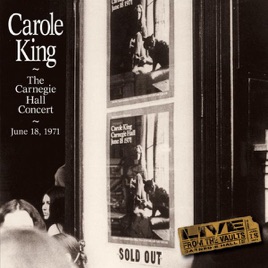 The Carnegie Hall Concert: June 18, 1971 (Live)
| | TITLE | TIME | PRICE |
| --- | --- | --- | --- |
| | I Feel the Earth Move (Live) | 3:35 | $1.29 |
| | | 2:45 | $1.29 |
| | After All This Time (Live) | 3:19 | $1.29 |
| | | 4:03 | $1.29 |
| | | 2:59 | $1.29 |
| | | 5:32 | $1.29 |
| | | 3:24 | $1.29 |
| | | 3:51 | $1.29 |
| | | 3:49 | $1.29 |
| | | 4:12 | $1.29 |
| | | 4:22 | $1.29 |
| | | 4:38 | $1.29 |
| | | 4:13 | $1.29 |
| | | 2:39 | $1.29 |
| | You've Got a Friend (with James Taylor) [Live] | 6:25 | $1.29 |
| | Will You Love Me Tomorrow? / Some Kind of Wonderful / Up On the Roof (with James Taylor) [Live] | 7:46 | $1.29 |
| | (You Make Me Feel Like) A Natural Woman (Live) | 4:08 | $1.29 |
17 Songs

℗ Originally recorded 1971 SONY BMG MUSIC ENTERTAINMENT, WARNING: All rights reserved. Unauthorized duplication is a violation of applicable laws.
Customer Reviews
AWESOME
One of the best live albums I've heard in a long tie
A Live Recording At Just The Right Time
I had the pleasure of seeing Carole King play a solo set before James Taylor's March '71 concert at Madison Square Garden, and then sit in on piano during JT's set. So I got an advance listen to what would become, in just a couple of months, Carole's Carnegie Hall concert. I wasn't there for that one, but this long-hoped-for CD has everything you'd want. It captures the time and the spirit beautifully. You can hear the nervousness in Carole's voice as she talks about being a New Yorker and comin' home before launching in to "Home Again." I know I can feel the heartache and sadness and hope when she sings "Eventually," which I think is one of the lost gems of the generation. And the addition of the string quartet for that song and a couple of others is sublime. Speaking of sublime, when she says she'll be right back...and you hear the gasps and squeals and cheers when she brings JT on stage and simply says "Surprise!" -- well, it gives me shivers just writing about it. Yes, the live concert repeats a lot of material from "Tapestry," but you won't be disappointed.
About Carole King
While the landmark Tapestry album earned her superstar status, singer/songwriter Carole King had already firmly established herself as one of pop music's most gifted and successful composers, with work recorded by everyone from the Beatles to Aretha Franklin. Born Carole Klein on February 9, 1942 in Brooklyn, New York, she began playing piano at the age of four, and formed her first band, the vocal quartet the Co-Sines, while in high school. A devotee of the composing team of Jerry Lieber and Mike Stoller (the duo behind numerous hits for Elvis Presley, the Coasters, and Ben E. King), she became a fixture at influential DJ Alan Freed's local rock & roll shows; while attending Queens College, she fell in with budding songwriters Paul Simon and Neil Sedaka as well as Gerry Goffin, with whom she forged a writing partnership.

In 1959, Sedaka scored a hit with "Oh! Carol," written in her honor; King cut an answer record, "Oh! Neil," but it stiffed. She and Goffin, who eventually married, began writing under publishers Don Kirshner and Al Nevins in the famed pop songwriting house the Brill Building, where they worked alongside the likes of Doc Pomus, Mort Shuman, Jeff Barry, Ellie Greenwich, and countless others. In 1961, Goffin and King scored their first hit with the Shirelles' chart-topping "Will You Love Me Tomorrow"; their next effort, Bobby Vee's "Take Good Care of My Baby," also hit number one, as did "The Loco-Motion," recorded by their babysitter, Little Eva. Together, the couple wrote over 100 chart hits in a vast range of styles, including the Chiffons' "One Fine Day," the Monkees' "Pleasant Valley Sunday," the Drifters' "Up on the Roof," the Cookies' "Chains" (later covered by the Beatles), Aretha Franklin's "(You Make Me Feel) Like a Natural Woman," and the Crystals' controversial "He Hit Me (And It Felt Like a Kiss)."

King also continued her attempts to mount a solo career, but scored only one hit, 1962's "It Might as Well Rain Until September." In the mid-'60s she, Goffin, and columnist Al Aronowitz founded their own short-lived label, Tomorrow Records; Charles Larkey, the bassist for the Tomorrow group the Myddle Class, eventually became King's second husband after her marriage to Goffin dissolved. She and Larkey later moved to the West Coast, where in 1968 they founded the City, a trio rounded out by New York musician Danny Kortchmar. The City recorded one LP, Now That Everything's Been Said, but did not tour due to King's stage fright; as a result, the album was a commercial failure, although it did feature songs later popularized by the Byrds ("Wasn't Born to Follow"), Blood, Sweat & Tears ("Hi-De-Ho"), and James Taylor ("You've Got a Friend").

Taylor and King ultimately became close friends, and he encouraged her to pursue a solo career. Released in 1970, Writer proved a false start, but in 1971 she released Tapestry, which stayed on the charts for over six years and was the best-selling album of the era. A quiet, reflective work that proved seminal in the development of the singer/songwriter genre, Tapestry also scored a pair of hit singles, "So Far Away" and the chart-topping "It's Too Late," whose flip side, "I Feel the Earth Move," garnered major airplay as well. Issued in 1971, Music also hit number one, and generated the hit "Sweet Seasons"; 1972's Rhymes & Reasons reached number two on the charts, and 1974's Wrap Around Joy, which featured the hit "Jazzman," hit the number one spot.

In 1975, King and Goffin reunited to write Thoroughbred, which also featured contributions from James Taylor, David Crosby, and Graham Nash. After 1977's Simple Things, she mounted a tour with the backing group Navarro and married her frequent songwriting partner Rick Evers, who died a year later of a heroin overdose. Pearls, a collection of performances of songs written during her partnership with Goffin, was released in 1980 and was her last significant hit, and King soon moved to a tiny mountain village in Idaho, where she became active in the environmental movement. After 1983's Speeding Time, she took a six-year hiatus from recording before releasing City Streets, which featured guest Eric Clapton. In 2001, she returned with Love Makes the World, a self-released disc on her own Rockingale label. Four years passed before her next record, The Living Room Tour, a double-disc set documenting her intimate 2004-2005 tour that found her revisiting songs from throughout her career with only her piano and acoustic guitars as accompaniment.

King joined longtime friend James Taylor for a co-starring show at L.A.'s famed Troubadour venue in 2007, and the pair followed it with several more shows, resulting in the Live at the Troubadour release in 2010. King released her first-ever Christmas album, A Holiday Carole, through the Hear Music/Concord Music Group on November 1, 2011. In 2013, King received a remarkable show business accolade -- her life became the basis for a Broadway musical, Beautiful: The Carole King Musical, which followed her professional and personal life in the '60s and '70s. The show opened on Broadway in January 2014, with a score dominated by King's hit songs, and an original cast album appeared the following May. The next year, King was a Kennedy Center Honoree, and in 2016 she played the entirety of Tapestry at the British Summer Time Festival in Hyde Park. ~ Jason Ankeny
ORIGIN

New York, NY [Brooklyn]

BORN

Feb 9, 1942
Top Music Videos by Carole King
See All