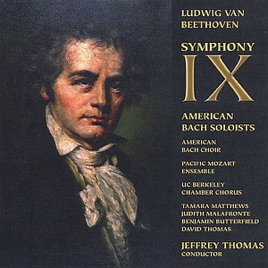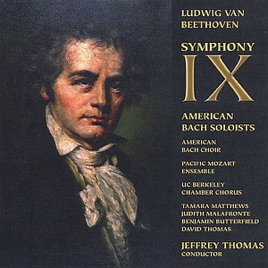 TITLE
TIME

Symphony No. 9 In D Minor, Op. 125: I. Allegro Ma Non Troppo

By Ludwig van Beethoven, Ludwig van Beethoven & Ludwig van

Symphony No. 9 In D Minor, Op. 125: II. Molto Vivace

By Ludwig van Beethoven, Ludwig van Beethoven & Ludwig van

Symphony No. 9 In D Minor, Op. 125: III. Adagio Molto e Cantabil

By Ludwig van Beethoven, Ludwig van Beethoven & Ludwig van

Symphony No. 9 In D Minor, Op. 125: IV. Presto

By Ludwig van Beethoven, Ludwig van Beethoven & Ludwig van

Symphony No. 9 In D Minor, Op. 125: IV. Presto - Recitativo

By Ludwig van Beethoven, Ludwig van Beethoven & Ludwig van
5 Songs, 1 Hour 9 Minutes
Released:

Aug 12, 2008

℗ 2007 American Bach Soloists
Ratings and Reviews
Fantastic!
This CD got great reviews from Early Music America:

This recently released recording, made at the 1994 Berkeley Festival and Exhibition by the American Bach Soloists under the direction of Jeffrey Thomas, takes the work on its own terms, chipping away at the monolith and giving us something quite refreshing.

This isn't a performance for the faint of heart; Thomas and company pull out all the stops right from the start. The opening "Allegro ma non troppo, un poco" roars with primordial power, while the second movement scherzo is raucous and a prescient reminder of Bruckner's great scherzos that are yet to come. There's poetry but not torpor in the adagio. And the finale—well, the choral finale fairly blows the roof off. Timpani pound, brass snarl, and bass David Thomas proclaims the "An die Freude" like an Old Testament prophet. The rest of the vocal quartet is fine, as are the choral forces, and the sound quality, even 14 years later (why was this recording in the can for so long?), is a typical Peter Nothnagle production: outstanding.