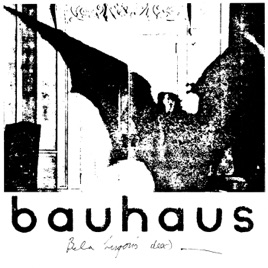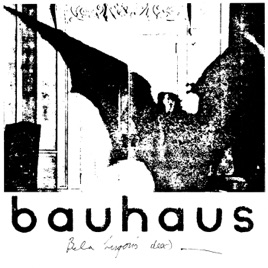 Bela Lugosi's Dead - Single
106 Ratings

Partial Album
| | TITLE | TIME | PRICE |
| --- | --- | --- | --- |
| | | 9:33 | $1.29 |
2 Songs

℗ 1979 Bauhaus Music
Customer Reviews
amazing track
bela Lugosi's dead is bauhaus masterpiece. it's cool and eerie. The perfect dance track for any 10/31 party. great for late night drives. the best way to introduce to yourself goth.
"it's about time" is right!
i've looked for this version of this song here before and it just finally popped up. great stuff. although the sample clip for anyone who doesn't know the song just doesn't cut it. spend the 99 cents!
About Bauhaus
Bauhaus are the founding fathers of goth rock, creating a minimalistic, overbearingly gloomy style of post-punk rock driven by jagged guitar chords and cold, distant synthesizers. Throughout their brief career, the band explored all the variations on their bleak musical ideas, adding elements of glam rock, experimental electronic rock, funk, and heavy metal. While their following has never expanded beyond a cult, they kept their cult alive well into the '90s, a full decade after they disbanded.

The group formed in 1978 in Northampton, England. Guitarist/vocalist Daniel Ash, bassist/vocalist David J (born David Jay Haskins), and drummer Kevin Haskins had played together as a trio called the Craze before forming Bauhaus with vocalist Peter Murphy. Originally, the band was called Bauhaus 1919 after the German art movement; by 1979, they had dropped the 1919 from their name.

In August of 1979, the group released their debut single, "Bela Lugosi's Dead," on the independent record label Small Wonder Records. Although it did not make the pop charts, it became the de facto goth rock anthem, staying in the U.K. independent charts for years. Three months later, the group signed with Beggars Banquet's subsidiary label, 4AD. The group's second single, "Dark Entries," was released in January 1980. Following their first European tour, Bauhaus released their third single, "Terror Couple Kill Colonel," in the summer of that year, which became a hit on the indie charts.

After touring America for the first time in September, the group released a version of T. Rex's "Telegram Sam." In October, they released their debut album, In the Flat Field, which reached number one on the independent charts and number 72 on the pop charts. The success of the album led to their first hits on the pop charts; both "Kick in the Eye" and "The Passion of Lovers" made the U.K. Top 60 in 1981. In October, they released their second album, Mask, which revealed a more ambitious musical direction; the new direction, which featured elements of metal and electronic sonic textures, made the music more accessible without abandoning the dark, foreboding core of their music. Mask was a commercial success, peaking at number 30 on the U.K. charts.

In March of 1982, Bauhaus released the EP Searching for Satori, which reached number 45 on the U.K. charts; another successful single, "Spirit," followed in the summer. That fall, the group had a number 15 hit with their version of David Bowie's "Ziggy Stardust." The success of the single propelled their third album, The Sky's Gone Out, to number four on the album charts.

Murphy contracted pneumonia at the beginning of 1983, which prevented him from participating in the recording sessions for Bauhaus' fourth album, Burning From the Inside. Consequently, the record featured substantial contributions from Ash and J, who both pursued more personal and atmospheric directions. After Murphy recovered, the band toured Japan and then returned to the U.K. to promote the summer release of Burning From the Inside. The album was another hit, peaking at number 13. In July, Bauhaus split up.

After Bauhaus' breakup, Murphy formed Dali's Car with Japan's Mick Karn and then pursued a solo career. Ash continued with Tones on Tail, a project he began in 1981; Kevin Haskins also joined the band after Bauhaus' split. J made some solo records and joined the Jazz Butcher briefly. Ash, Haskins, and J formed Love and Rockets in 1985 after a proposed Bauhaus reunion fell apart because Peter Murphy wasn't interested in the project. More than a decade later, however, with the careers of both Love and Rockets and Peter Murphy at a standstill, Bauhaus re-formed for several live dates in Los Angeles, mounting a full-blown tour in 1998; the two-disc Gotham documented the reunited group's performance at New York's Hammerstein Ballroom. In 2008, the band resurfaced again with Go Away White, a studio album they promised as their last statement. ~ Stephen Thomas Erlewine
ORIGIN

Northampton, England

FORMED

1978
Top Music Videos by Bauhaus
See All